He has grown through the government education system and calls himself a "product of subsidy"; starting from Navodaya Vidyalaya where he got selected solely on merit and landing at IIM Gujarat for pursuing his MBA.
Like every child belonging to rural India with colossal ambitions and a glimmer of hope in their eyes, Kaushlendra has faced more than his share of hardships, and that too with a gleaming grin and a never-say-die attitude; he spent his childhood with no stable source of electricity and with craters in lieu of roads.
He had always been one of the star-blazing students amongst his peers, no matter where he went, and furthermore, he had an appetite for co-curricular activities as well, which he exhibited by captaining his school's volleyball, badminton and cricket teams.
Kaushlendra failed to crack IIT which crusaded as a huge disappointment for his father, and even more so after one of his friends' son was able to get through IIT (classic Indian dads, am I right?), nonetheless, had it not been for that one massive failure, Kumar wouldn't even have a hint of the countless successes that awaited him on a broad crater-free ahead.
He came to the Junagadh district of Gujarat after qualifying to study at the Indian Council of Agriculture Research to pursue Agricultural Engineering; post which he was offered a job in an Israeli MNC Firm to design irrigation systems for the purpose of agriculture.
While his colleagues took weeks to design one system, with his blessed mind Kaushlendra devised them in a matter of days and that too, without any significant tech support. Threatened by his prowess and thirst to achieve even bigger things, his superiors transferred him to a small village in Andhra Pradesh to supervise a slow-evolving and heavily taunted irrigation project.
With no knowledge of the vernacular language of Telugu, he had to hire a young Muslim boy as a translator using his own salary so that he could work more efficiently. He turned the project around with his skills and completed it before time. On returning to his base office, he demanded a well-deserved promotion for his perseverance and was bluntly denied it. That is when he took the first step towards a life-altering goal by resigning without apprehension.
When asked about how he took such a somber decision so conveniently, he replied that as a Bihari, his life has circled around uncertainty and that this was no different from what he has already experienced in his life. Throughout 4 years of engineering, he had not the slightest clue of what MBA is; he learned that later when he came back to Ahemdabad after quitting his job and saw his college roommate preparing for CAT (a computer-based test for admission in a graduate management program), there he decided to give it a go himself.
Not surprisingly he cracked it in a single attempt and enrolled himself in IIM Gujarat and mastered in Business Administration.
Even though he treasured a well-paying job and could easily score one; his primary ambition was to do something for the development of Bihar. Reluctant at first, he was encouraged by his mentor- Professor Piyush Kumar Sinha, and his Mother- Kaushalya (and later in life his wife) to follow his dreams and do what he really wanted to.
With his sharp mind he deduced that being an Agro industry-dependent state, Bihar can only progress, if its farmers will progress. Thereafter, he devoted all his time to the improvement of the conditions of farmers in his state and particularly Patna.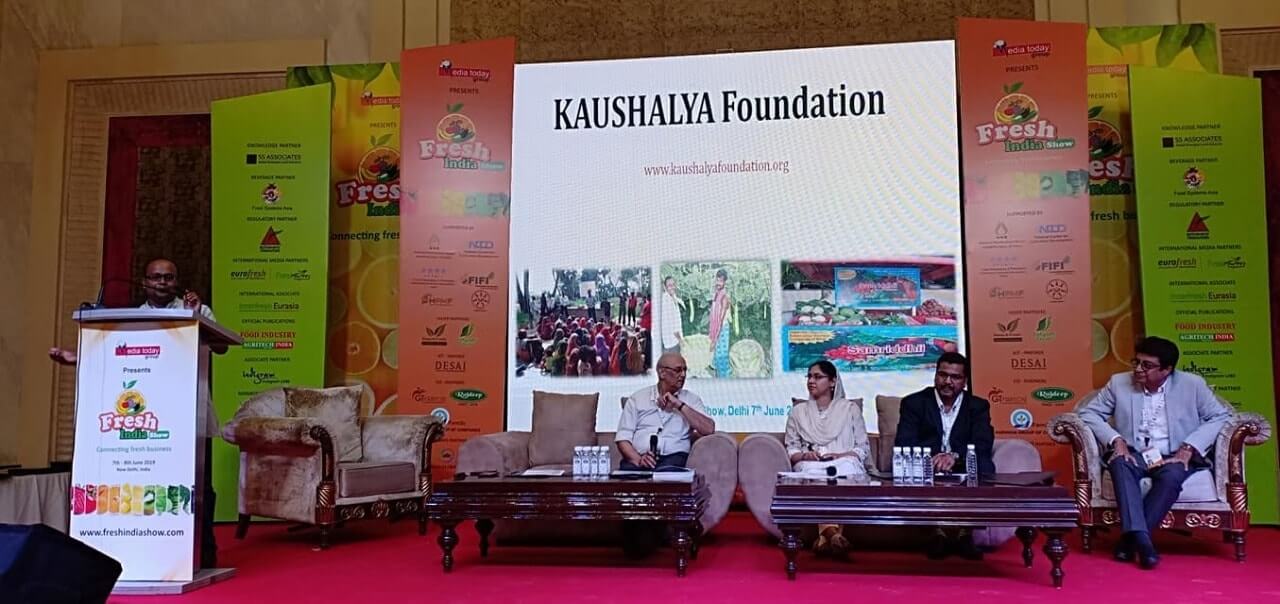 Along with his brother, he started a company named Kaushalya Foundation in 2008 and decided to sell vegetables to empower the local farmers and enhance their production. But this was also not without its challenges, initially, the farmers were non-cooperative and thus unproductive; he started small by selling vegetables near a school in Patna and earned merely 22 rupees the first day.
It took some time to get things rolling and earn the confidence of the farmers he was working alongside but he gradually did and his company's turnover of 5 Crore, is an evident case in point.
He wanted to work for the welfare of his state and endorses others to come and assist him in doing so by working in Bihar. Two things he always wants to convey are, for people to stop type-casting Bihar residents and for them to start following their dreams, no matter how senselessly big and unrealistic they seem.
Also Read: Chandrashekhar's journey from lawyer to Chandrashekhar Azad (Ravan)