Facebook is laughing hard on Former Chief  Justice of India, Markandey Katju as he is seen sharing a lot of matrimonial posts recently on his Facebook timeline. It was yesterday, when the first Matrimonial Ad emerged on his Facebook timeline
and got 1.5K laughs on that,
but not many know this, Rishta Aunty in Katju didn't appear yesterday for the first time. It was on 19th September 2020, when this new side of Katju was revealed to the netizens. As Katju posted a matrimonial Ad on twitter for a 23-year-old law student. 
The tweet read, "I just now spoke on skype to a young Kannadiga girl living with her parents in Bangalore, aged about 23, in her final year law course. She is single, and when I suggested she get married, she requested me, as a grandfather, to look for a suitable match for her for marriage, someone who is career-oriented and an extrovert. She loves travelling and would prefer someone who also loves travelling. Anyone interested may send me an email on justicekatju@gmail.com" The tweet instantly got tons of retweets and amazing replies, some laughed, pulled his leg, created memes out of it 
Indian Matchmaking Season 2 premieres on Twitter!! 😝😝 https://t.co/pLu1mJAAHK

— Sukriti Kalra (@sukritikalra) September 18, 2020
Wow! Indian Match-Making live! All the best https://t.co/AMjsYIH8Iu

— Bharti Jain (@bhartijainTOI) September 18, 2020
https://twitter.com/daschayanikaa/status/1307022598912397312?s=20
.@bhartijainTOI Now Kannadigas on the watchlist ::)) But, what happens if there is a problem in the marriage – can they expect justice from Indian Courts? 🤔 @smitaprakash @nistula https://t.co/CbTektmbGa

— GhoseSpot (@SandipGhose) September 19, 2020
I am interested. Let me know. @mkatju pic.twitter.com/tyuScsmD43

— Trendulkar (@Trendulkar) September 18, 2020
while others seriously criticized him for having a regressive mentality and putting the message out here in public instead of encouraging the young girl to build her career. As a Twitter user wrote, "Sir I thought you would guide her to complete her education first rather offering to choose a suitable boy for her.",  "A 23-year young girl needs to build her career before tying the proverbial matrimonial knot! And she should select her life partner herself. You should have oriented her in this direction of personal and professional development Mr Justice Katju ji!!", another one commented.
After getting a lot of negative responses, Katju deleted the tweet. But now again he has brought his matrimonial hobby to the surface, this time through Facebook. 🤭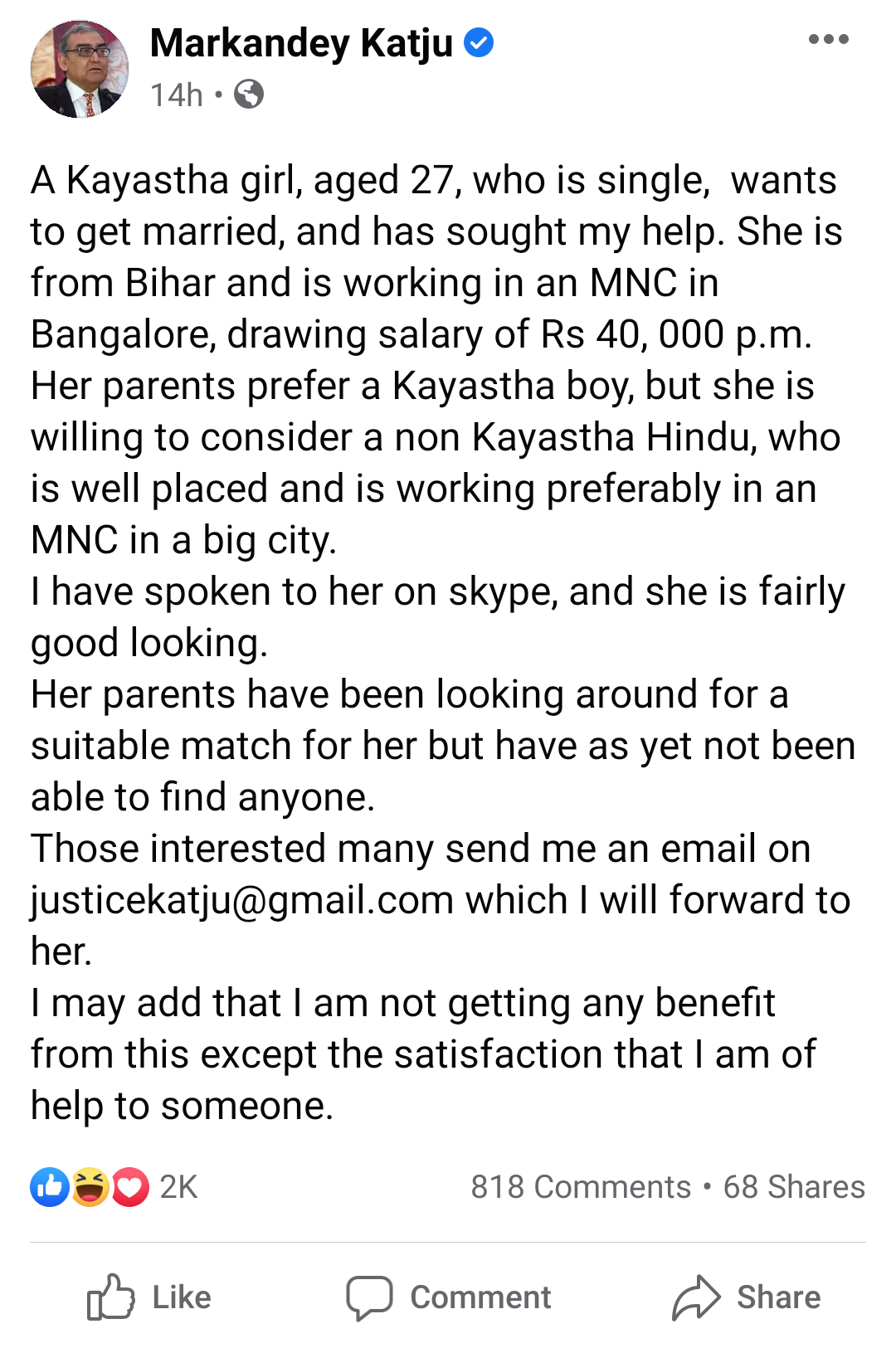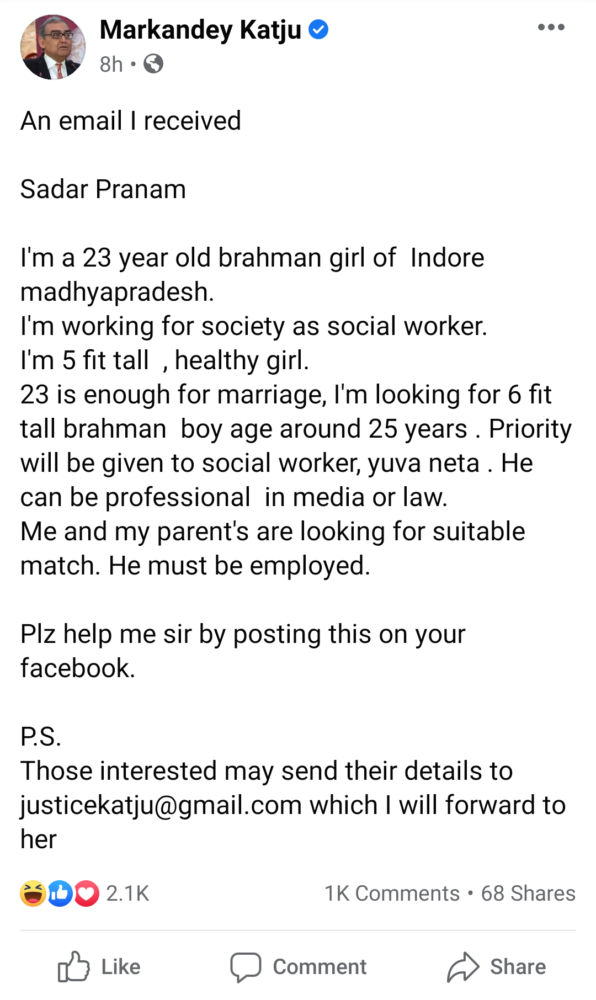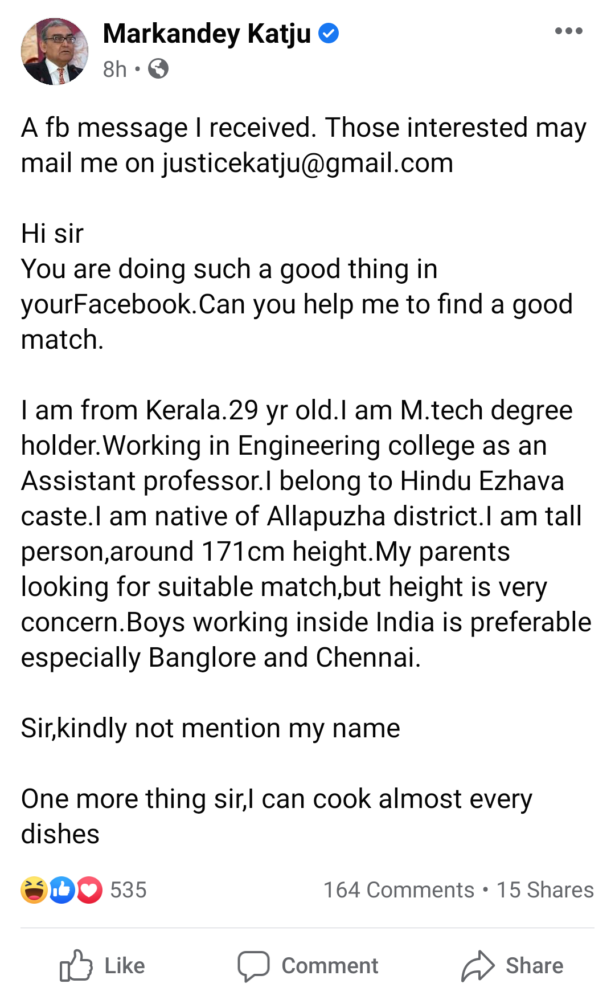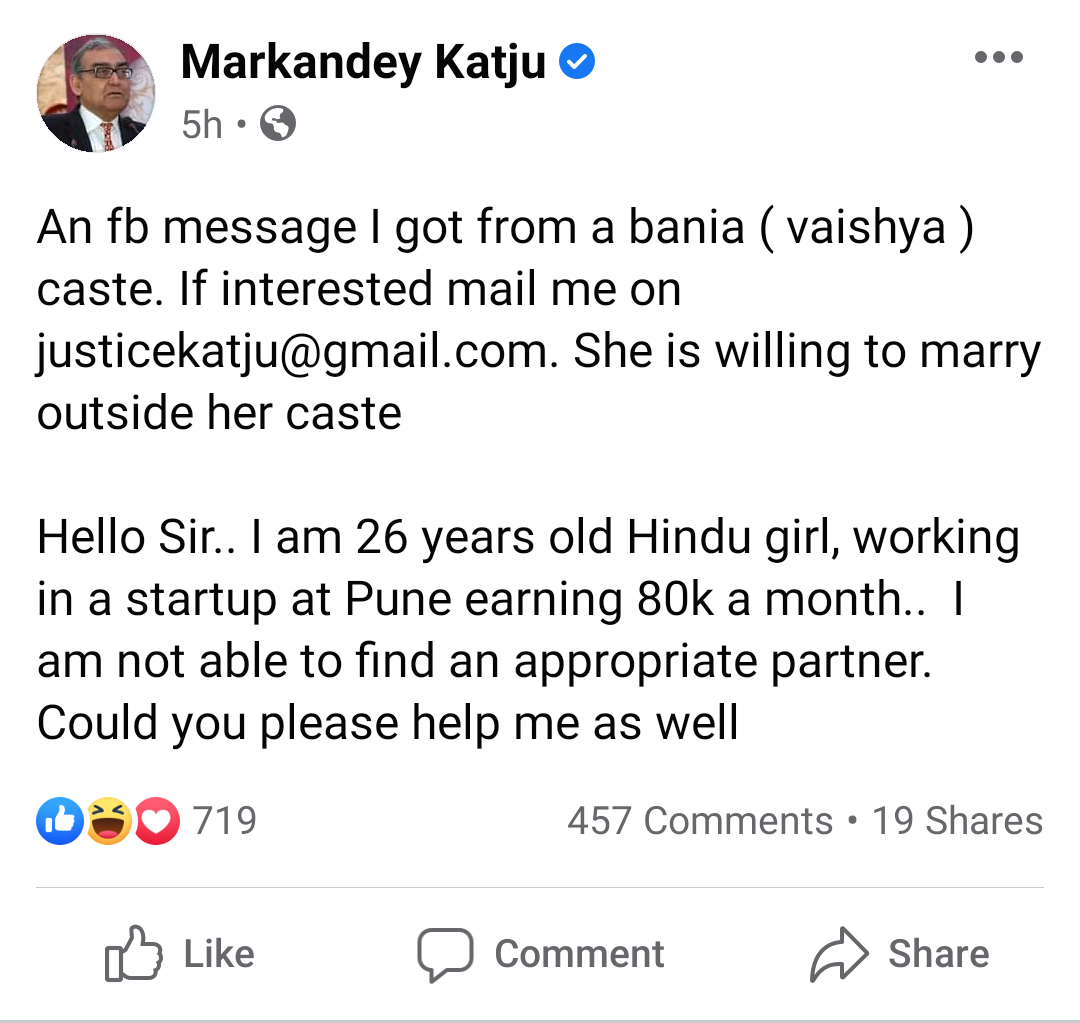 Katju's Facebook timeline at this time is like an episode of Comedy Circus, where you can have different acts to crack you up. From matrimonial Ads to India's Got Talent, everything is there. We encourage you to go and stalk him for a good laugh. You can of course come back later to thank us. 😉
Also, keep checking our news section for more updates on this and many other matters.