His inventions like the photograph, the motion picture camera, and the early light bulb left a huge impact on the modern industrialized world. His other inventions include an electric power generator, sound recording device, etc.
Thomas was brought up in Port Huron, Michigan, and was taught by his mother, Nancy Matthews Elliott. She taught him reading, writing, and arithmetic. As a child, he became fascinated and would spend hours working on different experiments and machines at home. In his career his only known enrollment was in a chemistry course at The Cooper Union for the Advancement of Science and Art, to promote his work on the latest telegraphy system, along with Charles Batchelor.
During his childhood, he was hit by scarlet fever, which caused a middle ear infection and he became completely deaf from one ear and could barely hear from the other. He believed his hearing loss allowed him to concentrate more easily on his work as he could avoid distractions.
CAREER
Selling candy and newspapers marked the beginning of his career when he was only 13 years old. He would earn a profit of $50 a week and he would buy electric and chemical equipments. He once saved a three old child from getting hit by a train.
Child's father, who was a Station agent, was very grateful and thus he trained Edison as a telegraph operator. After mastering the skills, Edison became a telegrapher operator. He studied and conducted experiments on the train until he left the job. He was held responsible for a near collision.
At the age of 19, he migrated to Kentucky, where he worked with the Associated Press bureau news wire, as an employee of Western Union. He was soon fired as he spilled sulphuric acid while experimenting with one of his night shifts.
Edison in 1867, opened his own company working as an engineer and inventor, along with one of his fellow telegraph operators, who was his mentor in early years, named Franklin Leonard Pope. He then began working on a multiplex telegraphic system, which could send two messages at the same time.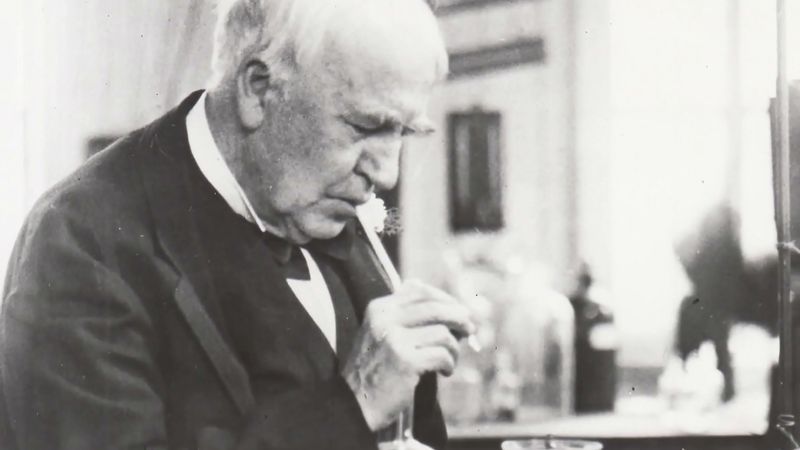 The quadruplex telegraph was Edison's first big financial success. After he demonstrated the telegraph, Edison was not sure at what price he should sell it for, therefore he asked Western Union to offer him a bid. They offered him $10,000, which he gladly accepted. He used these funds in the establishment of a new industrial research lab, known as Menlo Park Laboratory, in 1876, in New Jersey.
Then later he established a botanic laboratory in collaboration with businessman Henry Ford and Henry S. Firestone, in Florida.
He also established a laboratory in West Orange, New Jersey, which featured the world's first film studio, The Black Maria.
After his successful life, he died on 18 October 1931, in New Jersey, due to complications with diabetes.
Edison's last breath is preserved in a test tube and it is kept at The Henry Ford Museum. A plaster death mask and casts of Edison's hands were also made.
Also Checkout: Viswanathan Anand: The Chess Wizard