Joe Wright directed the 2007 picture Atonement, which was based on Ian McEwan's novel of the same name. Keira Knightley, James McAvoy, Benedict Cumberbatch, and a young Saoirse Ronan are among the cast members. In 2017, Ronan starred in another McEwan adaption, On Chesil Beach. Some of the most delightful quotes from Atonement are given below.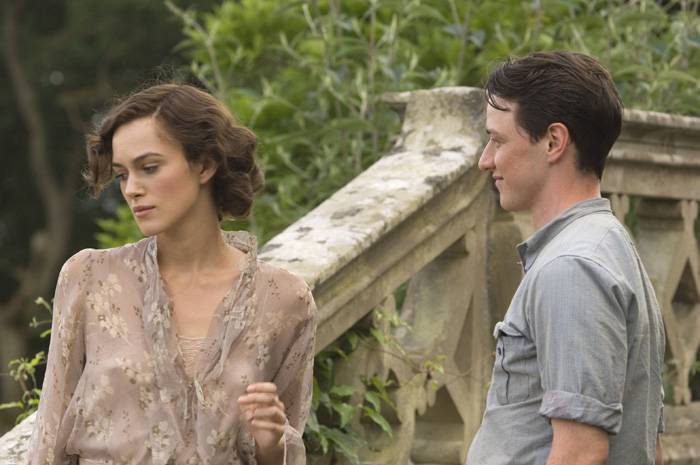 The youthful Briony Tallis, set in 1930s England, confuses fiction with reality. She's always making up stories, but when she comes to the wrong conclusion about what Robbie Turner was doing with her sister, Cecelia, the result is a lifetime of atonement for everyone involved – everyone besides whoever is guilty. The film's masterful mix of cinematography, sound, and conversation makes it a unique and moving experience.
10 Most Delightful Quotes From Atonement:
1. "Come back. Come back  to me."
Cecelia breaks forth and whispers in Robbie's ear as the cops take him away: " Come back. Come back to me." These comments have stayed with Robbie during his time in France. Robbie is hardly able to meet Cecelia's eye when they meet years after the library incident. He can't stand it if she touches him. By repeating the words, she draws him back to reality "Come back. Come back  to me."
2. "Oh, you idiot!"
The scene that changes everything is one of the most unforgettable in the film. Cecelia and Robbie are arguing over the vase beside the fountain when it breaks. It sinks to the bottom of the water in pieces. Robbie is turned on by Cecelia. "Oh, you idiot!" Robbie can barely contain his laughter. "Do you understand that's probably the most important thing we own?" Cecelia cries. He simply smiles and says calmly, "Not anymore, it isn't." She dives into the water, furious, to collect the handle.
3. "How Old Do You Have To Be To Know The Difference Between Right And Wrong?"
Briony insists on seeing Robbie with her own eyes when asked about what she "saw" when she stumbled across Lola. She only suspected it was him after reading an improper letter he sent to Cecelia by accident. Briony confesses later in the film that she was in love with Robbie as a child, but that he never viewed her that way. Briony can only recognize her guilt in falsely accusing Robbie of abusing Lola when she is 18 years old. Her apologies do not impress him, and he reminds her that people her age are dying in the war.
4. "I Gave Them Their Happiness."
Briony delivers an author interview about her new book, Atonement, in the film's last scene. She admits that the joyful conclusion is made up because Robbie and Cecelia never really had their happy ending, and Briony never got the chance to make peace with them. They both died in the war, but in Briony's story, she made sure they were capable of living in their clapboard house by the sea. Giving them a different conclusion will be seen as a final act of charity, she hopes.
5. "The Truth Is I Feel Rather Foolish And Lightheaded In Your Presence, Cee, And I Don't Think I Can Blame The Heat."
Robbie spends a lot of time in his room, trying to write Cecelia a suitable letter. He tries to make amends for his actions near the fountain and with the vase. In one version, he admits to his affections for her, which he's plainly had for some time. He's also confident that Cecelia is aware of it but hasn't yet accepted it, which is why she normally avoids him.
6. "Yes, I Saw Him."
Despite the fact that Briony is only a youngster, she is the only witness the police can rely on to determine who assaulted Lola. Briony initially believes she saw him, but when pressed, she changes her mind. "I'm certain it was him." The cop gives her a squint. "Did you see him or did you know it was him?" She then tries to make up by emphatically stating that she saw him, effectively sealing the deal.
7. "It Was More Formal, Less … Anatomical?"
Cecelia gets one of these letters, but it is not the one Robbie meant for her or anybody else's eyes. Briony also gets his hands just on the letter, and he doesn't notice it until it's too late. Cecelia, fortunately, finds the situation as amusing as he does. She even teases him about it in the library, despite the fact that the atmosphere is tense. He expresses regret and says that the copy she was supposed to read was "more formal, less…" "Anatomical?" Cecelia asks after he pauses.
8. "If All We Have Rests On A Moment In A Library Three And A Half Years Ago, Then I'm Not Sure …"
Years later, when Robbie and Cecelia reunite, none of them is the same. The battle has left Robbie devastated, but he also has concerns about what happened among them. Even as his eyes well up with tears, Cecelia is trying to bring him back to the present. "I'm not sure if all we have is a moment in a library three and a half years ago…" Cecelia, on the other hand, recognizes and consoles him, assuring him that what they have is genuine.
9. "Don't You Know?"
One of the film's strengths is its ability to balance silence with sharp dialogue. For example, the classic library scene makes superb use of both. The characters evade the fundamental issue at hand. Cecelia mentions something that's been there "for weeks" and how Robbie was aware of it before she was, implying that they are attracted to each other. Robbie inquires as to why she is crying. She gives him a frown. "Don't You Know?" He takes a step forward as well as replies, "Yes, I know perfectly," before kissing her.
10. "The Story Can Resume."
Maybe the most distressing aspect of the novel is the false promise it plays with. If their love has endured so much, Robbie and Cecelia believe they also have a chance. From France, he speaks to Cecelia, indicating that he will "just resume." "My story will resume. The one I had in mind for that nighttime stroll. I can resurrect the man who once strutted over Surrey Park in his nicest suit at dusk, swaggering on the promise of life… I'll come back, find you, love you, marry you, and live a life free of shame."
Briony Tallis, a 13-year-old aspiring writer, irreversibly alters the lives of several people when she falsely accuses her elder sister's lover of a crime he did not commit. Here are some of the most delightful quotes from Atonement. Give us feedback in the comment section below.
Also Checkout: 25 Unforgettable Quotes From Moon Knight