Nike is the world's largest manufacturer of athletic and leisure footwear. It has continuously excelled competitors like Adidas and Puma in terms of yearly sales, and it is expected to do so in the next few years. We are going to discuss the 10 most expensive Nike shoes in the world.
The highly sought-after sneakers, which are primarily collaborations and limited release drops, sell for upwards of $47,744. That is roughly the equivalent of a year's rent for a two-bedroom flat in London. Although Nike does not produce sneakers that cost more than $300, limited pairs that are sold at auctions and resale marketplaces cause prices to rise by the thousands. It should come as no surprise that it is still sold out.
The all-star lineup includes real collector's products from Nike SB, pop culture favorites like the Nike Air MAG Back to the Future self-lacing sneakers, and Air Jordans made in cooperation with Eminem and a unique designer collaboration between Adidas, Pharrell, and Chanel.
Check out our list of the 10 most expensive Nike shoes in the world:
1. Nike Dunk Low SB Paris – 2002
$47861.43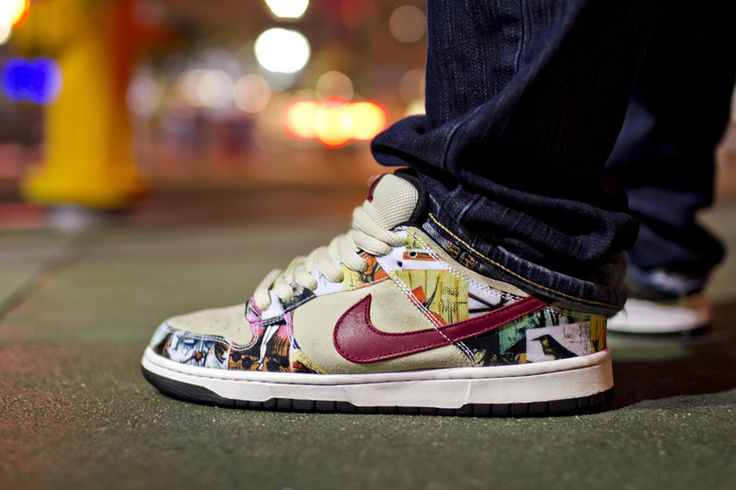 The Nike Dunk Low SB Paris shoes, pieces of art in their own right, featured the graphic and colourful designs of French painter Bernard Buffet and were expressly designed for the "White Dunk" travelling art exhibition. Only 150 to 200 pairs were created and sold in select Parisian boutiques..
2. Nike Air MAG Back to the Future BTTF – 2016
$31323.70
The futuristic Nike Air MAG claims the title of most expensive secondhand shoes. You might recognize them as a reproduction of Marty McFly's renowned self-lacing sneakers from the 1989 film Back to the Future II.
There were 89 pairs launched in 2016, and they are currently worth $31323.70. The sneakers have a built-in rechargeable battery, luminous LED panels, a luminescent Nike logo, and adaptable lacing technology.
3. Air Jordan 4 Retro Eminem Carhartt – 2015
$27731.50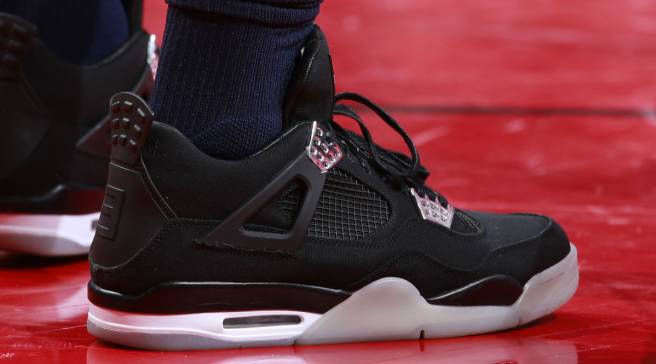 To commemorate the 15th anniversary of the record "The Marshall Mathers LP," Air Jordan collaborated with Eminem and workwear company Carhartt to manufacture just 10 pairs of this limited-edition shoe. The shoes are black and shiny silver in color, with silver embellishments and the rapper's logo. It is one of the most expensive Nike shoes in the world.
4. Adidas Human Race NMD Pharrell x Chanel – 2017
$23032 Last sale
These sneakers were only available at Chanel's pop-up shop at concept store Colette in Paris and were only available in a limited edition of 500 pairs. The trainers have a black top with white graphics reading "Pharrell" and "Chanel." These trainers have been increasingly popular in the last year which is a reason for the price rise.
5. Nike Air Yeezy 2 Red October
$21380 Last sale
Kanye West released the Air Yeezy line in association with Nike in 2009, before the Yeezy brand and the rapper's successful connection with Adidas. There was a lot of debate and interest around the release of the Air Yeezy 2, therefore they came in this striking red colourway. It was so valuable that even the receipts were selling for more than $500.
6. Air Jordan 4 Retro Eminem Encore 2017
$19348 Last sale
It's no wonder that these sneakers – one of the most expensive and rarest ever created, with only 23 pairs made available to the public — have a premium resale price. The colour scheme is inspired by Eminem's 2004 Encore album cover, which has blue suede with grey, black, and red accents.
7. Air Jordan 11 Retro Premium Derek Jeter
$16820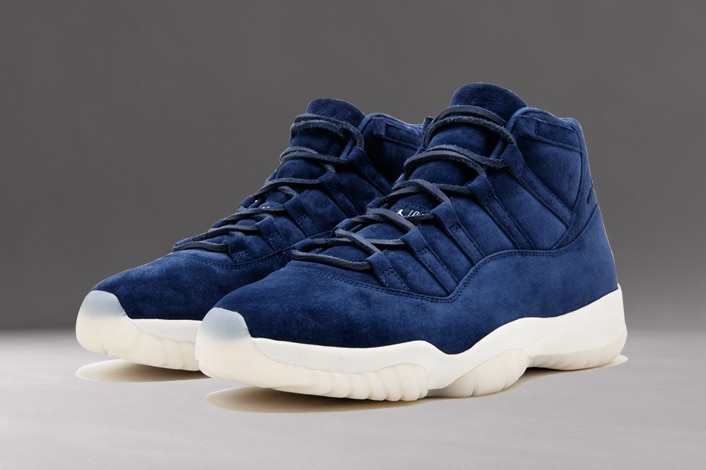 The former professional baseball player turned entrepreneur and CEO collaborated with Air Jordans to make these high-end sneakers. The trainers are Yankee blue in colour, made of suede, and feature Jeter's jersey number stitched on the heel of each shoe.
8. Nike Air Back To The Future BTTF – 2011
$15662.42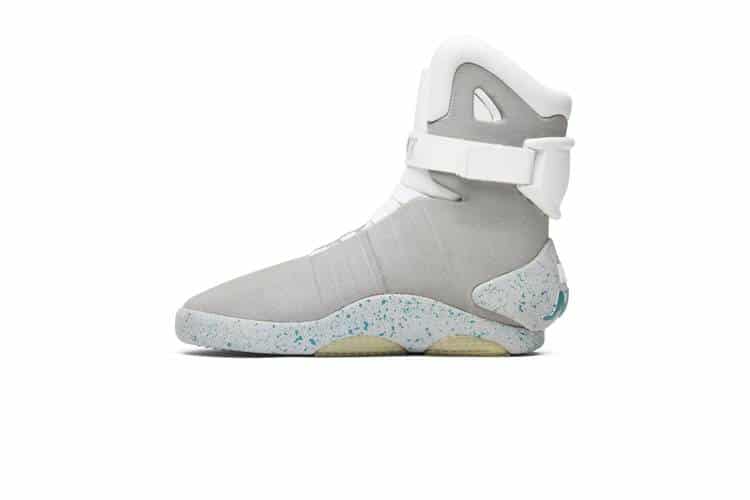 In 2011, 1,500 limited edition pairs of Back To The Future shoes were introduced. A further ten pairs were then auctioned at live auctions throughout the world as part of the Back 4 The Future campaign, with the revenues benefiting The Michael J. Fox Foundation for Parkinson's Research.
The shoes are "exact reproductions… down to the shapes of the top, the shining LED panel, and the electroluminescent NIKE in the strap," according to Nike, although they do not have a power-lacing system.
9. Air Jordan 4 Retro Undefeated 2018 Sample
$14741.63
Only 72 pairs of these trainers were made when they first appeared in 2005, but none were ever sold to the general public. They were the first partnership between the Jordan brand and a third party, given to family and friends. Making it one of the rarest and most expensive Nike shoes in the world.
10. Nike Dunk SB Low Yellow Lobster
$14280
Only 34 of these bright yellow shoes were made and delivered to Nike SB friends and family before being offered for retail. The ultra-rare sneakers are a certified collector's item, inspired by the fact that discovering a yellow lobster is just one in 40 million chances. They are available in golden ochre and terra brown.
These sneakers were not relatively affordable, to begin with, but the reseller market has driven up costs even more in recent years. For those who like their money where they can see it. These were the 10 most expensive Nike shoes in the world. We hope you find this article useful. Please leave your feedback in the comment section below.
Also Checkout: Lionel Messi Net Worth | Salary Per Year | 7 Key Facts | Best Lifestyle

Source: WealthyGarage