In order to maintain the health of the crops, traditional agricultural techniques include substantial usage of insecticides and pesticides. While these chemicals help to keep products safe, they are also known to have a negative influence on the environment. This involves biodiversity loss since various species of wildlife are threatened as a result of this activity. It is critical that we examine alternative agricultural practices in order to continue practicing agriculture without harming our ecosystem. Let's see how organic farming conserves the environment. 
How Biodiversity is enhanced through organic farming?
Biodiversity loss is a serious danger not just to the environment, but also to livelihoods and food security. The continued use of unsustainable farming techniques that degrade the land, water, air, and the living beings that rely on them has accelerated this loss.
"Organic farming is a comprehensive approach to food production. Ric Bowers, an organic farmer, and consultant say, "To cooperate with nature rather than rule her." Bowers has been working in the organic industry since 1975, and he is happy to cultivate organically since it increases biodiversity.
Organic methods, such as crop rotation and the avoidance of synthetic inputs, increase biodiversity in the ecosystem. Robust biodiversity boosts ecosystem productivity and enables a wider range of species to develop and thrive. Diverse fauna and flora are necessary for life on this planet, and they can only be preserved through sustainable agricultural techniques like organic farming.
Organic agriculture is one such approach that has been shown to provide nutritious fruits and vegetables while posing no environmental risk. In the article below, we look at the definition and technicalities of certified organic agriculture, as well as its benefits and drawbacks.
Soil should be nourished, and the earth should be nourished
"All life begins in the dirt." Nothing, in my experience, works in isolation. We are all inextricably linked; failing to focus on soil health has ramifications farther up the food chain," Bowers explains.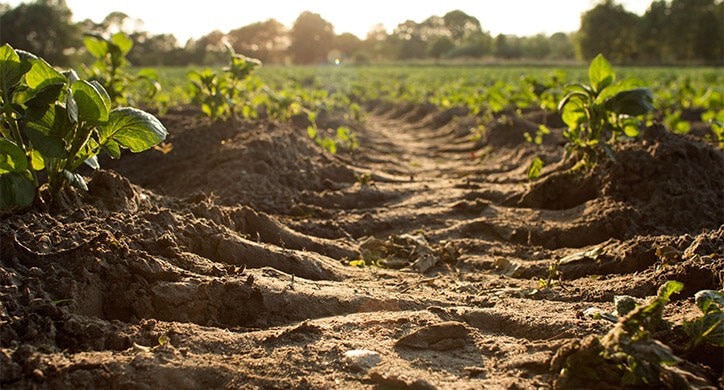 Over 90% of the food we eat originates from the soil, either directly or indirectly. As a result, the quality of soils has a direct influence on us, making it critical to have healthy soils that yield healthy plants. Organic farming approaches trap nitrogen and carbon in the soil, providing a twofold environmental benefit. Carbon sequestration in the soil minimizes carbon emissions into the atmosphere, hence reducing global warming.
Ecosystems, where organic methods are used, have higher levels of soil fertility and health. They are an important component in improving soil health, which helps a variety of creatures. These organisms, in turn, aid in the recycling of plant nutrients as well as the management of crop disease and pests, resulting in increased crop output. As a result, organic approaches improve soil biodiversity, which leads to a rise in not just biological variety but also biodiversity as a whole.
We are reminded that a time for nature is a time for implementing nature-based solutions as we mark World Environment Day. It's time to show your support for the millions of organic farmers who provide nutritious food to the globe while also protecting biodiversity.
How Organic farming works-
The concepts of certified organic food and agriculture are plain and uncomplicated. The following are some of the points: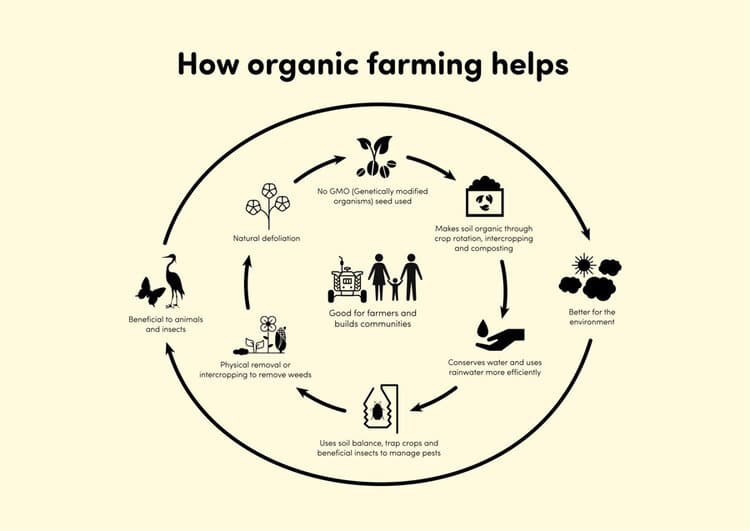 Maintaining biological variety within an ecosystem is a priority.

Protect the environment by reducing soil erosion and degradation, increasing plant biological production, reducing pollution, and promoting improved health standards

Improve the long-term fertility of a region's soil by working to improve the circumstances for biological activity on the land.

As much as feasible, try to recycle resources and materials.

Provide cattle with care and attention in order to improve their physical and emotional wellbeing.

Wherever feasible, use renewable resources.

Improve processing and handling procedures with an emphasis on preserving the product's organic integrity.
Organic farmers that want to make the transition to organic agriculture or agricultural techniques might take a number of measures. The following are some instances of organic agriculture or production:
To combat insects, illnesses, and weeds, crop rotation, biological management, and other sustainable approaches are used.

To nourish the soil, use cover crops, use animal and green manures, and practice crop rotation. This serves to improve the soil's long-term health while also increasing its biological activity.

Putting a focus on increasing biodiversity in the agricultural system as a whole, as well as in the surrounding ecology.

Reduce off-farm and external inputs, and eliminate synthetic fertilizers and pesticides entirely. This involves the use of comparable elements to boost the plants, such as antibiotics and hormones.

In livestock farms, using diversified forage pastures and rotational grazing, as well as providing additional and alternative health care to promote animal welfare.

Using renewable resources, allowing for water and soil conservation, and adopting management methods that aid in the restoration and improvement of a region's ecological balance.
Organic farming isn't only a pipe dream that will never become a reality. It's a procedure that's already being sought for and carried out in many parts of the world. This is due to the fact that many local and farming communities have understood that traditional agricultural practices are unsustainable, and the aim is to transition to organic farming as soon as feasible. The following is an overview of how organic farming may help the environment.
Also Checkout: Digital Agriculture: The Future of Indian Agriculture

Source: TheAgrotechDaily