A bill to permit the Central government to dilute its stake in state-owned general insurers below 51 percent was passed by the Rajya Sabha on August 11 in the middle of the Opposition protesting.
The General Insurance Business Nationalisation (Amendment) Bill, 2021, was passed by the Lok Sabha on August 2.
The Bill allows the privatization of the general insurance companies run by the states. The passing of the Bill took place amid the hue and cry by the Opposition.
New India Assurance, National Insurance Corporation, General Insurance Corporation of India (GIC Re), Oriental Insurance, and United Insurance are the state-owned insurers.
These can be privatized once the Bill is gazetted and becomes an Act. 
The Opposition claimed of not addressing their apprehensions concerning the, and the Finance Minister Nirmala Sitharaman took no notice of the points raised by the MPs.
Members from Left parties to TMC expressed their resistance and wanted the Bill to be consulted by a select committee.
To their dismay, a voice vote dismissed the motion, which led to the Opposition members resorting to paper tearing and protesting. After Tuesday's chaos, Rajya Sabha personnel were positioned around the presiding officer. 
Tiruchi Siva of DMK put forth the motion to consult an expert committee to analyze the results of the Bill before passing it.
The resistance also comes from the Opposition's experience in the current Parliamentary session where legislations have been passed one after another without holding any debate. 
The Centre's privatization plan met with objections from the Opposition, which believes that it will be malignant to the public interest.
According to the Bill, some amendments to the provisions are necessary to contribute to faster economic growth, greater private participation in the public sector insurance companies, and enhance insurance penetration and social protection.
In a Twitter statement, Jairam Ramesh of the INC said that Bill was presented and passed in the Rajya Sabha in the presence of security personnel.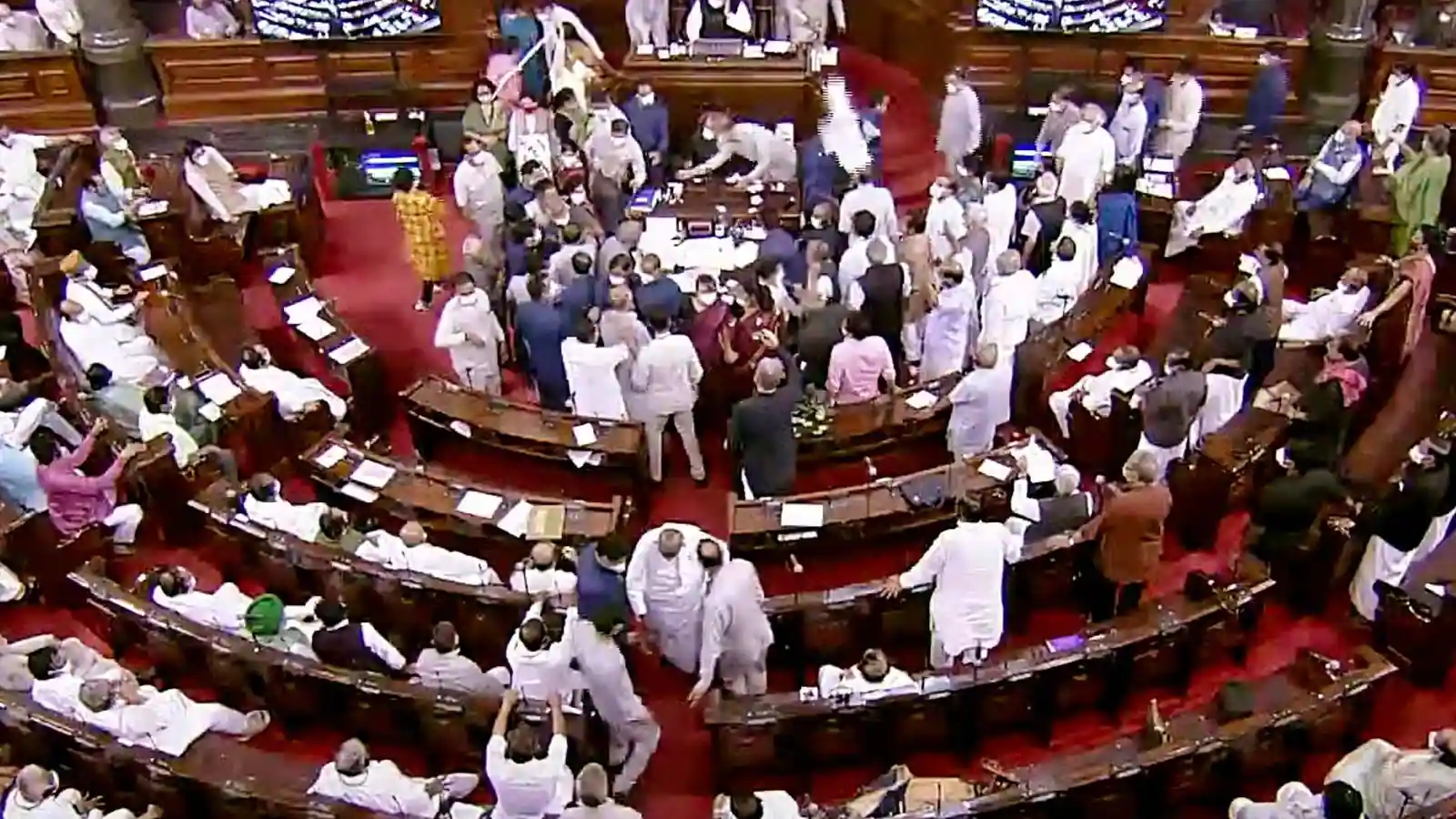 The Govt refused to send it to a Select Committee — a demand by all Opposition parties, including those close to BJP. What happened this evening was worse than atrocious," he said.
The Bill was passed even after the walkout, staged by the Opposition after the objections and protests went unheard.
With Covid-19 hospitalization claims, general insurance companies in the country are looking at large-scale underwriting losses, which exceeds 110 percent.
"A few state-run insurers are seeing low solvency levels of 1.3 and below as against the IRDAI requirement of 1.5. Getting private investors would help build a robust capital flow," a government official told Moneycontrol.
Also Read:  Finance Minister says Centre committed to doing "everything" to revive the economy