We live in a democratic country, where we have the right to freedom of thoughts, speech, and expression given to us by our constitution. We are in a situation where we would think twice to make any statements in a free country. For the past few years, controversies had been surrounding the freedom of expression and speech because they face criticism and severe threats from political powers and their blind followers.
In recent times, we have seen many voices raised against farmers' laws, fees hike, CAA-NRC, communal riots, and more. Even comedians like Kunal Kamra and Munawar Faruqui faced criticisms for their jokes and bear harsh consequences.
The same things happened with OTT platforms like Netflix and Amazon Prime Video, their original content and their makers have withstood judgements and objections, even they will bear censorship from information and broadcasting in near future.
Before OTT platforms came to India, we used to watch Hollywood films and series for a more realistic approach in terms of politics, crime, and scams.
After the OTT platform has created hype among the Indian audience, many directors have come forward to show the reality of India through these platforms. Many series and films have caught our attention with their realistic approach and new perspectives such as Delhi crime, Sacred Game, Mirzapur, Leila, Patal Lok, Tandav, and more.
Despite the content and popularity, many of them have faced criticism in different aspects like hurting religious sentiment, minority rights, promoting communal issues, the bad depiction of political leaders and police, harm the integrity of our country,  and highlight the issues of the common man. Though the series were based on fiction stories or characters.
Now, let's talk about some of the series that confronted both political and religious criticism from society as well as political powers which are becoming a hot topic of discussion for the past few months in our society.
1. Tandav
The series will take you to the situation where people are facing issues like farmers and students protest, oppression from the political parties, the struggle of the common man, etc. Director Ali Abbas Zafar's series reflects a story of the capital city of Delhi of the world's largest democracy, an attempt to showcase the dark side of the political powers, and how they manipulate others to achieve their desired goals.
It is a two-way story of student-farmer protest, fees hike, elections, and political powers which connect somewhere at the end of the story to the show reality of dirty politics. The suspense and complex plotting will hook you to the entire series, but the series doesn't have a clear ending. For this, you have to wait for the next season.
2. Mirzapur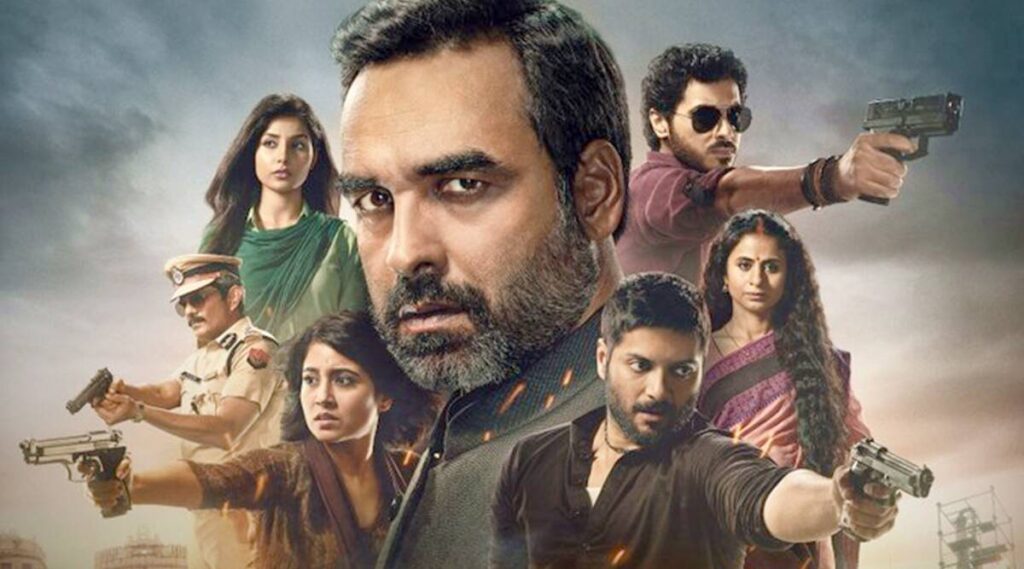 This is a full package of entertainment, action and suspense. There is one title 'The kind of Mirzapur' but many takers. The entire series is based on power. The main characters of this series are Akhanda Nand Tripathi, the king of Mirzapur with a brilliant mind and a game-changer, he has also kept his eyes on political powers, His son Munna is another main and entertaining character of this series. You can't take your eyes from Munna bhaiya's acting and his dialogues. The series revolves around power, politics, and crime.
3. Leila
Leila is a dystopian series based on a novel by Prayaag Akbar. It is directed by Deepa Mehta, Pawan Kumar, and Shanker Raman. The series is trying to remind us about the near future. The story is about a nation called Aryavarta, where water and clear air become luxury. The story revolves around Shalini, who tries to find her daughter in an authoritarian regime, where inter-religious marriage is seen as a crime.
Controversies
Tandav Controversies
After the release of Tandav, controversies have clouded it. The makers have faced objections on their depiction and storytelling. An FIR was lodged over the depiction of Hindu deities shiva on the 1st episode of Tandav when Zeeshan Ayyub plays the role of Mahadev shiva in his college play.
Another topic that created hype was the character of Devki Nandan, in which he played the role of the Two Term Indian PM, allegedly insulted Dalit community leader Kailash Kumar. And also show the chaotic and complicated relationship between upper and lower caste community between Kailash Kumar and Sandhya.
Moreover, the show has been called off a national boycott over Trending Tweets on Twitter #bantandavnow.
हमारी #amazon के दफ्तर 5 घंटोंसे अधिक #Amazon के लोगोंसे लगातार बातचीत का नतीज़ा सारे देश के नेताऔ #Amazon पर दबाव बनाना पडा.और #Tandav टीमको माफी पडी . हम यह स्पष्ट बता दे की माफीसे नहीं चलेगा. इन सभी को हम जेल भेज कर रहेंगे और #Banamazonproducts अभियान हम तेजीसे आगे बढ़ायेंगे

— Ram Kadam – राम कदम (@ramkadam) January 18, 2021
#BanTandavNow This series is Irrelevant, fabricated, sham .This hypocritical, mendacious & malafide series shows defamatory anti-national & Anti -Hindu propaganda. I request all to kindly mail for immediate action. Please ban this series @PrakashJavdekar @myogiadityanath pic.twitter.com/5osUI0Woe0

— Yukti Rathi Advocate (@rathi_yukti) January 16, 2021
Tandav row: Maharashtra Karni Sena chief Ajay Sengar announces Rs 1 cr reward for anyone who slits tongue of those who insult Hindu gods!
Don't take Hindus for granted. #Hindutva #HindusForGranted#Hindus #HinduBoycottAmazonhttps://t.co/WIhd8NTXlm

— Pradeep Aggarwal (Veteran – Col) (@Pradeep54242413) January 24, 2021
The other mistake was about the bad depiction of UP police during protests and fake encounters of peoples from Muslim communities, and also an attack on a college campus to arrest a Muslim student.
Maharashtra's Home Minister, Anil Deshmukh said they had received many complaints against this web series, and He has demanded a law from the center to regularize or censor the content on OTT platforms.
The makers of the web series have apologized for the hurting of religious & social sentiments of other communities.
Our sincere apologies . pic.twitter.com/Efr9s0kYnl

— ali abbas zafar (@aliabbaszafar) January 18, 2021
My take on the controversy surrounding the #tandavwebseries . The makers should not have given an Apology! The Indian entertainment Industry is the 2nd most commercially successful export after our IT &has made us a Soft Power!
How can a movie offend you? Don't watch it! pic.twitter.com/4zhy23Y84h

— Tehseen Poonawalla Official (@tehseenp) January 18, 2021
Mirzapur Controversies
Controversies did not spare Mirzapur. An FIR was filed against Mirzapur by Arvind Chaturvedi stating that Mirzapur has hurt his religious sentiments and has shown UP in a bad light.
Another complaint was filed by SK Kumar in which he said that the show had portrayed the district as a den of terror and illicit activities.
A journalist has filed an FIR against the series for deliberate and malicious intentions of outraging religious sentiments.
A youth from Mirzapur has also filed FIR against the makers of the show because his application was rejected by the interviewer solely on basis of his nativity from Mirzapur and in an interview, the Interviewer said that you should do Gundagai instead of seeking a job.
Hope some sense prevails to the people who insult deliberately one faith in the name of art
Supreme Court issues notice to makers of Mirzapur, Amazon Prime Video #Mirzapur #banTandavSeries #BanTandavNow https://t.co/EJ07gCvuFh

— DrVinushaReddy (@vinushareddyb) January 22, 2021
Leila Controversies
In 2019 Ramesh Solanki, a member of IT cell Shiv Sena, filed a complaint against the Netflix original series Leila, stating that the show defamed Hinduism and Indian culture. He also said that "Aryavart will be a land of bigots, casteists, Muslim-hating, women-hating patriarchal sect. The term 'Aryavart' is an undertone to suggest that the Hindu Rashtra would be of this kind."
Leila on @Netflix is a Hindu Hate series, using Hindu sacred terminology and symbolism to create dystopian propaganda. Would India have allowed such a series attacking Islam?

India censor board blocks much more benign stuff, yet this is allowed? No FIRs for "outraging feelings"?

— Sankrant Sanu सानु संक्रान्त ਸੰਕ੍ਰਾਂਤ ਸਾਨੁ (@sankrant) June 15, 2019
@IamDeepaMehta shame on you. You are trying to divide #India. Such a waste of Talent @IamDeepaMehta. Your Thinking is old like you, it's a Morden #India We believe in equality. Your the one who is manipulating young mind. #BanLeila #Netflix

— Abhang Diwase अभंग दिवसे (@ABHANGDIWASE) June 28, 2019
Despite these series, many other series such as the sacred game, the family man, Ghoul have been criticized as well.
India has been continuously encountering riots, protests, communal violence, fake news, banned media, and other controversies. These factors disturb societal integrity, communal harmony, and peaceful existence, which has somehow led to misunderstandings and chaos in the communal fabric in society.
All the above series are based on fiction stories, they don't blame or objectify anyone. They are just trying to showcase reality narratively. If we would not raise our voices against this, it would be the end of the Indian realistic series.
I'm a Hindu and I'm not offended by any scene in #Tandav ..
Why #banTandavSeries #BanTandavNow ???

— Swara Bhasker (@ReallySwara) January 19, 2021
Also Checkout: 10 Most Expensive Fast Foods In The World