Fast food has been consistently popular all around the globe. It's quick, it's easy, it's tasty, it's filling it doesn't require cooking, and it's available nearly 24/7. Fast food is popular for all the obvious reasons and being cheap is one of those obvious reasons. Now here a twisted thought comes! Have you ever got a curiosity of knowing about the most expensive fast food in the world? If yes! Then we have good news, crazy expensive fast food does exist.
Here we tried to bring you the 10 most expensive fast foods around the globe.
1. Gold Chicken Wings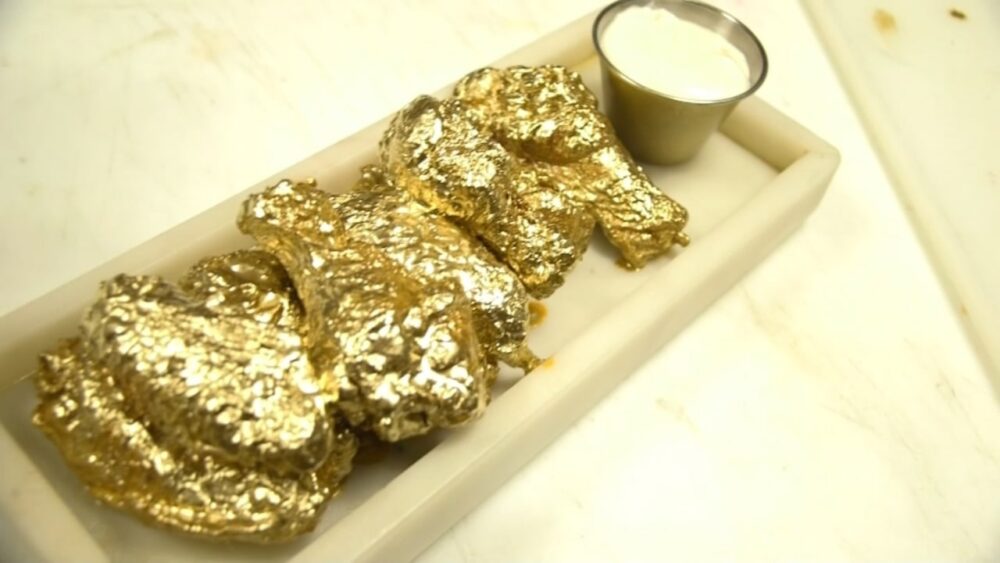 Gold and chicken in a sentence is quite strange, isn't it? But chefs of New York City restaurant chain Ainsworth made this impossible feat possible. They serve fifty Gold Chicken Wings with a bottle of Champagne Armand de Brignac on the side. For this, you will have to lose a jaw-dropping $1000 or 73,052.50 Indian Rupees.
2. Westin Bagel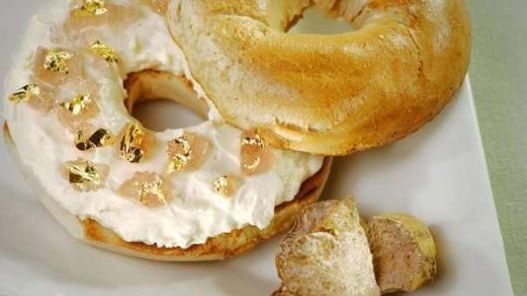 New York City's Westin Hotel sells $1,000 bagel. Yes, you heard it right a bagel worth $1000. The only difference is this bagel is from Times Square fame "The Westin New York". You can purchase the bagel, described as a locally-sourced bagel topped with white truffle cream cheese, goji berry-infused Riesling jelly, and golden leaf flakes.
One and the only condition is, it must be ordered at least 24 hours in advance. This is obvious, I mean how often you can sell a bagel worth $1000 or 73,052.50 Indian Rupees.
3. 230 Fifth, New York Hot Dog
They are almost as long as a baseball bat and have lobster and caviar toppings. If you have to taste the 230 Fifth, New York Hot Dog then you have to make the order at least 48 hours in advance and it will cost you at least $2300 or 1,67,736 Indian Rupees.
4. Pizza Royale 007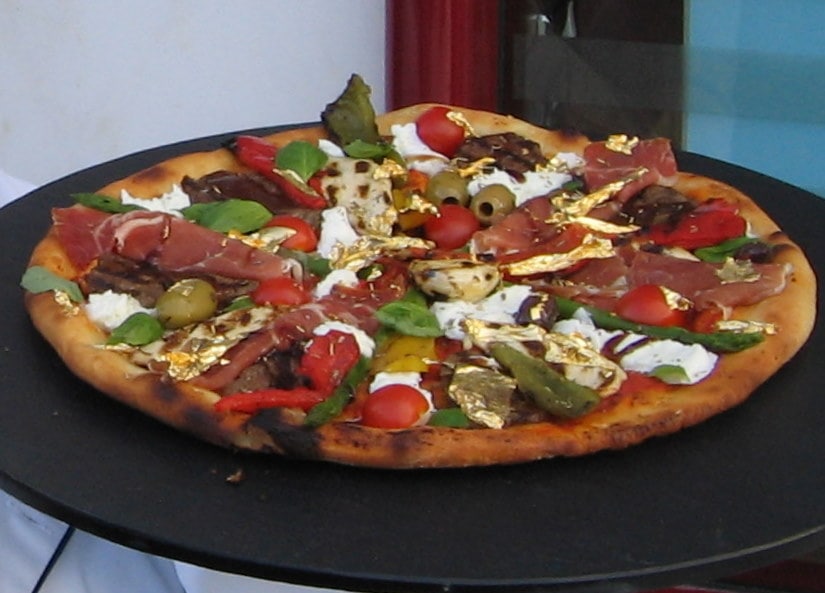 Pizza Royale 007 is the most expensive pizza! A chef, Domenico Crolla, in Scotland, has created a pizza made from champagne-soaked caviar, lobster marinated and topped with 24-carat gold.
He named it Pizza Royale 007 inspired by the expensive tastes of agent James Bond. Pizza Royale 007 will cost you $4982 or 3,63,363 Indian Rupees if you are planning to taste it.
5. FleurBurger 5000
Chef Hubert Keller created an exclusive burger which consists of a Wagyu beef and foie gras burger patty topped with truffle sauce and shaved black truffles, served on a brioche truffle bun. This is not all the FleurBurger is served with a bottle of Bordeaux: a 1995 Chateau Petrus, which itself is about $2,500 a bottle.
For this whole dish, you will have to spend a jaw-dropping $5000 which is equal to 3,64,676 Indian Rupees. Isn't it crazy?
6. The Seven Emirates Burgerstack
This is one of the costliest burgers ever sold! Can you imagine a stack of patties and bun sold for AED36700 or 7,28,830 Indian Rupees, sounds unrealistic right? Actually, it was sold for a charity.
The charity team organized an event named "Pink Caravan's Pink Bite" where Sheikh Mohammed bin Abdullah Al Thani of Sharjah and the team helped raise AED105755 for breast cancer. If you want to taste it you can make it at home with the right ingredients and for a lot less money, good news!
7. Louis XIII Pizza
It is the world's most expensive pizza! It was created by chef Renato Viola. A master pizza chef, Renato Viola is one of the finest cuisine experts in Italy. He is also an honored member of the world-known "The Italian Acrobatic Pizza Team".
Louis XIII Pizza is also named Renato Viola Pizza, its ingredients consist of Arabian flour dusted with hand-selected pink Australian sea salt. Three types of caviar, which are Kaspia Oscietra Royal Classic from the Iranian coast, Oscietra Royal Prestige, and Kaspia Beluga toppings make it mouth-watering. But the cost will make your wallet cry for sure, you will have to spend $12000 or 874462 Indian Rupees to get it on your table, I would rather buy a MARUTI SUZUKI SWIFT.
8. Taco at Grand Velas Los Cabos Resort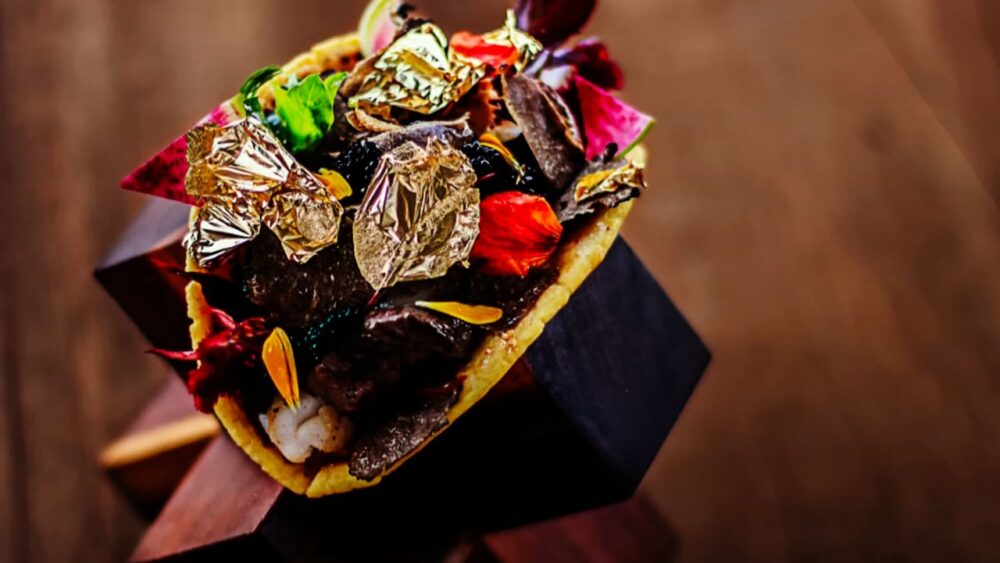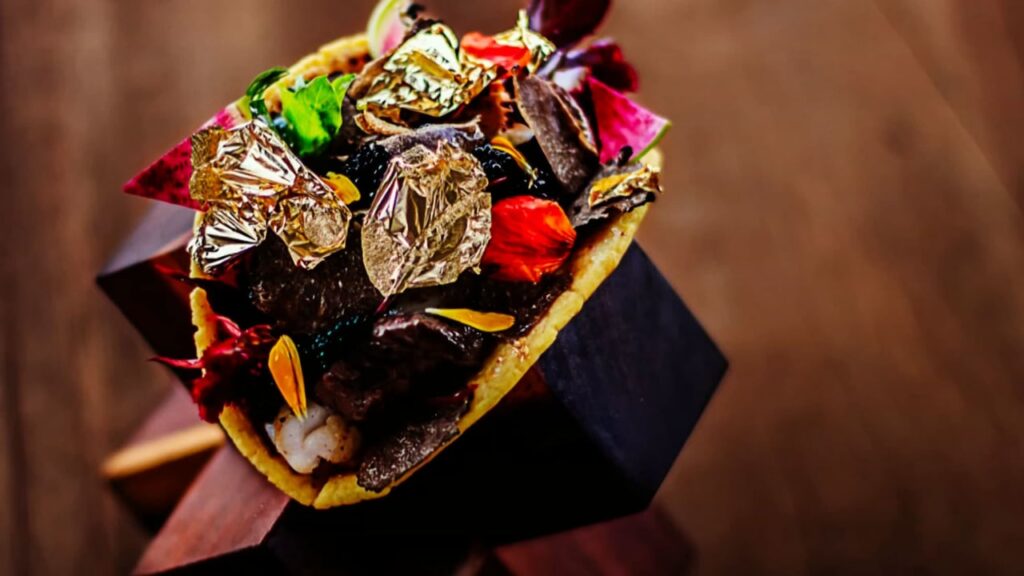 This taco is the most expensive in the world.  It was prepared at Grand Velas Los Cabos resort. Its foundation itself is a gold-infused corn tortilla. It is served with layered Kobe beef, lobster, and edible gold.
Moreover, to order the taco, you have to already be staying in the resort's "presidential suite." And, you'll need to put down a $12,500 deposit to score the dish. The final bill will cost you $25000 or 18,22,838 Indian Rupees. Takos are meant to be enjoyed with friends on weekends but not this Takos, certainly!
9. Royal Pizza, Dubai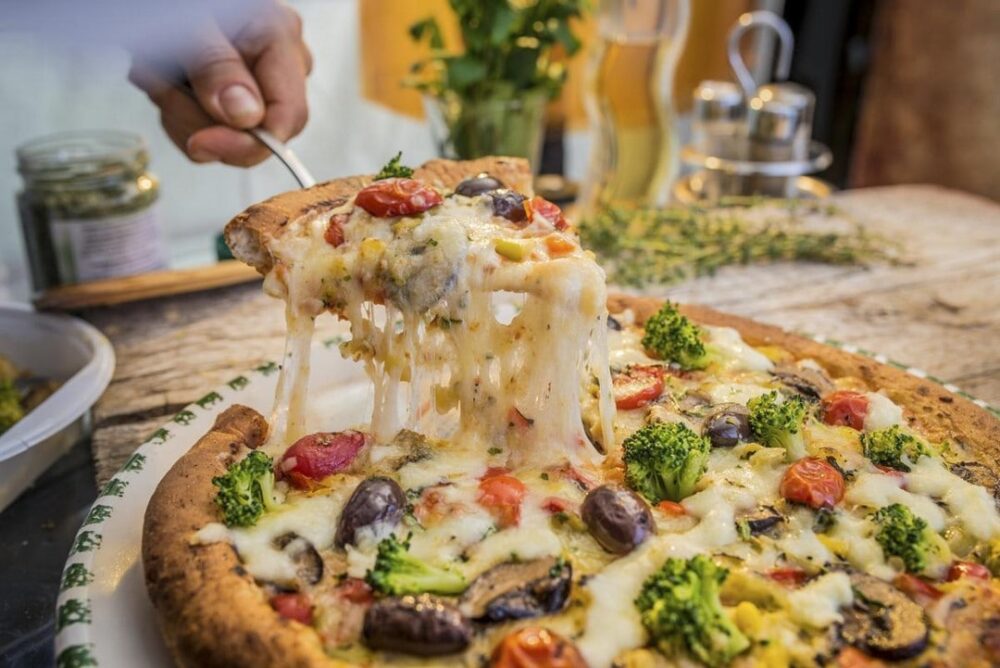 This pizza was originally created for the royal family of Dubai and served as New Year's Eve dinner. But remained listed on the menu so all billionaires visiting Dubai can give it a taste.
The secret lies in the toppings, its Ingredients include winter black truffles from Périgord, Italian white Alba truffles, Kashmiri Mogra saffron, Japanese matsutake mushrooms, and Almas caviar from Iran served only with gold scatterings. If you are a billionaire and want to give it a taste you are welcome with $211,561 for the dish, which is almost 1,54,19,168 in Indian Rupees.
10. Bitcoin Pizza
On Bitcoin Pizza Day, May 22, 2010, American Programmer and Bitcoin core contributor named Laszlo Hanyecz asked fellow enthusiasts on BitcoinTalk if someone would "make two large pizzas or order it for me and bring it to my house from a delivery place.
He offered 10,000 BTC for the service, he got his expensive wish. Today 10,000 BTC = $326880000, which makes Bitcoin Pizza the most expensive fast food ever ordered.
Also Checkout: 5 Best Luxury Hotels in Paris