The Taliban have taken over all of Afghanistan, Kabul being its last-but-not-least capture, and tens of thousands of civilians trying to flee the country, leaving everything they earned in their homeland, mean different things to different peoples.
Some write that, despite Pakistan's long-term secret support for the Taliban, the latter's recent triumph may lead to unexpected complications for the former.
Some warn India about the security concerns it has to prepare for, owing to the border tensions as Taliban gain upper hand, while also anticipating Afghan refugees to seek India soon for asylum.
More prominent view of all is that people say, the US's 20-yr effort proved vain in the end. But, beyond all these perceptions, two days before the Taliban took over Kabul, a tweet from an Afghan woman filmmaker—a vocal victim from the war field—tops all the media narratives about the war, reminding us of what should be the human way to look at the tragedy. 
Stories on either side of the fence
It's a 2-page letter from her, and here we go with some excerpts: 'This hasty troop withdrawal (US troops) is a betrayal to our people; Be our voices outside Afghanistan. If the Taliban take over Kabul, we may not have access to the internet or any communication tool at all.
The woman calls the US troop's withdrawal a betrayal to Afghan civilians, and in her letter further, she backs it up with reasons only Afghan civilians like her know, unfortunately. But the point here is, what the world calls the US's withdrawal is not a withdrawal by choice, but by chance.
The US is sending its forces to Afghanistan to rescue the remaining US troops before they succumb to the Taliban, and thinking of whether they are betraying Afghan people would be the last thing they would do.
You got yours, they got theirs
If she has got a history to call it a betrayal, the US has got its own story to justify its act of pulling out from Afghanistan, and I'm not going into the value comparison of each side's reasons.
And, what about the Afghan military forces, the ones leaving their families and fighting the Taliban with not even half the weapons the latter have? They have got another story of being failed by their own government, which makes them ask themselves, 'why should I fight and lose life for the government that doesn't care about me and my family's well-being?'.
If we question the government's ignorance to care its soldiers reveals that the government is allocating sufficient funds, mostly given by the US, to train the military and provide them and their families with all necessary facilities, but the money barely reaches the low-level soldiers as it doesn't cross the highly corrupted high-ranking officials, adding to which they give fake counts of fighters and claim their pay as well.
Again, holding them accountable leads us nowhere except to hearing one more story from those officials to back their actions, perhaps pointing fingers at the leader Ashraf Ghani and co, and it goes on and on.
Keeping aside from getting judgemental about the leader who has fled Kabul, if we stick to the root cause analysis of this chaos, you can't help calling the anti-Taliban, or pro-human, effort a failed system caught in a vicious circle.
Where numbers fail
What gives the Taliban's progress through the country a victory narrative is the media approaching the Afghan—Taliban war in numbers: 20-year-long effort went in vain; the US spent billions to train Afghan military; Countwise, Afghan soldiers are four times the Taliban fighters; There were foreign forces along with Afghan military, etc.
And on the other side, the numbers go this way: the Taliban have got the support of Pakistan, Russia, China, and Iran; the Taliban make more than 10,000 crores a year from drug export and by plundering military resources and treasury of the Afghan govt., to expand and stabilize its facilities and weapons; the Taliban also make money from mines of the land illicitly, etc.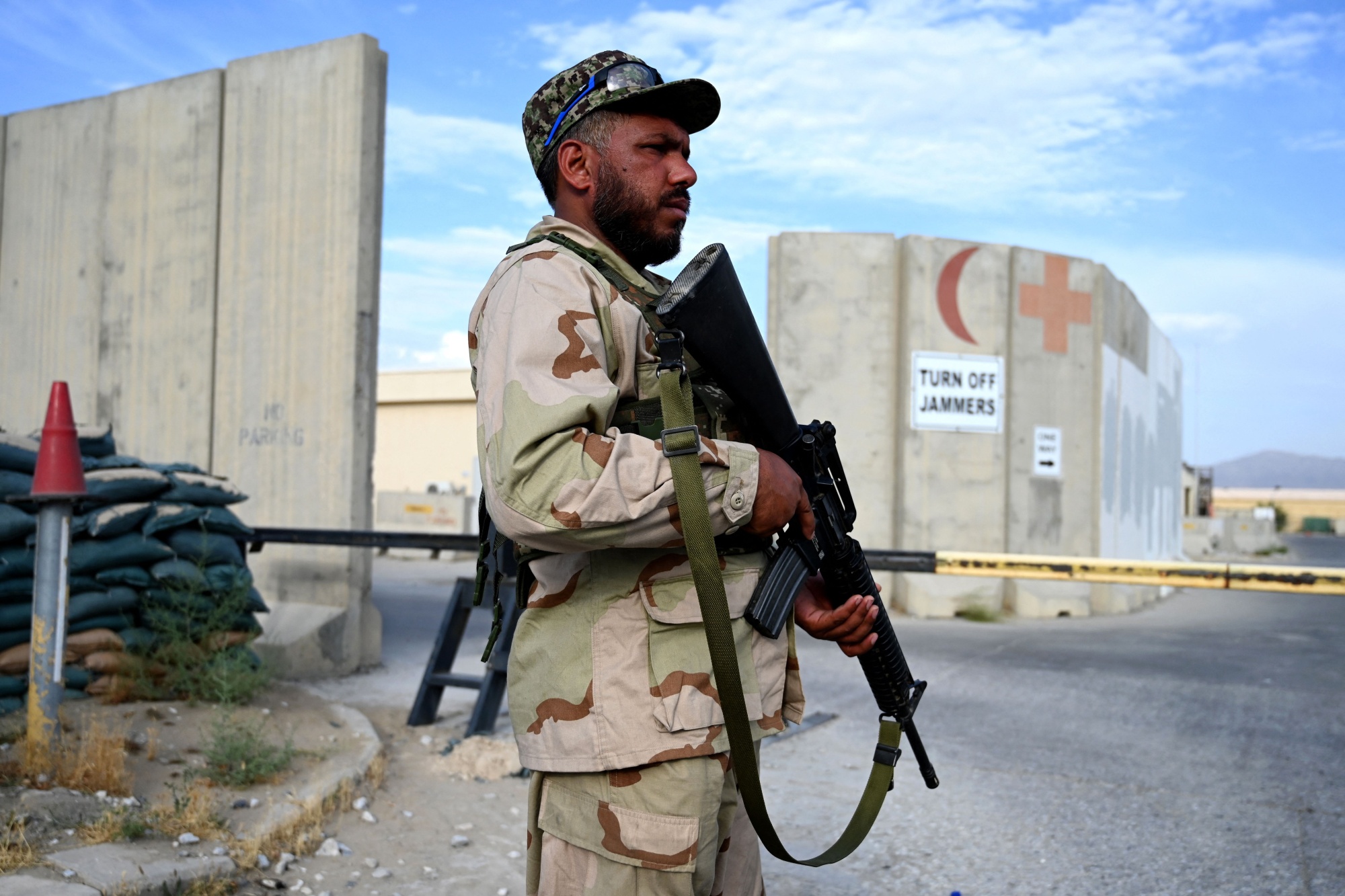 This way of analyzing is as insightful as it can get, but more than the concept of one group outnumbering the other, what's basically physical about this war behavior is the commonality of the purpose every Taliban has got.
No hope of dawn
This decades-long war has tested the mental endurance of the Afghan military, especially the low-ranking soldiers, and they were to figure out the Why behind their fighting and sacrificing lives from a set of notions that is way different from what an outsider, or even an Afghan official who isn't in good touch with the grassroots level of the military, believes.
That different set of notions, for instance, can be the gratitude the soldiers have for their immediately superior leader in return for his noble leadership, only him, nobody above; it can also be the most personal reason of fighting for his family, which is also a challenge when he is given a camp that's far away from his wife and children, not knowing if they are secure or not. Similarly, you can imagine whatever reasons that just don't serve to be a long-term motivation.
Vision devoid of values
Or, values devoid of humanitarian sense, is what the Taliban's set of notions can be viewed as. Their definition of human welfare has nothing to do with what we claim to be empathy and ethics, but some raw, extreme ideology that has deluded them to call themselves the saviors of humanity, which keeps them indifferent to basic human sensitivities.
Initially, when the Taliban took over Afghanistan after the Soviets were gone in 1996, Afghan people accepted them, as they seemed to be a ray of hope, oriented towards abolishing corruption and punishing law violators. The Taliban were known for their social mission backed by their claim of cleaning the country. 
But the other side of the coin is terrific: banning television, music, and any art practices, and stopping girls from going to school, which in 2012 took the extreme of shooting schoolgirl Malala Yousafzai on her way home.
Over time, the Taliban grew in numbers and momentum only to evolve into a version that became widely known for their shootings and bombings, and the way they make their money from drugs like opium and by trading minerals and precious stones mined illegally, etc., to which physically abusing Afghans' wives and daughters adds to be their latest atrocity.
Non-synchronous volumes fail
The US can spend billions, train, and support the Afghans in every way possible, but they do it to save their country, the US. Not to get judgemental about it, but the point is the priorities of Afghans and the US don't naturally align to augment as a streamlined power that can outfight Taliban, which is quite opposite in the case of the Taliban.
British army officer Dr. Mike Martin, in his book 'An Intimate War', warns that it's not just Taliban but many other little groups of franchise holders working together with the Taliban to attain common targets and yield personal benefits. The bottom line is, they are aligned enough to function as a single powerful force and become a juggernaut.
Radically world apart
Also, it's not about trying to paint Afghans' actions purely with humanity. As soon as guns are part of the game, beyond a point it's about pulling the trigger with no reluctance.
And who knows, there can be many Taliban individuals personally not okay with the killings going on but just trying to resonate with the masses, venting out their guilt in a different way.
But the point is, beyond any evolved similarities between the gunmen of both groups, the core idea that sets both apart from each other is the Why behind their guns:
Afghans got reasons to kill

Taliban's got no reason to not kill
In a nutshell, Afghans got strong Whys and Taliban got simple Why not. So, fear is the fundamental factor that drives the Afghans, upon which any ambition, aggression, training, technology, and weapon support stand secondary.
And the Taliban? Nothing empowers them more than the insecurity posed unconsciously by the enemy sects. And this empowerment is further augmented multiple times by whatever way they equip themselves with.
Conclusion
When they think they have authority over something or somebody, be it in the name of religious loyalty, patriotism, social well-wishers, or cultural guardians, this narrative is toxic and crafty enough to be supported even by our mothers, unless their extremism gets visible, close, and personal.
Also Read:  Will Kashmir become a war zone again after Kabul falls? Terrorist infiltration in the valley looks inevitable