Tabu is one of the most accomplished actresses of the Hindi film industry. She's featured in the mainstream as well as independent cinema.  Beginning her career with a Telugu film Coolie No.1 Tabu has to her name an incredibly versatile body of work and has bagged several notable awards including the very prestigious Padma Shri award in 2011.
Today on her 49th birthday TSA brings to you 10 of the most path-breaking films that Tabu has been a part of and changed the definition of a leading lady in Indian films and widened the scope of female characters.
Astitva
The 2000 Mahesh Manjrekar film deals with a very significant question of, why is it that infidelity becomes unforgivable when it comes to women. Tabu playing Aditi, a woman married to misogynist Srikant Pandit who does not allow her to take a job while he is away for work, represents the yearning of a woman for love and companionship and people's complete negligence of this need. The monologue at the climax is the gist of the film that Tabu delivers with great finesse. 
Maachis
Maachis the 1996 period political thriller directed by Gulzar shows the situation during the rise of the Sikh insurgency in Punjab during the 80s. Tabu's portrayal of a Sikh woman who joins her fiancé in a militant group after having lost both her brother and her mother on account of police brutality is a highly acclaimed performance. Her subtle portrayal of intense emotions remains fresh in the audience's memory.
Kandukondain Kandukondain
The 2000 Tamil adaptation of Jane Austen's Sense and Sensibility directed by Rajiv Menon was a blockbuster. Tabu playing the reasonable, calm and composed elder sister Sowmya is not only charming but also very believable and it strikes a perfect contrast with Meenakshi, the emotionally driven younger sister played by Ashwariya Rai Bacchan.
Chandni Bar
The 2001 Madhur Bhandarkar film, is about Mumbai's underbelly, prostitution and dance bars. The film focuses on the life of Mumtaz, a girl who lost her family in communal riots. Moving to Mumbai with her only living relative, living in desperate poverty she is emotionally blackmailed by her uncle into becoming a  bar dancer and upon entering that life she gets trapped in. The role got Tabu a National award, and the film is accredited as one of her best performances.  
Maqbool
The 2004 adaptation of Shakespeare's Macbeth, Maqbool didn't do very well at the box office but was a highly acclaimed film. Tabu playing the menacing Nimmi Abba Ji's Mistress, who encourages Maqbool's ambition played by Irrfan khan, and leads him to kill Abba Ji. Tabu amongst performers like Naseeruddin Shah, Pankaj Kapoor, Om Puri and Irrfan Khan stands tall as a performer and is vile and menacing as a then Indianised version of Lady Macbeth.
The Namesake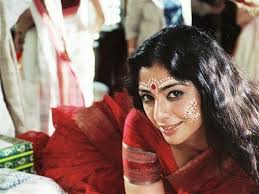 The Namesake is a 2006 adaptation of Jhumpa Lahiri's award-winning novel of the same name. Tabu portraying the role of Mrs Ganguli, a woman who has migrated to New York from Kolkota with her husband (Irrfan Khan) and children. Tabu's impactful presentation creates lots of sympathy towards her character by displaying innocence and helplessness when their son Gogal starts having generation conflicts with her and her husband. And what's even more commendable is that at the age of 35, she plays a mother of a 20-year-old with ease and comfort.
Cheeni Kum
The 2007 film is a love story between a 34-year-old woman and a 64-year-old man. Tabu as the 34-year-old Nina Verma is very cool, calm and composed yet she is a strong and independent woman adding a certain amount of sweetness to the film as her character stands in contrast to the ego-centric pomposity of Buddhadev (Amitabh Bacchan). One cannot imagine any other actress saying yes to such an offbeat theme.
Haider
The last instalment of Vishal Bhardwaj's Trilogy of Shakespeare's adaptations, Haider the film adaptation of Hamlet features Tabu as Ghazala, Haider's mother. She enacts a highly complex reality of situation and emotions. Torn between her son, an idealist husband and an opportunist brother-in-law Ghazal desperately tries to hold things together but can't.
Drishyam
Tabu in the 2015 Nishikant Kamat directorial plays a very strict Inspector general Meera Deshmukh and mother a distressed, who would use and abuse her power as an IG to find her son. Meera as an IG is powerful but unable to find her son she is also helpless, there is a sense of righteousness in her character which is every now and then overcome by her desperation as a mother to find her son that she's spoilt.
Andhadhun
2018 thriller is nothing short of a landmark in every sense for Hindi Film industry, however, Tabu's performance as Simi Sinha towers over all the performances, she is maliciously genius, incredibly shifty and keeps the audience at the edge of their seats. The character was written in such a believable way but Tabu played it accurately as well that not only other characters but even the audience was many times tricked over and over again into believing that she's up to some good.
Also Checkout: Hindi Shows to Binge-Watch on Weekend