Despite half of the team being inexperienced and new in world cricket, India beat Australia on the Australian field by 3 wickets after chasing 328 runs on day 5 on Gabba Ground, Brisbane and seized the series by 2-1. It was undoubtedly if not the greatest then one of the greatest Test matches ever played. Who does not remember Australia Team's Captain Tim Paine's sledging "Can't wait to see you at Gabba" to Ravichandran Ashwin, in the earlier test. And we showed them how winners play.
Here we tried to bring you 10 such Test wins of Team Blue.
1. Johannesburg Test: India vs South Africa, Dec 15 – Dec 18, 2006
This was India's first test win in South Africa. Yes! you heard it right, this was India's first test victory on South African soil. India had lost the ODI series by 4-0 before the test that no one was expecting this. Sourav Ganguly's and VVS Laxman's performance combined with Sreesanth's 8 wickets, India aced the test. Rahul Dravid was captain of the team. 
2. Multan Test: India vs Pakistan, Mar 28 – Apr 1, 2004
Who does not remember the time when Virender Sehwag became the first Indian to score 300 in test cricket, that too by hitting a long six. In those days, it was rare to win a test against Pakistan on their home ground. In fact, India took almost 50 years to achieve this victory. But India won the test comfortably by an innings and 52 runs. Virender Sehwag was declared man of the match for the heroic innings.
3. Adelaide Test: India vs Australia
It was the 2nd test of the series, Ganguly's heroic 144 saved India in the first test but no one was expecting this huge win on the very next test. Winning the toss Australian captain Steve Waugh decided to bat first. With Ponting's 242, Australia piled up 556 runs. Cricket experts were not expecting much from the test but Rahul Dravid and VVS Laxman had different plans. Their 303 runs partnership helped India to set 523 in the first inning.
Indian bowlers took the command and dismissed Australia for 196 in the second inning, Ajit Agarkar bagged his career-best 6 wickets in the test. Indian team chased a target of 229, Rahul Dravid batted great in the second inning as well. He scored an important 72 not out. For his batting in the test, Rahul Dravid was declared The Man of The Match. Sourav Ganguly was the captain of the team.
4. Kolkata Test: India vs Australia, Mar 11 – Mar 15, 2001
This one is my favorite! In the long history of Test cricket, there have been just three instances of a team winning after following on. This was India's and the 21st century's first. Rahul Dravid and VVS Laxman batted the whole 4th day of the test. With VVS Laxman's 281 and Rahul Dravid's 180, India scored 657 runs in the second inning saving follow-on after scoring a total of 171 runs in the first inning.
On day fifth captain Sourav Ganguly invited Australia to bat and Indian bowlers sent the whole Australian team back to Pavilion for 212 runs. India won by 171 runs, Harbhajan Singh bagged 6 wickets in the second inning and VVS Laxman was declared man of the match for heroic 281 runs.
5. Napier Test: India vs New Zealand, Mar 26 – Mar 30, 2009
This was one of the matches, why test matches are called a test match. Gautam Gambhir's battle of almost 11 hours helped India to save the match after a follow on. Later India won the series by 1-0. New Zealand scored a huge 619 with help of Jesse Ryder's 201 in the first inning, in reply Indian team got all out for 305. Taking the follow on,  Team India remained unbeaten 476/4 at the end of day 5. Gautam Gambhir scored 137 of 436 balls. Jesse Ryder was declared Man of The Match for his 201. 
6. Perth Test: India vs Australia, Jan 16 – Jan 19, 2008
It was the heroic performance of Irfan Pathan which made India beat Australia in the test. India broke the 16 Test winning streak of Australia. India scored 330 in the first inning, the great performance of the Indian pace attack helped India to destroy Australia for 212 runs in their first inning. India scored 294 with Irfan Pathan's important 46 runs. Later Irfan took 3 important wickets in the 2nd inning of Australia, which helped India to beat the mighty Australia by 72 runs.
7. Lord's Test: India vs England, Jul 17 – Jul 21, 2014
Though England won the series, this Lord's test will remain special for Ishant Sharma, Ajinkya Rahane, and of course for Indian fans.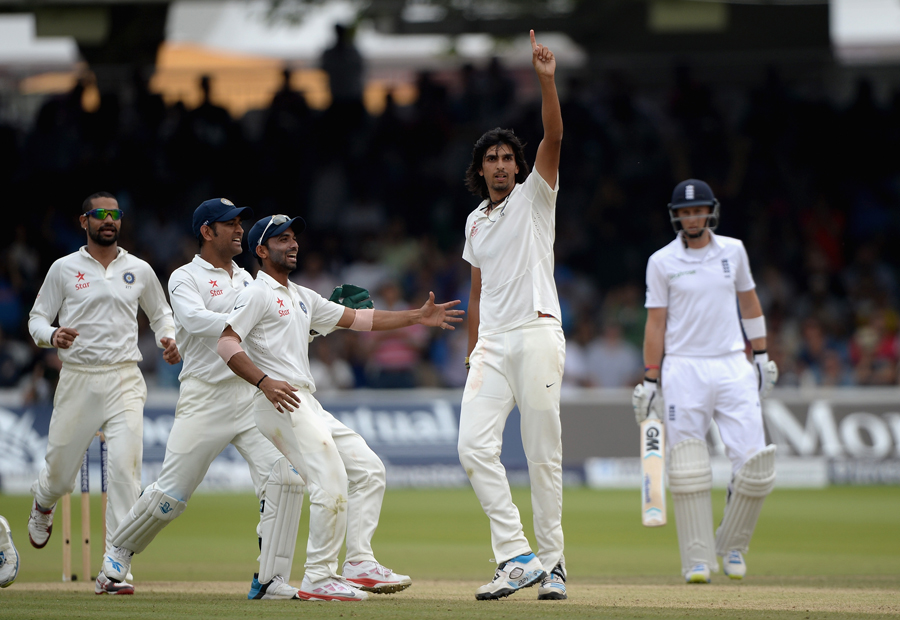 At one point it seemed the match was going to be drawn but Ishant Sharma's career-best 7 wickets haul snatched the match from the host's jibe. No one was expecting the win as the previous tour had been terrible for India be it the Test series or ODI series. Day five, the fight of the test is still popular on YouTube. Ishant Sharma was declared Man of The Match for his Iconic spell.
8. Chennai Test: India vs Australia, Sep 18 – Sep 22, 1986
This was a very rare result; the possibility of the two teams ending up with the same score is very bleak that too after batting for 2 innings each. As of now, only two ties have occurred in the 2000 Tests played since 1877. The first was in 1960 between Australia and West Indies and the second in 1986 between India and Australia.
In the Chennai Test, Australia with the help of 3 batters scoring the century declared the first inning on 574/7. In reply India tried hard and scored 397 runs, Kapil Dev scored fine 119 runs off 138 balls in India's first inning, for which he later declared Man of The Match. Australia scored 170/5 and invited India to bat thinking they will get Indians all out on the dead pitch of Chennai. But God had his plan for day 5. India got all out indeed but after 86.5 overs and scoring 347, which made India's total score of both innings equal to that of Australia's. Isn't it the rarest among the rare!
9. Port of Spain Test, Apr 7 – Apr 12, 1976
It is still unusual to hear a team wins a test match chasing a target of 400+ runs in the second inning. These are the few test matches that defined the future of the test matches. After scoring 359 in the first inning and getting Indians all out at 228, West Indies thought a 403 run target was enough for the Indian. This later proved wrong as India scored 406/4 with centuries of Sunil Gavaskar and Gundappa Viswanath. India won the test easily by 6 wickets. Bishan Singh Bedi was the captain of the team. 
10. Chennai Test, India vs England Dec 11 – Dec 15, 2008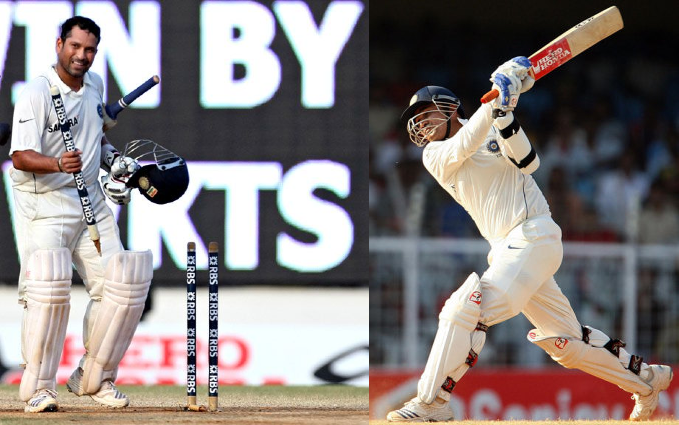 Who does not remember India getting all out for 241 runs in the first inning and then winning the test by scoring 387/4 with help of Sachin's unbeaten 103 in the second inning on day 5. This was the rarest win for India on Chennai ground in the last few years then. Virender Sehwag 83 of 68 balls with 4 huge sixes is still heroic. This was the inning that decided the destiny of the game and for which Virender Sehwag was declared Man of The Match. India won the series by 1-0 later.    
Also Checkout: IPL 2022, Virat Kohli, Ms Dhoni, Rohit Sharma Retained.