You would be living on some other planet if you haven't heard the vicious Tweet fights between Diljit Dosanjh and Kangana Ranaut. But if you do not know about the feud, no worries.
The tweet combat started with a reply to Kangana's tweet when she referred to the farmers taking part in ongoing farmers' protests as terrorists.
And since then showers of savage tweets and replies between the duo are giving people something to be entertained with.
In case, if you are following the fight, you know it's a clear win for Punjabi Munda Diljit! Now, it is becoming a trend among netizens and they are digging the tweets when Diljit shook the opponent with his witty and savage reply. 
We made a list of 8 such savage comebacks –
1. His replies to Kangana Ranaut have been the buzz for netizens. First time in ages, she got a befitting reply.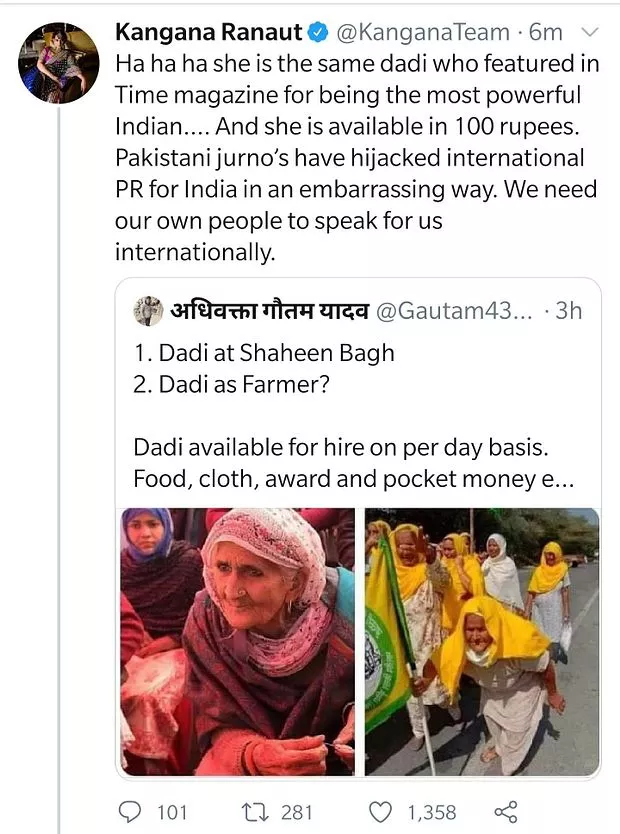 See what Diljit had to say when Kangana shared a picture of a woman from farmers and called her Bilkis Bano, a well-known face of Shaheen Bagh protests, and made rubbish allegations.
Respected MAHINDER KAUR JI 🙏🏾

Ah Sunn La Ni With Proof @KanganaTeam

Banda Ena V Ni Anna Hona Chaida..
Kush v Boli Turi jandi aa .. pic.twitter.com/Ie1jNGJ0J1

— DILJIT DOSANJH (@diljitdosanjh) December 2, 2020
This reply really infuriated Kangana, she called Diljit 'Karan Jauhar's paltu'! Following this, a feud of words in the form of tweets began between the two and obviously, Diljit can safely be designated as the winner.
2. It seems like Diljit always has the very intention to throw it back to the trolls when it comes to farmers' protest.
An Instagram user tried to shut Diljit down. The user responded to Diljit's Instagram post by writing, "Apni anpad soch nu loko na ladwao. 10 padhke singer banjande ho fir loka nu bevkoof banaude ho. Sara desh bil de naal hai (sic)".
And Diljit had the precise comeback for this guy, "Bill de spelling tainu aundi ni. Pata tainu swaah hoga".
3. This is what Diljit had to say when a Twitterati tried to troll him saying "Kabhi Hindu festival ki bhi badhai de diya kr joode wale".
To this Diljit responded by saying that he respects all religions equally.
Sharm Hee kar la.. Likhan Ton Phelan.. Jee Tan Ni Karda Tere warga nu Jawab Den nu..

Har Dharm Da Satkaar Karde an Asi ..🙏🏾 https://t.co/q03eQLD6HS

— DILJIT DOSANJH (@diljitdosanjh) August 19, 2020
4. This one wins my heart! A person once asked Diljit on Twitter to act with girls who have beautiful legs. To this, Diljit Dosanjh politely asked him to change his mentality and that a woman is not obligated to show her legs to anyone. She can wear whatever she wants.
😏 21 Century aa Bugge .. Soch badlo.. Jida Jo Jee Karda Oh Pa Sakda .. https://t.co/81UoJKyAW5

— DILJIT DOSANJH (@diljitdosanjh) August 7, 2020
Diljit's fans also came in his support. One of the fans wrote, "Diljit veere tusi ena Lokan Diyan faltu Gallan val Dyan na deo ji… Tusi taan shaan ho ji Saarean di ji Respect Diljit veere "
5. Diljit shared a clip from an old concert on Twitter, where someone requested him to sing a sad song. To this he replied saying:
Sad song? Why sad song? No. I am not sad today, I am very happy. Tonight is my last show. I am very happy … no sad song.
6. Diljit came up with a hilarious reply when a Twitterati asked him if he plays PUBG or not!
Nahi Bhen Ji Mai SUB-G SUB-G Khelta Hu RASODE MAI 😎🦾 https://t.co/BXo4PORSIh

— DILJIT DOSANJH (@diljitdosanjh) September 3, 2020
7. When one netizen tweeted to Diljit Dosanjh saying, 'Gaane gaao jaada mat udoo beta rajneeti tum jaiso ke layak nhi @diljitdosanjh.' Diljit replied:
8. Recently, Rihanna took to Twitter and said: 'W

hy aren't we talking about this?!

#FarmersProtest'.
She faced a lot of backlashes and trolling from the supporters of the govt. But many also came to defend and support Rihanna, one such was Diljit Dosanjh. Diljit made a song about Rihanna, called 'RIRI'.
why aren't we talking about this?! #FarmersProtest https://t.co/obmIlXhK9S

— Rihanna (@rihanna) February 2, 2021
#RIRI ❤️https://t.co/SkyOBC8lLx@Thisizintense @raj_ranjodh #DJHans #Rihanna pic.twitter.com/HtoODssI16

— DILJIT DOSANJH (@diljitdosanjh) February 6, 2021
Also Checkout: 10 Most Expensive Nike shoes in the world