A Redditor shared an idea of adopting "The Senior citizens who are all alone as they have lost their children, their family members, their father, mother or grandchildren, the same way we adopt babies and younger orphaned children. He opened up his thoughts asking people's opinion on this to prevent senior isolation:-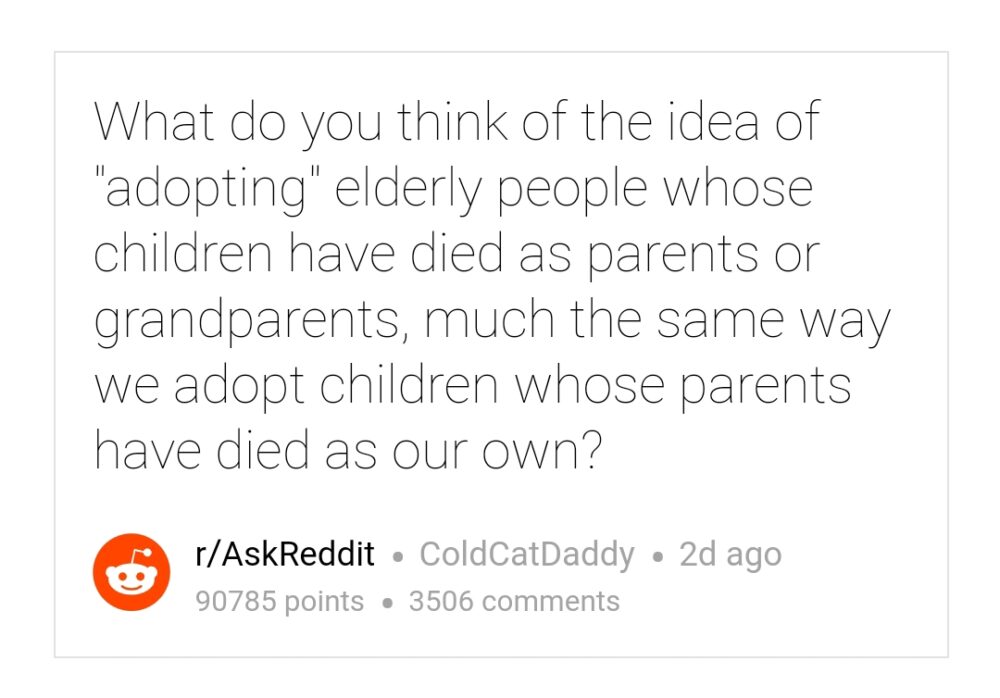 After this, People started sharing their personal experiences of a similar version of this concept that they have experienced in their towns, which includes their workplaces and schools.
Trichy range DIG V Balakrishnan had drafted the scheme to provide care and protection to the old people throughout the lockdown period so that they do not face any inconvenience.
The project was launched on March 24, soon after the lockdown was imposed, and the police carried out an enumeration and identified 1,852 senior citizens staying alone at the houses in Trichy rural, Pudukottai, Karur, Perambalur and Ariyalur districts.
The goodness doesn't stop here,
Aishwarya, from Bengaluru, helped the senior citizens in the city-run daily errands – from delivering medicines or to stop by for a friendly chat, she's easing their stress in more ways than one. Also, she takes care of every little detail in maintaining social distancing.
Prashanth Reddy, who founded Anvayaa in 2016 to ensure the well-being of the elderly.
With 25 years of experience in IT, he conceived Anvayaa as a technology-enabled personalised solution provider. "Our endeavour is to recreate the experience of warmth, safety and comfort the elderly get from their children," he says.
He developed a digital platform dedicated to extending any kind of service, from health care to daily needs services, supported by a mobile phone app and a web portal with 24×7 support centre.
Anvayaa's USP is its team of dedicated care managers who assist and engage with the elderly signing up with the platform.
Likewise, we can also become the helping hand which can definitely make the life of elderly citizens easy and smooth. Give it a thought for at least once and try to bring a positive change around.
Also Checkout: Shakuntala Devi, "The Human-Computer"