Himachal Pradesh is home to diverse flora and fauna and is surrounded by the Himalayas, the world's youngest and highest mountain range. With three mountain ranges, the Dhauladhar, Pir Panjal, and the Himalayas, it is destined to be the country's adventure capital. Trekking, understandably, is at the top of the list of adventure activities available here. In this article, we are going to discuss some of the amazing treks in Himachal Pradesh
The magnificent Himalayas continue to persuade us that Himachal Pradesh is surely a location where God must take a breath every now and then. The landscapes, temples, and hills are even more beautiful when covered with snow.
The mountains of Himachal Pradesh are the ideal spot in India for individuals who enjoy the adventure. Trekking in such a setting is enticing. Though all of the Himachal Pradesh hikes are breathtaking, we have a few favorites that we'd like to share with you. We have compiled a list of 5 amazing treks in Himachal Pradesh below.
Take a look at our list of 5 amazing treks in Himachal Pradesh That you should consider:
1. Pin Parvati Pass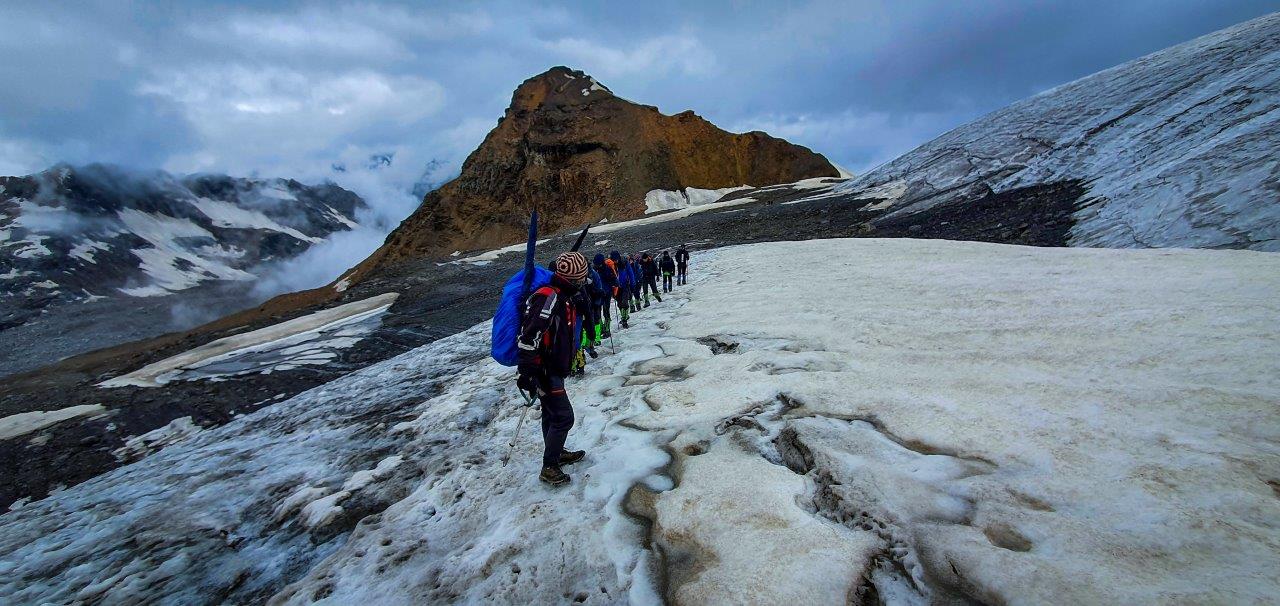 The Pin Parvati Pass trek, which begins in Kullu's Phulga hamlet and ends in Mud village in Spiti, is a genuine beauty. Pin Parvati Pass trek is classified as difficult and demanding, and it is a fascinating trail with surprises around practically every curve.
Witness the tree line vanishing into a field of wildflowers and unkempt plants, the strange Parvati valley through which the Parvati river carves its sinuous way, and the equally contrasting abandoned mountains that wear the spell of Spiti's barrenness.
It's also a fascinating shift between two civilizations, from Hinduism to Buddhism. This trip is not only one of the most difficult but also one of the most gorgeous in Himachal Pradesh.
2. Triund Trek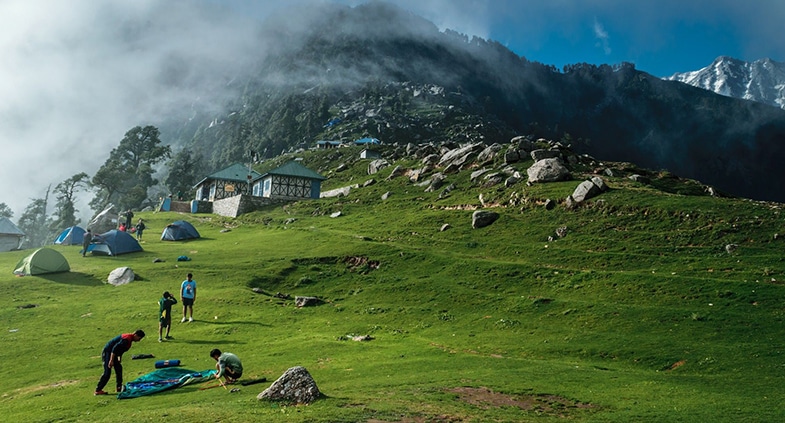 Camping beneath the stars with a warm bonfire is the greatest way to entice visitors to the Dhauladhar hills. The view at Triund is worth seeing, particularly at night.
This one-day trip is known as Little Lhasa since it is home to a large Tibetan community. If you want to go alone or with your companion, it is one of the most popular locations in India since you can get there without soaking in sweat.
3. Hampta Pass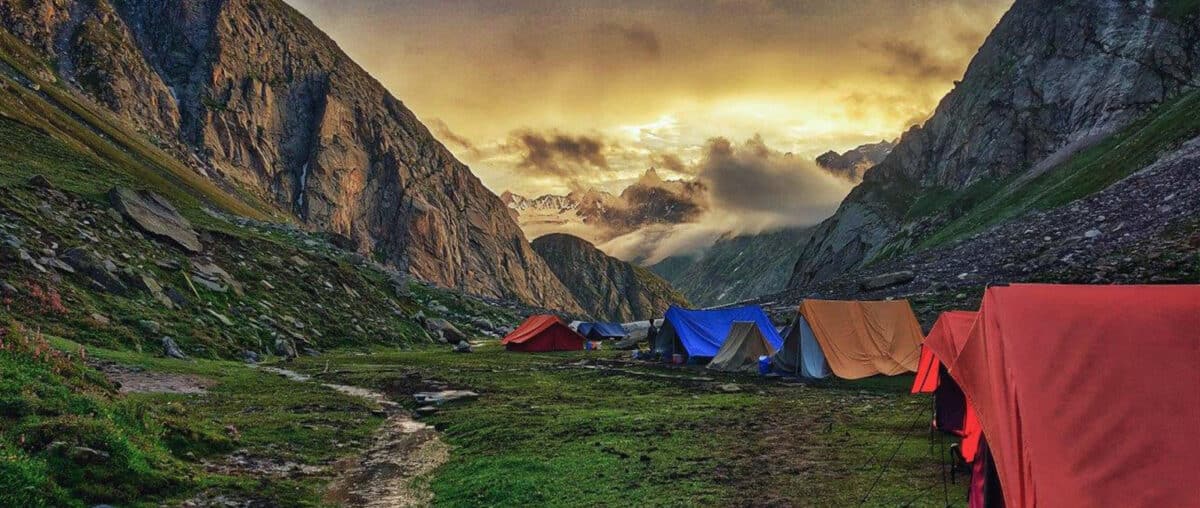 The Hampta Pass is known for its stunning scenery and diverse terrains that never disappoint. It teaches you how to cross a stream, how to walk across snow bridges, and how to face the rigors of descending a slick mountain.
Hampta Pass is a fully-rounded journey that takes you through a variety of scenery, from forest to meadows to snow, as well as mountain hazards such as rocky terrain and high altitude obstacles. Hampta Pass is one of Himachal's top hikes for a variety of reasons.
4. Deo Tibba Base Camp
Enjoy the breathtaking views of Deo Tibba (6,001 meters), Indrasan Peak (6,220 meters), and Inderkila Peak (4,940 meters), as well as the Jagatsukh glaciers and the small Chandratal Lake. Deo Tibba not only provides a beautiful view of some of Himachal Pradesh's most prominent peaks, but it also has rich flora and fauna.
Deo Tibba is brimming with medicinal plants that have been reported to treat fevers, stomachaches, and even smelly feet. It is a nice trip for novices as well as expert hikers due to the low grade and ease of access. It's no surprise that it's one of Himachal's most beautiful hikes.
5. Buran Ghati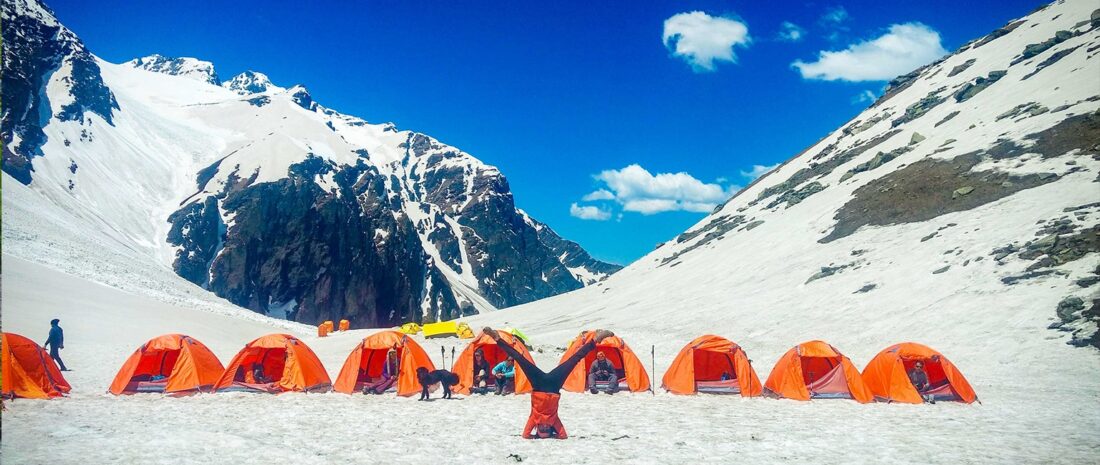 Buran Ghati is one of Himachal Pradesh's most picturesque hikes. Because of its unspoiled beauty and fantastic campsites, this recently found path is quickly gaining popularity. With massive mountains in the background and extensive fields lined by pine trees, the campsites are picture-perfect.
Buran Ghati is one such trip where you may view every facet of nature, from Dayara Bugyal's meadows to Chandranahan's streams and waterfalls. Along this path, the mountain pass from Dhunda and the snow wall at Buran Pass are other highlights. This picture-perfect hike in Himachal is a must-do.
Some of the amazing treks in Himachal Pradesh every trekker must consider are listed above. This list was created with all types of hikers in mind from our community. These hikes allow you to view the true beauty of nature after visiting the stunning landscapes of Himachal Pradesh. 
Also Checkout: 10 Most Hidden Beaches Of Goa You Must Visit