The cast of C U Soon: Fahad Faasil, Roshan Matthew, Darshana Rajendran
Director: Mahesh Narayanan
Story: A story is about a young man, Jimmy, played by Roshan Matthew, who works as a bank executive in Sharjah, UAE. Jimmy found a match on Tinder, Anu Sebasyian, played by Darshana Rajendran. Jimmy and Anu started chatting on Tinder and moved forward towards WhatsApp, Google Meet and Google Duo.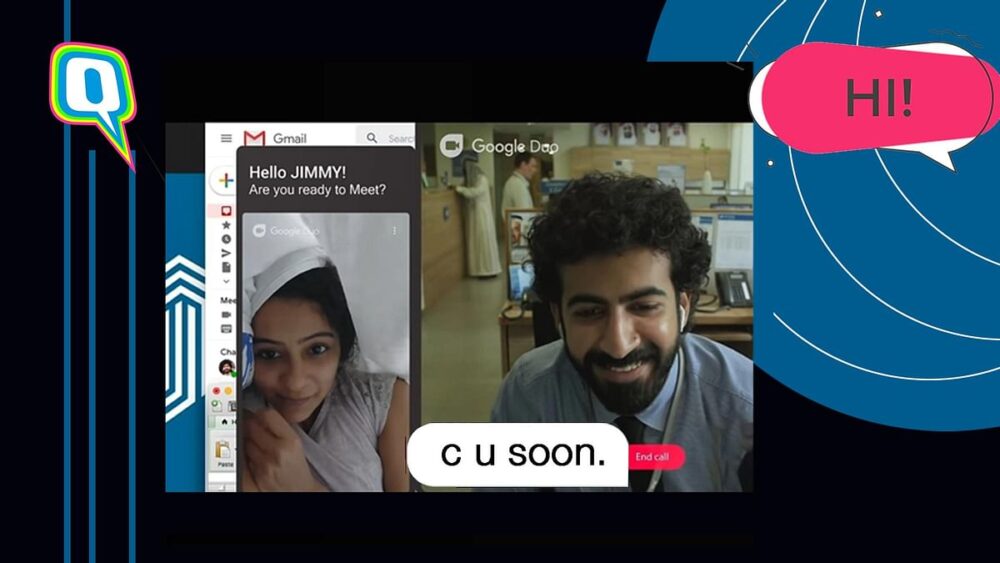 Jimmy fell in love with Anu soon and confessed his feelings. The very same day, he also introduced Anu to his family over video chat and proposed her for marriage. Since the two had met online and had known each other for only a week, Jimmy's mother was upset about the decision of his son. She asked Jimmy's cousin, Kevin, played by Fahad Faasil, to inquire about Anu.
It was a cakewalk for Kevin as he happens to be a cyber sleuth whose daily routine is to hack the systems. Kevin gave a green signal to his aunt soon after a small search. Till now everything was going smooth, but the turn had to arrive. Jimmy's world went upside down as one fine day he received a video message from Anu, in which she was seen with a fresh bleeding cut mark on her face. She kept on saying sorry and disappeared in thin air after the message.
Jimmy couldn't get a hold of her and soon after UAE police arrested Jimmy on the basis of his link with Anu and her disappearance. Kevin was left to find out Anu and prove Jimmy innocent. The viewers are left wondering what made Anu lie to a man who loved her to the moon and back. Kevin remained seated to his computer till the end and found traced down Anu, using his expertise in cyber hacking.
Now what happens next is a mystery which you can solve only by watching the 98 minutes long film. C U Soon is available on Amazon Prize for free, so give it a shot and see how Kevin solves a jigsaw puzzle.
Review: In simple words, C U Soon stands out beyond our expectations as this is the first-ever computer screen movie made in India and second in the world after 'Searching', which is, of course, no way near to this masterpiece. The movie is a technically well-crafted treat to the eyes.
Can you imagine a movie running completely through video chats on mobile phones and desktops? Obviously no! But who knew this that while the world was drowned under depression during this house-arrest for half the year, Malayalam Cinema would shoot up a romantic-suspense thriller in a week, that too virtually with the use of iPhones. Hats off to the makers who risked their money and energy to carve a creative and unique content out of this tumultuous time when each one of us was confined to homes.
They have followed the social distancing protocol in the truest sense, by shooting a movie over live video chats and a small crew on onboard. The movie has a very relatable plot and premise attributed to the real world we all live in, where youngsters get into a relationship over social media, land into troubles and there is also a hard-hitting message sent out in the end about an evil practice which is run globally under the garb of darkness.
How the title of the movie appears on the screen after 15 minutes of start is inexplicable. It's beautifully shown when both Jimmy and Anu end up texting "c u soon" after they had confessed love for one another. These small things speak of creativity when it comes to film-making.
In one scene Fahad Faasil shut down his system, after this you might wonder how makers would transit the scene to the next to maintain the sync of live video chat, but the director with out of the box vision along with an ace editor executed it at ease.
The movie comes with a warning though; you can't watch it with a lazy mood because there are multiple windows opened simultaneously on the desktop, like in one window the character is on a video call and in the other he is typing a text to somebody.
A sleepy viewer might lose out a lot of details in a single scene, which will, of course, make the movie difficult to understand in one go. But this is also absolutely true to the aspect of the real world where daily chores run simultaneously with many files, tabs, etc opened on the computer and we are in throes of multi-tasking there.
The major three characters of Kevin, Jimmy and Anu have been smartly written, layered under multiple shades that keep on unfolding with twists and turns in the movie.
Fahad Faasil as Kevin played out the course with eyes alone. His character spent most of his time with face facing the front camera of desktop and mobile and he has performed it so perfectly that one can hardly find any mistake in the scene in which he is busy devouring the truth online. Everything looks a cakewalk for him in the role.
Roshan Matthew as Jimmy has also played his part extraordinarily as he seems to have his emotions placed right on to the screen when he is a love bird as well as when he falls victim to the circumstances born out of love, for which he calls Anu culpable.
Darshana as Anu comes out as a surprise package, keeping an array of mysteries around her from the start to the end. In the first half, you will fall for her innocence and will feel annoyed with her for leaving Jimmy all alone, and in the end, she will make you cry over the hardships she has been through. The other two characters of Maala Parvathi as Jimmy's mom and Saiju Kurup as a doctor friend of Jimmy, have done justice to their supporting roles.
The cinematography fits right into the aura of the scenes and the background score keeps up well with the suspense, required to make the premise look more intriguing.
Finally, the captain of the ship is Mahesh Narayanan who has donned the director's as well as editor's hat and pulled off the craft very well. His direction leaves us short of words whereas his smart and crisp editing is enough to keep the virtual movie away from hitting any monotonous turn.
To top it all, 'C U Soon' is a must-watch for people who love to feel real-life romance on the screen, packed with emotions and thriller moments. For non- Malayalam speakers, this movie is no puzzle for you as well, because you have the English subtitles flashing on the screen. Also, the plot through video chats is so well portrayed that you will hardly need subtitles to understand the film.
Also Checkout: The Enchanting songs of coke studio season 14

Also Checkout : 10 trusted Guest Posting sites to publish content and get backlinks