Left-wing Colombian President Gustavo Petro's 36-year-old son, Nicolas, was charged Tuesday with money laundering and illicit enrichment.
The younger Petro pleaded guilty to the charges, which have raised questions regarding the integrity of his father's means of financing his presidential campaign.
Alleged illicit purchases made by the president's son include a Barranquilla mansion, a luxury apartment and a Mercedes-Benz SUV.
The son of Colombia's president was charged Tuesday with money laundering and illicit enrichment at a hearing where prosecutors said he took thousands of dollars from drug traffickers and used it to buy luxurious homes and expensive cars.
Nicolas Petro, 36, pleaded innocent to the charges, which have raised questions about the financing of President Gustavo Petro's 2022 presidential campaign. This has exposed the leftist leader to attacks from opposition parties, which have become increasingly reluctant to cooperate with the president's legislative agenda.
The investigation against Nicolas Petro stems from a shocking declaration made by his ex-wife Daysuris Vasquez to local news magazine Semana in March.
COLOMBIA SUSPENDS CEASEFIRE WITH MARXIST REBEL GROUP ACCUSED OF KILLING 4
In the interview, Vasquez said she was present at meetings where Nicolas Petro arranged a 600 million peso (USD $150,000) donation from a politician who was once convicted in Washington for drug trafficking, and who wanted to contribute to Gustavo Petro's 2022 presidential campaign.
Vasquez accused her ex-husband of pocketing the money, and said that Petro's presidential campaign had no knowledge of the donation.
In Tuesday's hearing, prosecutors accused the younger Petro of using illicit funds to buy a mansion in the city of Barranquilla, a luxurious apartment and a Mercedes-Benz SUV. They said that he registered the properties under the names of relatives in order to avoid investigations from tax officials.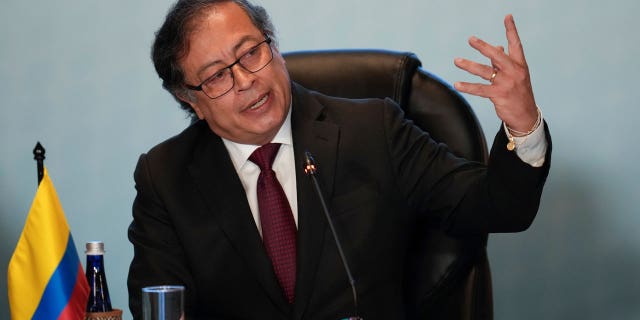 Prosecutors said that Nicolas Petro, who was a legislator representing a northern coastal region, would have needed to earn ten times his salary in order to justify his expenses in 2022.
Prosecutors also accused Vasquez of co-operating in the money laundering scheme, and said she helped her husband to hide thousands of dollars in cash in suitcases that the couple kept at their home.
The couple, who no longer live together, were arrested on Saturday night and have been held at the headquarters of the Chief Prosecutor's office in Bogotá, from where they attended Tuesday's hearing.
COLOMBIA'S PETRO FIRES POLICE CHIEF WHO CLAIMS HE USED EXORCISMS TO CATCH FUGITIVES
President Petro said that he would not interfere with the investigation, and wrote a message on X, the platform formerly known as Twitter, in which he said that he hoped his son would "reflect on his mistakes."
The president was hit by another corruption scandal in June, when his former ambassador to Venezuela said in voice messages that Petro's presidential campaign broke finance limits, and hinted that it could have received money from drug traffickers. Petro denied those charges and said that all donations to his presidential campaign were carefully scrutinized.
The scandals have dented Petro's popularity among voters in Colombia, where incidents linking political campaigns to drug traffickers bring back memories of the 1990s, a violent decade in which a former president was accused of taking money from the Cali cartel and had his U.S. visa cancelled.
CLICK HERE TO GET THE FOX NEWS APP
During his first year in office, Petro has managed to broker a ceasefire with the nation's largest rebel group. But has failed to get the nation's congress to approve reforms to the nation's health system, pensions and labor laws that he announced at the beginning of his term.
(this story has not been edited by TSA Mag staff and is published from a syndicated feed.)