Ever since the Pandemic has begun, we saw innumerable waves of it destroying lives, families, living, and most importantly hopes. Where on one hand, we tend to pretend that we all are United against the evil virus, it doesn't seem that way. There exists discrimination most strangely and that is by alienating someone completely during the onset of their disease instead of supporting him or her when he or she is ill.
In India, where we find discrimination in everything, it wouldn't be surprising for us to bring Coronavirus as a game-changer. When the word 'Corona Jihad' was brought into play by some of the media, we stayed quite as it was an agenda to target one sect and community but now, when individually people are made to bear the burden of such stigma, it's a high time that something needs to be done.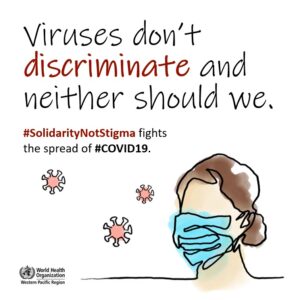 The stigma reached to that state not just in India but in almost all countries that UN Rights Experts in April fearing a needless increase in Covid-19 deaths due to discrimination called the Governments to commit to racial equity and equality in their responses to the pandemic. This happened after the African Americans were ill-treated in the hospitals and were refused treatment.
Social stigma is a type of discrimination against, an individual or a group of people based on social characteristics that serve to differentiate them from other people living in society. Social stigma could be related to anything- gender, caste, colour, health, community, everything that prevails in a society.
In the context of health, see it as an interrelation between an individual or a group of people who share certain features and a specific disease. In an outbreak, this basically is labeling, stereotyping, discriminating, and treating people separately. Perhaps the result gets gross and evil and the person affected with the disease feels the loss of status because of a link with a disease. Not just them but, their families, caregivers, the society they live in also gets traumatized. In most cases, they are looked upon as criminals.
In a report of The Logical Indian via a Tweet, In Andhra Pradesh, shunned by relatives over the fear of infection, the wife and children of a Covid-19 patient died by suicide. According to the police, after the death of the 52 years old Narasaiah, who was infected with coronavirus, his family felt humiliated when their relatives and friends did not give them solace after their loss and alienated them, by tagging them as 'corona carriers'.
In the current situation of the COVID-19 outbreak, this social stigma has provoked discrimination amongst people both on the social as well as ethical backgrounds. It isn't just faced by people who have suffered from the virus but also to the people who have been in contact with the virus and death of a family from Andhra Pradesh so tragically is clearly an example of the gross apathy that exists.
The Stigma can erode social solidarity and prompt social isolation of groups, which might further contribute to a situation where the virus can be so evil, then it is likely to be as now it wouldn't just make you physically weak but mentally ill. In another report by Mirror Now News, a youth allegedly ended his life after his neighbours pressurized him in a certain way by discriminating and abandoning him even after he fully recovered from the virus.
Misinformation and rumours are spreading more quickly than the current outbreak of the new coronavirus (COVID-19). This contributes to the negative effects and in promoting stigmatization and discrimination of people from areas affected by this outbreak. Similarly, a case of Shimla was reported by Live Mint showed how 'Social-Boycott' can become a reason behind a 37-years-old man's death who wasn't really suffering from the virus but some villagers instead, suspected him to be which led to his untimely death by suicide. What a tragic death of a productive life because of one rumour that infiltrated and socially shunned him in society.
The masses must support each other in fighting this disease and to understand the sentiments of one going through it. An environment must be created where one can discuss and address the disease openly, honestly, and effectively.
The Governments, media, citizens, and the communities play an important role in spreading as well as stopping the stigma. It's them who deliver the information in whichever way they like so it's their responsibility to encourage people to fight the virus unitedly and scientifically.
We all need to be thoughtful while communicating on social media platforms and other communities, showing supportive behaviours towards people infected with the virus and not believe in anything but science. Stigma can be intensified by inappropriate knowledge about how the coronavirus (COVID-19) is transmitted and treated, and one can prevent the infection.
In such a case, social media is very useful as it reaches a large number of population in no time we can implement a 'Hero' campaign honouring our medical practitioners, caregivers, and healthcare workers who may be stigmatized due to this. Community volunteers also play a great role in reducing stigma in communities.
After all, it is US' who are responsible for preventing the Social stigma and, emphasizing efforts to find a vaccine and treatment that cure the disease as well as the stigma around it.