Hyderabad, the capital of Telangana, is India's sixth most populous city and home to a thriving cosmopolitan community. Hyderabad, often known as the "City of Pearls" and the "City of Nizams," has had a rich historical history since its founding by the Qutub Shahi dynasty, which was then overrun by the Mughal Empire before falling into the hands of the Asaf Jahi dynasty. Let's take a quick look at the culture of Hyderabad.
The legacy of Hyderabad's illustrious royal past can be seen in the city's culture, cuisine, and prominent architectural landmarks such as Charminar and Golkonda Fort, which remain testaments to the city's illustrious past. Hyderabadis are the residents of the city, and they have built a culture that is a distinct blend of Muslim and Hindu traditions. Traditional Indian garments such as saris and shalwar kameez are worn by women in Hyderabad. Muslim women, on the other hand, wear either the burqa or the hijab.
Hyderabad is a cultural melting pot of North and South India. Hyderabad's culture is unique from that of the rest of Telangana, with strong Islamic influences dating back to the Nizam dynasty. The influence of Islamic culture may be seen in Hyderabad's architecture, cuisine, lifestyle, and language. The ancient city is more representative of this, but the modern city symbolizes a more global culture. Hyderabad has a long literary and artistic past, with several museums, art galleries, and exhibitions dedicated to showcasing Hyderabadi culture. Because the city is cosmopolitan, all ethnic festivals, such as Diwali, Eid, and Christmas, are given equal prominence and celebrated with a lot of pomp and awe.
Religions and Languages
Hyderabad is home to a diverse range of cultures and traditions. This lovely Pearl City is a melting pot of faiths, including Christianity, Hinduism, Islam, Jainism, and Zoroastrianism. The city's culture is a mash-up of old Islamic traditions with Telugu Hindu customs. Telugu and Urdu are the two main languages spoken in Hyderabad. In the Hyderabad area, Telugu is extensively spoken. 
The royals of Hyderabad used Urdu as their official court language. It was here that Urdu rose to prominence, and the dialect spoken predominantly by Muslims was dubbed "Deccani Urdu" or "Dakhani Urdu". A different dialect of Hindi is spoken in the city due to the impact of Urdu. For generations, Telugu has been a prominently spoken language in Hyderabad, and it is also the native language of Telangana. Apart from Urdu and Telugu, the city also speaks English, Hindi, Tamil, Marathi, and Gujarati, since their speakers live in the city.
Regional Dressing
Women in Hyderabad typically wear an Indian sari or salwar kameez. The Khara dupatta, a standing veil, and salwar kameez are traditional women's attire. Kurta pyjamas and sherwani are the most common outfits for men. Hyderabadi ladies have a distinct sense of style when it comes to matching. Everything from the bangles to the jewellery to the sandals and even the purse suits the outfit wonderfully. Hyderabadis are particularly fond of pearl jewellery.
Food and Drinks
Hyderabadi food, which is a wonderful combination of Mughal, Nawabi, and Andhra cuisines, is recognised for its exquisite flavours and extensive use of desi ghee, dried fruits, meats, and spices. The most famous meal from Hyderabad is traditional Hyderabadi Dum Biryani, which is offered in restaurants around the country. It has a unique fragrance and is comprised largely of goat meat and rice. It's served with Dahi-ki-chutney and Mirchi-ka-salan, and it's nicely garnished with pudina, fried onion, and boiled eggs.
During the festivals of Diwali and Ramzan, Muslims cook double ka Mitha and Haleem, and during the holy month of Ramzan, Muslims prepare double ka Mitha and Haleem. Hyderabad is also known for its Irani Chai, Lukhmi, and Naancut Biscuits.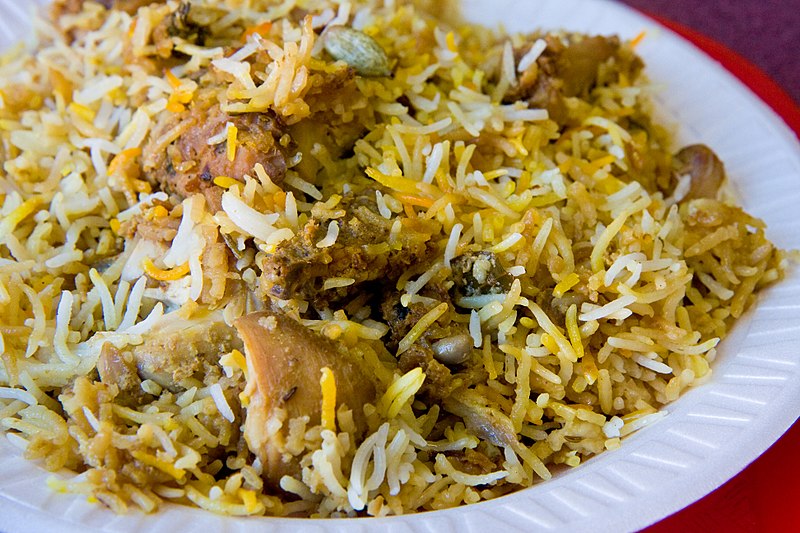 In Hyderabad, you'll find a mix of strong Mughal, traditional Andhra, and Telangana cuisines. Hyderabadi Biryani is the city's most well-known dish. Khubani ka Mitha, Pheni and Haleem, Pathar-ka-Ghosht, and Nahari are some of Hyderabad's other well-known dishes. Double-ka-Meetha, Khubani-ka-Meetha, Seviyon-ka-Meetha, and Kheer are popular sweets. This city's delectable cuisine reflects its culture and heritage. When you visit the city, you must sample the delectable and delectable Hyderabadi cuisine.
Arts, Culture, And Festivities
In Hyderabad, there are several art centres that showcase the city's rich dance and music tradition. Kathak, Kuchipudi, Bharatanatyam, and Odissi are all prominent dance forms that originated in the courts of the Mughals and Nawabs. The city's traditional musical versions are Hindustani Classical Music and Carnatic Classical Music. Regular exhibits of traditional Nawabi portraits and modern paintings are held in Hyderabad's cultural area.
Hyderabad's culture, as a melting pot of diverse cultures and races, has its own set of festivals. The Deccan Celebration is a prominent regional festival held on the 25th of February every year to celebrate the city's culture, arts, and crafts. Ghazals, Mushairas, and Qawwali singers perform during the five-day event.
Vinayak Chaturthi is a well-known celebration that commemorates Lord Ganesha's birth. Ugadi, also known as the Telugu New Year and celebrated in March and April, is another prominent event in Hyderabad. During Ugadi, people use mango leaves to adorn their front doors.
Ancient Architecture
Hyderabad's structures represent a particular Indo-Islamic architectural style, making it India's first and "Best Heritage City." Various antique mosques and palaces may be found along the streets. The Charminar, Mecca Masjid, Golconda Fort, Charkaman, Osmania University, and Hyderabad High Court are notable structures in the city that feature Qutub Shahi and Mughal architectural styles.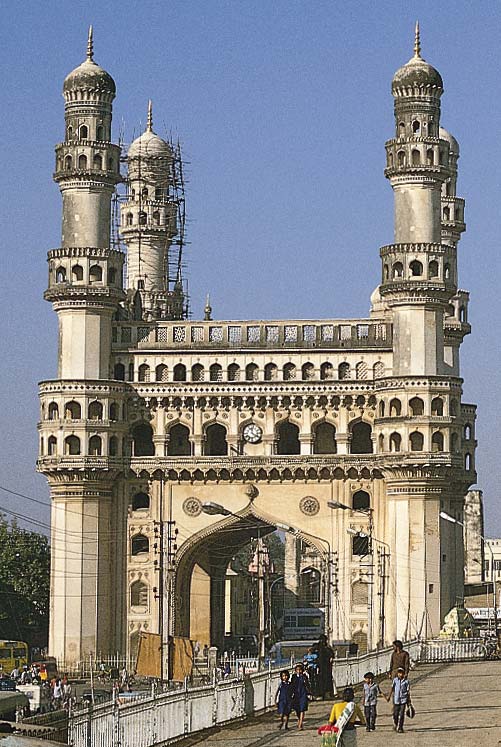 Some of the Nizams' palaces, including Falaknuma, Chowmahalla, and King Kothi, were built in the European style. Some structures, such as the Birla Mandir, which is a great Hindu temple dedicated to Lord Venkateshwara and has a combination of South Indian, Rajasthani, and Utkala temple architecture, also feature North Indian architectural styles.
Telugu Film Industry-
The Telugu Film Industry, often known as Tollywood, is located in Hyderabad and is the world's most important film industry. Ramoji Film Metropolis, which spans 2000 acres, is Telangana's largest integrated film city and the world's largest studio complex in terms of design, with a Guinness World Record to prove it.
It is Hyderabad's largest film production centre, and it also hosts some of the country's most prestigious film festivals, including the Busan Film Festival. It's a well-known tourist resort with a variety of activities, including an amusement park. Around 1.5 million people visit this natural gem each year.
Paintings- 
The city is home to a thriving art and craft culture. In the 16th century, Hyderabad was the birthplace of the Deccani painting style. It exhibited a fusion of different methods and was strikingly comparable to the Vijayanagara paintings nearby. Deccani paintings are distinguished by their liberal use of dazzling gold and white colours, or they are usually based on nature, with flora and wildlife as backdrops. This is mostly owing to the Sultanate's Islamic influence. The paintings portray the nature and culture of the region.
Some of these paintings in the Deccani style portray historical events in the region. Kalamkari painting is a prominent type of painting in Hyderabadi culture. It is an artisan textile activity that includes painting cotton fabrics. Bamboo soaked in jaggery and water is used to make the ink. Vegetables, fruits, and natural dyes are used to create the colours. The end product is a vibrant and lovely artwork that can be purchased at any handicraft store in Hyderabad. The city has produced well-known artists such as M.F. Hussain and T Vaikuntam. Another well-known painter, Lama Gaud, and Jagdish Mittal, a well-known collector of Modern Indian art, are both from Hyderabad.
Literature- 
The Qutb Shahs are known for their support of the Urdu, Farsi, and Telugu languages. The Deccani Masnavi and Diwan, two of the first manuscripts of Urdu literature created during the period, saw the beginning of Urdu literature in Hyderabad. Regional languages like Marathi, Telugu, and Kannada have a big effect on the region's literature.
There are also signs of Arabian and Persian influences, as seen by the lyrical metres and a large number of prewritten phrases. Hyderabad saw significant literary flourishing throughout the Nizams' reign. The first collection of Urdu Ghazals, Gazal-e-Mahlaqa by Mah Laqa Bai, was published in 1824 AD after printing was established and begun in the city.
Nizam VII instituted several changes, including the use of Urdu as the official language of the court, government, and education. Many notable intellectuals and poets were born in Hyderabad. Many academicians and poets who lost their support in Delhi after the uprising of 1857 made Hyderabad their home.
During the years that followed, many scholars moved to Hyderabad. Sarojini Naidu, who was born and raised in Hyderabad, was a fan of the city's culture, which she expressed in her work "In the Bazaars of Hyderabad." Many organizations, such as the Sahitya Academy, the Urdu Academy, and the Telugu Academy, have worked to encourage literary output since independence.
Hyderabad is becoming a cosmopolitan city with one of India's most flourishing business and information technology industries. The town is home to offices of multinational corporations such as Google and Microsoft. Here was the rundown on the culture of Hyderabad. No matter how contemporary the city has grown, Hyderabad's culture has retained its Nizami originality, as well as the flavours of its Biryani, the craft of pearl jewellery creation, and the gift of creating entertaining films. 
Also Checkout: The History of Delhi's iconic Sujan Singh Park