The season of festivals also ushers in the first day of the Islamic month of Ramzan which lasts for 30 days, as well as Navratri, a seven-day Hindu celebration dedicated to Shakti, the female form of god. Many Hindus fast for these nine days, and young children are made to write their first letter, known as Vidyharabh (Start of education). In this post, we will see how the holy months of Ramadan and the nine blessed nights of Navratri provide us with a token of peace and harmony. 
The Holy Month of Ramadan 
Ramadan is a 30-day fast that is followed all across the world. Muslims believe that during April, Allah opens doors of kindness and allows His mercy to flow in and that any prayers offered with a pure heart during this month are answered. During Ramadan, the spiritual rewards (thawab) of fasting are said to be doubled.
Muslims abstain from eating and drinking, as well as tobacco products, sexual relations, and profane conduct, throughout this 30-day period of self-denial, and instead focus on salat (prayer) and recital of the Quran. It is a period of deep spiritual meditation with the goal of becoming a better human and increasing levels of worship and devotion. Muslims are attempting to devote more time and effort to following Islam's teachings. The Sawm (dawn-to-sunset fast) begins at daybreak and finishes at sundown.
Fasting is thought to draw the heart away from materialistic pursuits, with the goal of purifying the soul by removing harmful impurities. Ramadan, Muslims believe, teaches them self-discipline, self-control, sacrifice, and empathy for those who are less fortunate, promoting acts of kindness and mandated charity (zakat). Fasting, according to Muslims, serves to create compassion for the poor who are food insecure.
Ramadan, often called Ramazan, Ramadhan, or Ramathan, is the ninth month of the Islamic calendar, and it is a month of fasting (sawm), prayer, meditation, and community for Muslims all over the globe. It is a celebration of Muhammad's first revelation, and Ramadan is one of Islam's Five Pillars, lasting between twenty-nine and thirty days from one sighting of the crescent moon to the next.
Fasting
All adult Muslims who are not critically or chronically ill, travelling, old, nursing, diabetic etc. must fast from sunrise to sunset. Suhur is the name for the early morning meal, while iftar is the name for the midnight feast that breaks the fast. Although fatwas have been issued stating that Muslims living in areas with midnight sun or polar night should follow Mecca's timetable, it is normal practice to follow the timetable of the next nation where night and day can be differentiated.
The moon seen before sunset is known as Hilal, and it is used to identify the month of Ramadan. Travel, menstruation, serious sickness, pregnancy, and nursing are all exceptions to fasting. Despite the fact that it is not encouraged by Hadith, many Muslims with physical issues insist on fasting to meet their spiritual demands. Those who are unable to fast are required to make up the days lost later.
Charity
Zakt and Sadaqah Zakt, often known as "the poor rate," is a specified proportion of a believer's income that must be given to the needy; the practice is mandatory as one of Islam's pillars. Because Muslims believe that good acts are more richly rewarded during Ramadan than at any other time of the year, many Muslims pay a bigger percentage – or sometimes all – of their annual zakt during this month.
Tarawih (night prayers)
During the month of Ramadan, extra night prayers known as tarawih are offered. They are not, contrary to common opinion, obligatory.
Recitation of Quran
Over the course of the thirty days of Ramadan, Muslims are encouraged to read the complete Quran, which is divided into thirty juz' (sections). In each of the thirty tarawih sessions observed during the month, some Muslims include the recitation of one juz'.
The scrolls of Abraham, Torah, Psalms, Gospel, and Quran, according to Muslims, were revealed during Ramadan on the first, sixth, twelfth, and thirteenth days.
On Laylat al-Qadr, one of the five odd-numbered nights that happen during Ramadan's last 10 days, Prophet Muhammed is claimed to have received his first Quranic revelation.
Navratri: Mark as Victory Of Good Over Evil
Ramadan and Navratri 2022 begin on the same day this year! The Hindu celebration of Navratri commemorates the famous fight between Durga and the demon Mahishasura, and it celebrates the triumph of good over evil. Durga and her nine incarnations—the Navadurga – are the exclusive focus of these nine days. Each day is linked with a goddess manifestation. Vasant Navratri is observed in the Spring rather than the Autumn.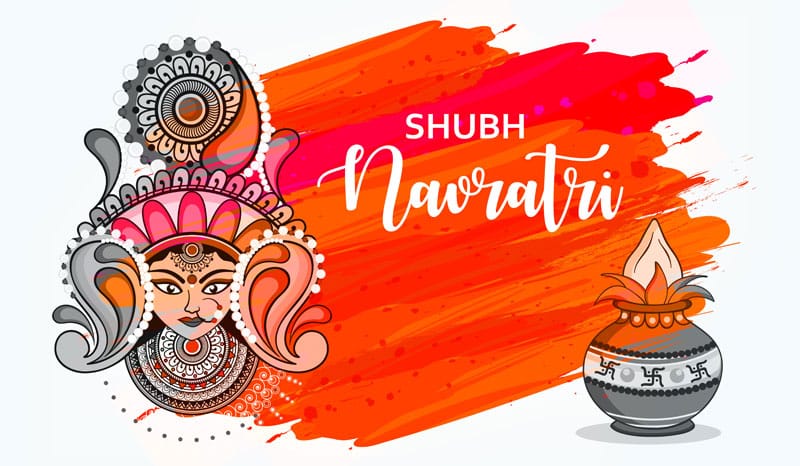 Chaitra Navratri, also known as Vasant Navratri, is a Hindu festival dedicated to Goddess Durga that occurs in March or April every year. It is the first day of the Hindu calendar. Vasant Navratri, the spring power time celebrated in the month of Chitra (March-April), is believed by Hindus to be the ideal nine nights to arouse the powerful energy of Durga Goddess, who is the Divine feminine archetypal energy that helps manifest affluence, a positive spirit, and changes consciousness to be victorious in all counts.
This year, The Holy Month of Ramazan and Nine Blessed Nights of Navratri fall on the same day, sending a powerful message of unity in the midst of a lot of unrest in India. It sends the idea that Indians forgive one another, pray together, fast together, feast together, and respect everyone with Divine love.
Also Checkout: Exploring the City of "Tehzeeb"- Culture of Hyderabad