Former Pakistan prime minister arrested-
Pakistani police arrested the country's former prime minister Imran Khan after a court sentenced him to three years.
"The district Court has indicted Chairman PTI Imran Khan . . . citing an affidavit based on falsified facts," a spokesman for Khan told Fox News Digital. "However, it's important to mention there was no chance given to present witnesses, neither was time allotted to round up arguments meant to finish by the end of the day, today."
The spokesman alleged that the judge had "conspicuously" reached his decision "at haste" to prevent Khan from contesting the upcoming electoral race.
"An appeal in the Supreme Court has already been filed," the spokesman explained, claiming that the high court has denied Khan's team the right to pursue the case through "another court" following objections they raised.
AFRICAN PRESIDENT WARNS OF 'OPPORTUNITY' FOR RUSSIA AS POLITICAL UNREST CONTINUES
Legal experts agree that the Islamabad High Court verdict will prevent Khan from contesting the elections in November, removing current Prime Minister Shehbaz Sharif's greatest challenge to re-election.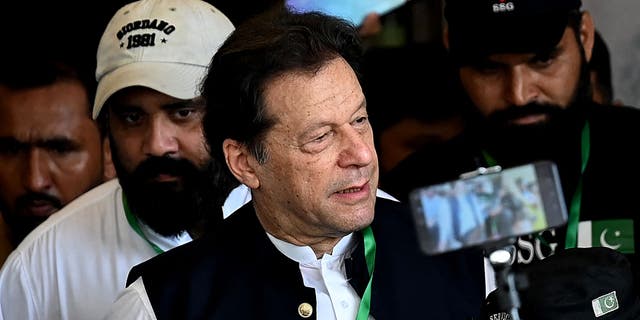 Following Saturday's verdict, Khan released a pre-recorded statement, telling his supporters that the video would likely reach the public by the time of his arrest.
"I have only one appeal: Don't sit silently at home," Khan said in the video posted to Facebook. "I am struggling for you and the country and your children's future."
INTELLIGENCE REPORT ACCUSES CHINA OF ACTING AS SANCTIONS BACKDOOR FOR RUSSIA
Khan's spokesman provided photos and video that appeared to show protests against Khan's arrest, but Fox News Digital could not verify them. Reuters reported that response immediately following the calls for protest from Khan and his party had been met with a muted response.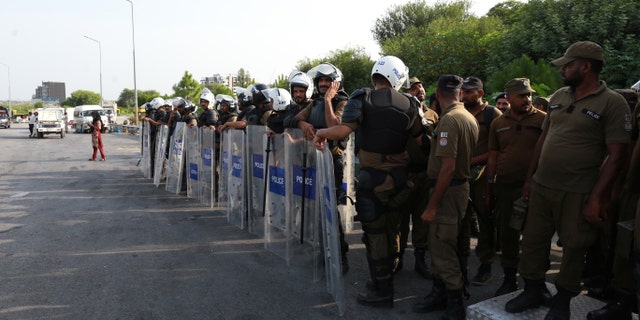 Khan, a former cricket player of international renown, won office in Pakistan's parliament in 2002 and became prime minister in 2018. Pakistan passed its first and only no-confidence vote against a sitting prime minister last year to remove Khan from power.
Government officials earlier this year alleged Khan and his wife had received land worth millions of dollars as bribes, as well as an antique watch, a gold pen, a ring and cufflinks he received as gifts while prime minister then allegedly sold for personal profit, The Guardian reported.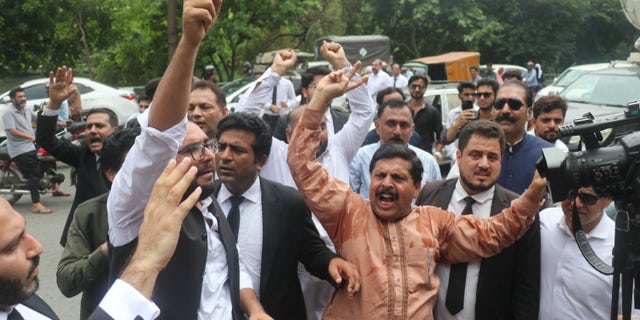 Police arrested Khan and held him at a police facility in Islamabad, where supporters gathered around in protest, occasionally clashing with the police. The supporters then attacked several military assets in protest over his arrest, vandalizing an air base, several garrisons and the house of a general, leading to Khan's temporary release.
STATE DEPARTMENT TO FACE CLASSIFIED HOUSE FOREIGN AFFAIRS GRILLING OVER BIDEN IRAN ENVOY'S OPAQUE SUSPENSION
In a recent interview with Fox News Digital – one of the last given before his arrest – Khan admitted that he knew it was "a question of time" before the court would order his arrest.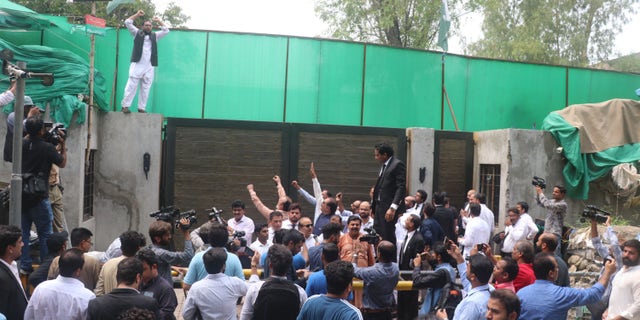 Khan alleged that the allegations arose following a split between Khan and the country's military command. He told Fox News Digital that ex-army chief Qamar Javed Bajwa "engineered the whole thing," using intelligence agencies to divide Khan's party and keep them distant from allies."
The fresh verdict determined that Khan had made "false statements" about acquiring state gifts, which amounted to "corrupt practices" to hide "benefits he accrued from national exchequer willfully and intentionally."
CLICK HERE TO GET THE FOX NEWS APP
"He cheated while providing information about gifts he obtained from Toshakhana (the state gift repository) which later proved to be false and inaccurate," the court said.
Information Minister Marriyum Aurangzeb said Khan's arrest had followed a full investigation and proper legal proceedings in a trial court. She said his arrest was unrelated to the upcoming elections.
Reuters contributed to this report.
(this story has not been edited by TSA Mag staff and is published from a syndicated feed.)