Maa Anand Sheela was born at Baroda in Gujarat as Sheela Ambalal Patel, to the couple Maniben Patel and Ambala Patel in the year 1949.
She moved to the U.S. at the age of 18 and attended Montclair State College in New Jersey. She met her first husband there and after their marriage, they came back to India to pursue spiritual studies in 1972. 
In an interview with stellar news anchor Barkha datt, Sheela recalled her father sitting her down, one day before her flight and telling her-
"Do not marry the first man you meet, experiment a little before making that decision"
After coming back to India, she and her husband vowed discipleship to the popular spiritual (cult) leader, Rajneesh aka Osho; and that's where her fanaticism for the man began, she claims to have fallen for the leader after working under her for a short time and denies any question of their relationship being unrequited, she says that Osho shared her feelings and loved her immensely.
In the year 1981, Sheela took over the role of Osho's personal secretary, concurrently persuading him to leave India and profess his way of life internationally by establishing an Ashram in the United States and they did with thousands of orange donning cult members flooding the county.
In July they were able to buy a huge muddy ranch in Wasco County, Oregon to lay the foundation of the Rajneeshpuram commune, and thus began the Rajneesh Movement- an attempt to extend their  The longer they stayed there the more apprehensive the commission of Wasco County grew; clashes with the local population also became frequent and people started to be, and their agenda to win over mass support and increase membership seemed to be hitting the dust and that is when Sheela gave birth to a destructive brainchild- She started a Lab at her own house, experimented with numerous viruses and bacteria and cooked 'Salmonella-de-salsa.'
With this vicious creation, she and other followers sabotaged the food at 10 local restaurants and salad bars and made 750 people fall ill. This incident is considered the largest bioterror attack in America ever.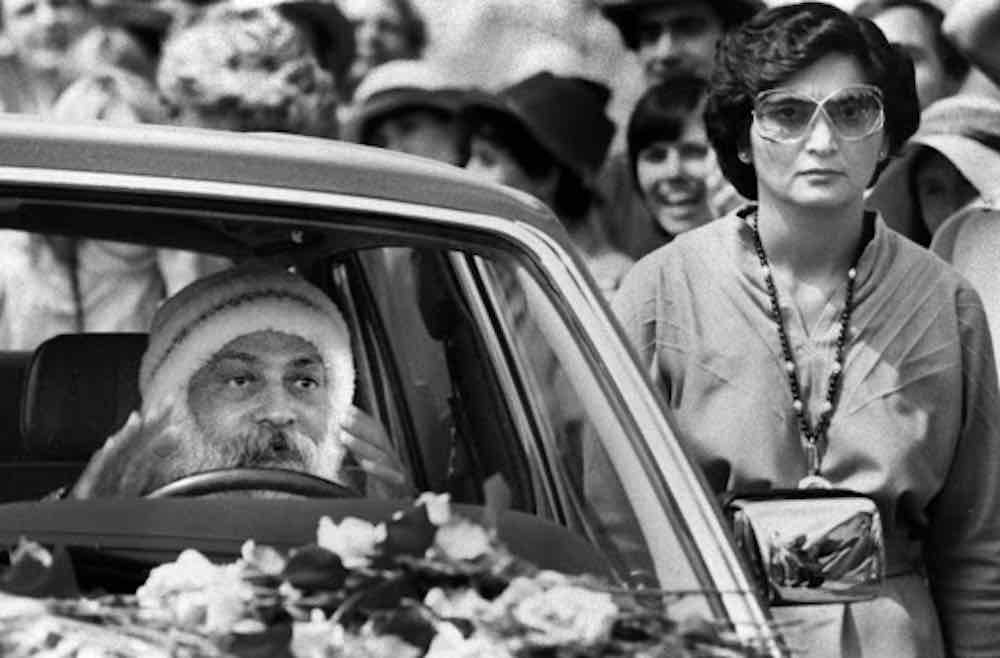 After being convicted for an attempt to murder and assault, she fled to Europe in order to escape trials and added another charge to the list- immigration fraud.
Finally, she was arrested in West Germany and sentenced to 20 years in prison, however paroled herself into a reduction in the sentence which led to mere 39 months of imprisonment.
Osho had to serve the same sentence but was exempted.
Rajneesh turned on her primary aide issued derogatory statements against her and became indifferent to her, called her crazy, a murderer, and manipulator, moreover he blatantly declared that the bioterrorism happened unbeknownst to him he alleged that she was just angry because he would not make love to her, regardless of his sex-positive philosophy; to this day she describes her spat with Osho as a 'Lover's quarrel', refuses to acknowledge any betrayal on his part even though she admitted that he was a part of the salmonella extravaganza, she says that there is no betrayal in love and that Bhagwan (her pet name for Rajneesh) has never abandoned her. 
She is also suspected of attempting to kill one of the two men she married later in life, something she told one of her 'ashram acquaintances' in confidence.
Her life has been filled with more controversy than a problematic Bollywood Superstar's, but she always had grand ambitions, and pertaining to those, she now has a billion-dollar 'spiritual' empire under her wing that she inherited from her lover; but is she still in touch with her darker wild side? Well in other words- "it's a mystery" 
Also Checkout: Nawab Viqar-ul-Mulk Birth Anniversary- The Idol Icon of Famous All India Muslim League