Bhandari was born on 3 April 1931, in Bhanpura, Madhya Pradesh and grew up largely in Ajmer, Rajasthan. Her father, Sukhsampat Rai Bhandari, was a freedom fighter, social reformer and the producer of the first English to Hindi and English to Marathi dictionaries. Hence, breaking the norms was something she learnt from him.
She did her graduation from Calcutta University and then went on to pursue her master's in Hindi literature from Banaras Hindu University (BHU). She taught Hindi literature at the Miranda House College, Delhi.
In 2008, Bhandari was honoured with the Vyas Samman, instituted by the KK Birla Foundation for her autobiography Ek Kahaani Yeh Bhi. This award is given every year for outstanding literary achievements in Hindi.
Earlier this year Roli publications published the best of Mannu Bhandari translated by Vidhya Pradhan. 
She was credited for popularizing the image of women who are not only strong and bold but also intellectually independent. She through her writings established a new image for women, an image different from what was considered for 'an Indian woman to be'. Through her narratives, she tried to break the stereotypes and set an image of a 'strong woman.' Her novels dealt with modern India, dealing with the emerging middle class, corrupt bureaucracy and gender inequality.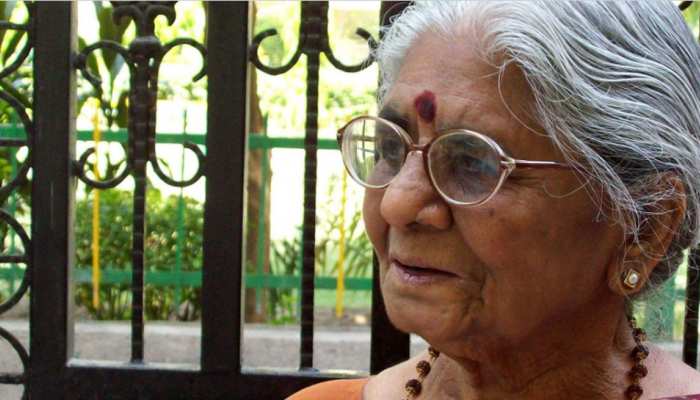 She was also a member of the 'Nayi Kahani Movement' which was started to bring in a change in the writing style already set by their predecessors. Their main focus was on the real style of writing that involves the life of the common people and the emerging issues in post-independent India.
She married one of the renowned Hindi fiction writers, Rajendra Yadav. She never let his charisma overpower her writing. 
Rajendra Yadav (28 August 1929 – 28 October 2013) was a Hindi fiction writer, one of the key members of the Hindi literary movement known as Nayi Kahani. He edited and relaunched the literary magazine HANS, founded by Munshi Premchand in 1930 but stopped publication in 1953 – Popular Bollywood films like 'Rajnigandha' 'Swami' and 'Jeena Yahan'  were based on her writings. 
Bhandari's first novel, Ek Inch Muskaan, was published in 1961. Her novel, 'Mahabhoj' (1979) highlights the struggles and battles of a common man constantly getting sucked into the bureaucratic corruption endemic to India. She was awarded Uttar Pradesh Hindi Sansthan (Uttar Pradesh Hindi Institute) for Mahabhoj 1980-1981
Other stories and novels include Ek Plate Sailab (1962), Teen Nigahon Ki Ek Tasvir, Trishanku, Aapka Bunti, and Aankhon Dekha Jhooth.
Also Read:  STATE FUNERAL FOR PADMA VIBHUSHAN BABASAHEB PURANDARE