Russia's invasion of Ukraine affects the world in unpredictable domains. About 18,000 medical students from India who pursued an education in Ukraine were forced out of the country leaving their studies behind halfway. According to the National Medical Commission, regulatory students cannot be accommodated in Indian medical colleges just because they pursued a medical degree in another country.
As of now, NMC regulatory body has informed that the foreign medical students who couldn't complete their internship because of COVID-19 or war can continue the same in Indian colleges but only after making sure that they have completed have cleared the graduate examination from there itself. As per NMC's letter to the union health ministry on April, 29th supreme court has directed the NMC regulatory body to frame a scheme within two months to allow foreign medical students in such a situation to complete their clinical training in Indian medical colleges under the charge of NMC itself where they can further check the candidate to confirm that the person is capable and adequately trained to obtain the provisional registration to complete the 1-year internship. 
The letter also mentions that as the supreme court strictly tells the NMC regulatory body to do what is needed to accommodate students who may be studying in different semesters NMC replied saying that after the establishment of NEET, NMC does not have the list of students pursuing medical degrees in foreign universities.
West Bengal government's proclamation against National Medical Commission: 
As the union health ministry is looking for ways to get the medical students from Ukraine to get admitted to other foreign universities for equivalent courses, the West Bengal government has decided to go ahead and allot second and third-year students from Ukrainian Universities into their medical colleges and allow them to attend practical sessions provided by them despite the fact that NMC regulatory body has already informed them that the students who completed their degree by this means cannot apply for the screening test that foreign medical graduates take to get a licence to practice in India. 
On April 28th, West Bengal chief minister Mamata Banerjee announced that they will accommodate the 412 foreign medical graduates who couldn't continue their studies because of the war and 172 of them will get practical sessions also at different medical colleges in Bengal. She lashes out at the central government's irresponsible behaviour towards these students. Other than that,  Bengal has also allotted about 135 fourth and fifth-semester students seats in the name of "observational seats" for practical training whereas the federation of all India medical association president stated that there are no such seats as "observational seats" in India. Graduates can train under a specialist for gaining experience in a particular area which is called "observership", this cannot be the case for students who didn't complete MBBS.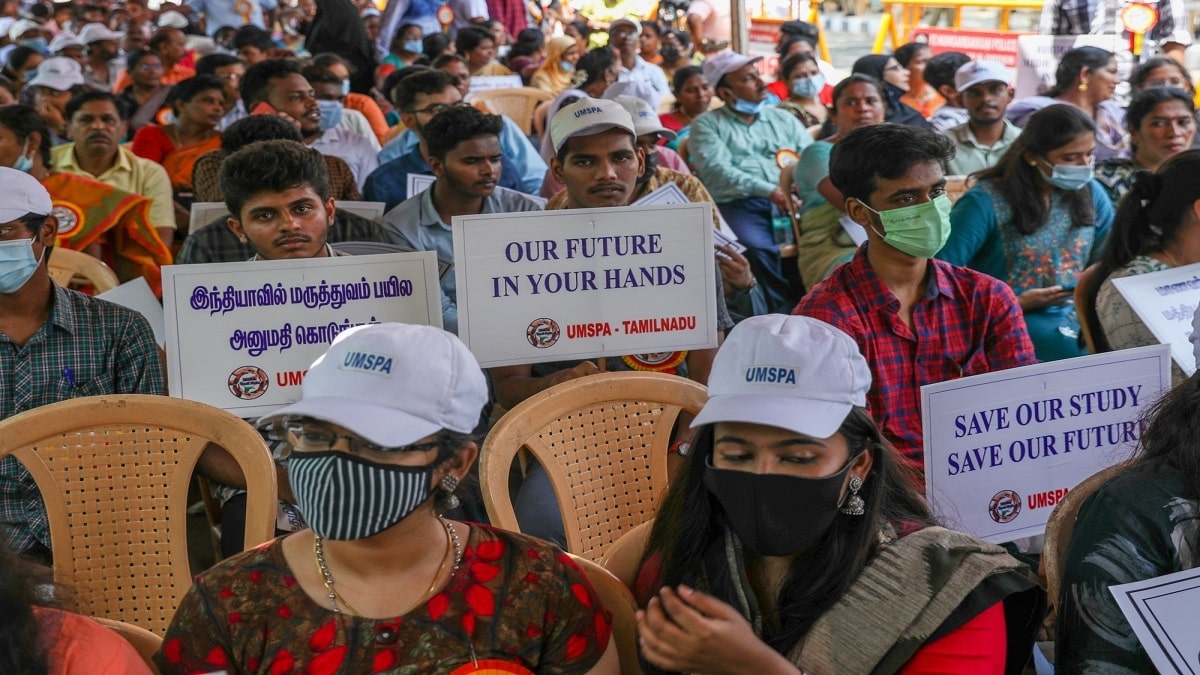 Director of medical education in Bengal, Debasis Bhattacharya replied to the question about violation of NMC regulations saying that they have increased the number of seats in the colleges of the state in order to accommodate these students.
NMC has already clarified its statement about accommodating Ukraine returned medical students saying that it is not practically possible to include 18,000 more students in the Indian medical colleges. Because India has only 90,000 seats as of 2021 which students get into by means of competitive exams in which there are almost 16 lakh applicants. Moreover, there are more than 65,000 students in universities in other foreign countries such as China, Georgia, the Philippines, etc. than Ukraine who couldn't complete their clinical training because of travel difficulties. In this subject, the supreme court has directed NMC to come up with a policy by which people who have completed their graduation but couldn't complete clinical training within two months, will be granted temporary registration.
Also Checkout: Growing Communalism and its Political Advantage to the BJP