COVID has definitely not been easy on all of us with difficulties having no end but, with dedication and hard-work everywhere, we have seen many names finding their own identity. One such name is Arathi Raghunath, a native of Elamakkara, Kochi in Kerala who utilized her time in the best possible way by completing 350 courses in 90 days which eventually brought her not just appreciations, but a new record by her name.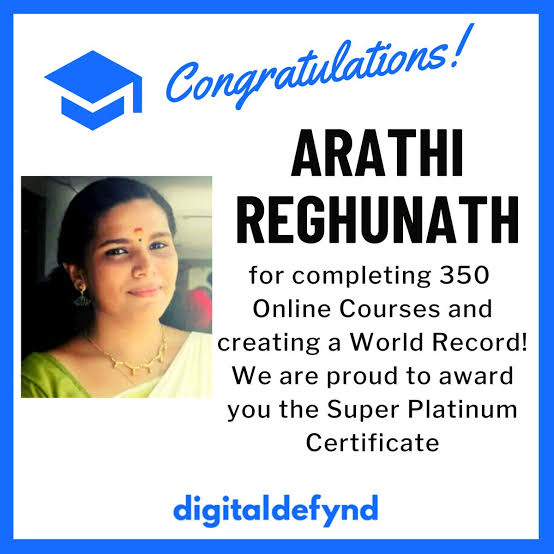 Arathi has made a World Record at the Universal Record Forum by completing these courses online offered by the State University of New York, University of Virginia, and the University of Rochester.
Unlike her peers who enjoyed the quarantine period, Arathi aimed for something unusual and unique, she worked hard in setting up her goal and has used these free time investing in educating herself by the new courses.
She used the online platform "Coursera" a hub that partners with top universities and organizations worldwide, offering courses online, both paid and unpaid, depending on the different subject and characteristics.
A New Indian Express report quoted her saying, "It was my faculty at college who introduced me into the world of online courses. There is a range of courses online. All of them vary in duration and curriculum. Organization of my college principal Ajims P Muhammed, Coursera coordinator Haneefa KG and class tutor Neelima T K, I managed to finish the courses I signed up for within a few weeks."
Students like Arathi are examples in India who want to earn their own names by educating themselves and being the torchbearers to the youth of her generation and society.
TSA salutes such individuals and exhorts the readers to never give up on taking new challenges. Because it's just the start that is tough.
Also Checkout: PT Usha, Queen of Indian Track and Field