Overview of the Nimo TV App
Nimo TV is an entertainment app that is dedicated to gamers, where they can live stream their gameplay. Some of the well-known Esports teams like 8Bit and Team Soul have participated in streaming their gameplays on this platform.
It is an amazing app where it's easy and more fun to interact with different content creators. Its simplified chat and comments make it comfortable to interact with streamers and other gamers.
Not only you can watch but you can also stream your own gameplay and showcase your skills to the whole world. Nimo TV has partnered with Tencent Games, one of the most popular gaming studios, to bring more content and amazing creators to its platform.
So it is better to make your presence as soon as you can since, in the near future, Nimo TV is going to be a name you will hear everywhere.
Pros of the Nimo TV App:
Well-known Esports teams stream their content on Nimo TV.
Gaming live streams.
A talent show to participate in.
Millions of creators play thousands of games.
Other live streams like beauty, singing, dancing, or even a talk show.
Cons of the Nimo TV app:
Not a very optimized platform.
Multiplatform streaming is not possible.
What is the Nimo TV app? 
Nimo TV is a platform where people can showcase their gameplay or real-life talents. Although this platform is dedicated to gamers, and gaming content, other things like singing, dancing, or beauty tips and tricks also go hand in hand with it.
It is an all-in-one platform to showcase any skill that you have and make people know what you can do. Showing the world what you can do has never been easy. Even better, when you make your content, you get paid for it as well.
Not only it is a platform only dedicated to creators and fans, but here you can make friends along with all other things. Nimo TV is an all-rounder platform for entertainment purposes. It contains more than 19 languages from all over the world so that people from diverse backgrounds can come forward and do what they can do best.
With a partnership with Tencent Games, it promises to bring its users more professional content creators and live streamers. Nimo TV is going to be one of the largest platforms dedicated to gaming.
Features of the Nimo TV app:
Live Streams: Watch live streams of people from all over the globe with their own style and strategy of playing.
Other Streams: Dig deeper and find live streams other than gaming; for example – beauty, life hacks, talk shows, and casual.
Earn popularity: Start streaming and make your fan following, then earn more popularity, and money along with it.
Esports teams: Nimo TV already has some of the biggest Esports players streaming on their platform, like 8Bit, Team Soul, Kronten, and others. It is also looking forward to making other well-known personalities join its platform.
Live Show channels: share your daily lives and updates on live show channels.
Diversity: People from all over the world can join this platform and stream or watch streams.
Multiple languages: More than 19 languages to help people deliver the content in the language they prefer.
Interaction: Interact with creators by bullet screens.
Features that unveil when you sign up: 
Watch any live stream of any creator.
Go live and showcase your skills.
Earn popularity and get paid for live streams.
Start a fan following and interact with your fans.
Make friends and chat with them.
Frequently Asked Questions:
Which OS supports the Nimo TV app?
Both iOS and Android platforms are compatible.
Yes, the app is free to use. Additionally, it contains in-app purchases.
Is the payment secured for in-app purchases?
Yes, the in-app purchase method is secure.
Which permissions are required to use the app?
The app requires the following permissions:
Contacts – read your contacts
Device and App history – read your web bookmarks and history, and retrieve running apps.
WiFi – view WiFi connections
Storage – read the contents of your USB storage, and modify or delete the contents of your USB storage.
Phone – read phone status and identity
Camera – take pictures and videos
Microphone – record audio.
Device ID and call information – read phone status and identity
Location – precise location (GPS and network-based)
Other –

read Home settings and shortcuts
receive data from the Internet
full network access
control vibration
allow Wi-Fi Multicast reception
run at startup
View network connections
change network connectivity
send sticky broadcast
connect and disconnect from Wi-Fi
close other apps
change your audio settings
control flashlight
draw over other apps
prevent the device from sleeping
pair with Bluetooth devices
modify system settings
install shortcut
Why should you use the Nimo TV app?
The Nimo TV app is an easy platform to watch live streams and content related to gaming. Other than gaming, here you can showcase whatever skill you have, or you can discover amazing people from all over the globe showing their skills. Use it for entertainment or for taking inspiration from others, Nimo TV is the place for you.
Nimo TV App Reviews: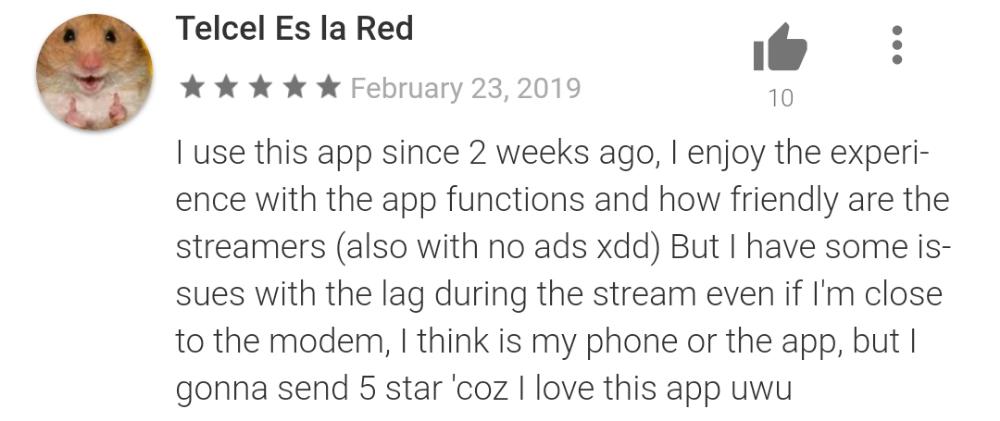 Also Checkout: Telegram vs Signal: Better App?