Yati Narsinghanand, the head priest of Uttar Pradesh's Dasna Devi temple, has once again spewed hatred towards the country's Muslim minority. This time, Narsinghanand, under the banner of the Hindu Mahapanchayat, urged violence against Muslims at a hate conference in Delhi's Burari on Sunday.
He called on Hindus to equip themselves with firearms during another event, akin to the Dharma Sansad of Uttarakhand.
Narsinghanand can be heard pouring poison toward the country's largest minority in a series of recordings that have circulated on social media.
Official orders overlooked
At the event, communal slurs were allegedly spewed, and some journalists were physically assaulted, despite Delhi Police denying permission for the event.
The Delhi Police said in a statement that Preet Singh, head of the Save India Foundation, had sent a request letter to the North-West district asking permission to host an event. Singh lives in Mangolpuri, a neighborhood on Delhi's outskirts.
The proposal was denied because the organizer did not have permission from the landowner, the Delhi Development Authority, to hold the sabha at the Burari grounds. Despite Delhi Police's rejection, organizer Preet Singh arrived at the Burari stadium early on Sunday with his supporters and began organizing the Hindu Mahapanchayat Sabha. Around 700-800 people arrived at the venue, and the organizer's invitees began giving speeches from the stage, according to the statement.
Manhandling of journalists and the FIRs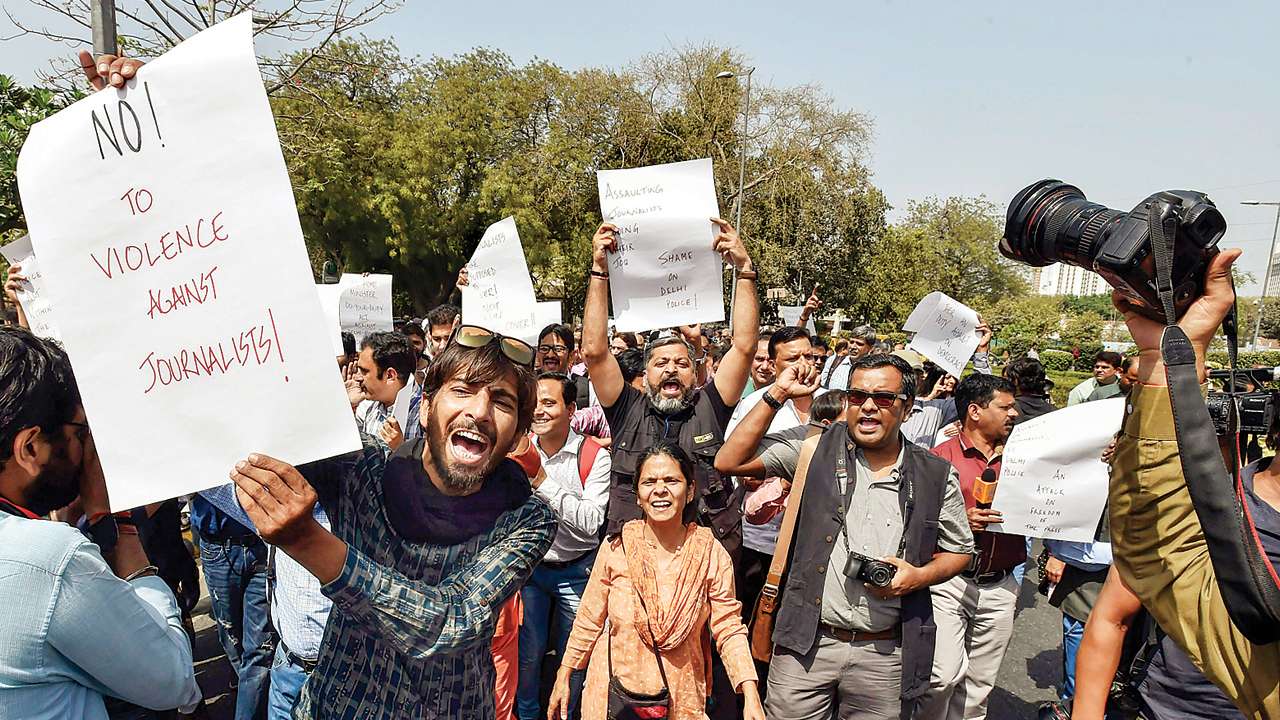 The Delhi police filed three FIRs in connection with the incident on April 3, Sunday, after several journalists were allegedly harassed by the mob. Yati Narsinghanand, who has a history of instigating violence against Muslims, was arrested along with other speakers for allegedly making bigoted comments at the gathering, claiming that if a Muslim becomes Prime Minister of the country, 50 per cent of Hindus will convert within 20 years.
A second FIR was filed in response to a complaint by two news portal journalists. As per the complaint, as the journalists rushed towards the exit at 1.30 p.m., they were manhandled and assaulted by a bunch of men who also attempted to take their I-cards and phones.
The third FIR was filed in response to a complaint from a freelance journalist who claimed that while he and two fellow journalists were questioning a man at about 1 p.m., some people assaulted him. The police intervened and made sure they were safe. They were medically checked, and a complaint was filed under Indian Penal Code sections 323 (punishment for voluntarily causing harm) and 341 (punishment for wrongful restraint).
The journalists were manhandled and made to erase the media from their phones. He said that, despite threats from a large throng behind them, police rescued them into a police wagon with three other journalists and drove them to Mukherjee Nagar police station. Meghnad Bose of The Quint, who was also allegedly manhandled, and photojournalist Mohd Meherbaan, who Arbab Ali of Article 14, claims was hurt when he entered the police van, were among the five journalists escorted to the police station.
Newslaundry's Shivangi Saxena and Ronak Bhat were allegedly beaten and manhandled in another incident. Both incidents have been reported to the police. All the crimes are being examined, and no arrests have yet been made, according to police.
Who is Yati Narsinghanand Saraswati?
The 58-year-old priest, Deepak Tyagi, was born in Meerut and has been a regular visitor to the Dasna Devi shrine since 2007. 
During his sanyas, he changed his name to Deependra Narayan Singh and eventually settled on Yati Narsinghanand Saraswati.
He claims to have left India in 1989 to attend a Moscow-based chemical technology program. He claims to have graduated in 1994 and worked as an engineer before returning to India in 1997 to cater to his ailing mother.
Furthermore, he alleges that after he returned to India, the Samajwadi Party approached him about leading their youth wing.
The years after his return to India are unknown. However, the Uttar Pradesh Police labeled Yati Narsinghanand Saraswati a "serial troublemaker" in 2019 for his continuous attempts to provoke communal conflicts.
In October 2021, he was promoted to the post of mahamandaleshwar of Juna Akhara, the country's largest recognized sect of Hindu seers.
In the past, the Dasna temple priest has been quite provocative. He has stated that he has always fought to make India an "Islam-mukt Bharat."
His remarks haven't just been aimed toward Muslims; in August 2021, a video of him calling the women politicians, especially of the BJP as rakhails (mistresses) of their male counterparts went viral on social media.
On Sunday, Yati said, "This is about Hindu's destiny. Be a man if you want to make a difference." He reportedly asked the crowd, "What exactly does it mean to be a man? Someone who is armed."
He further added, "Just have children, go now and have children, and make your offspring worthy to fight."
Yati Narsinghanand has been caught on camera repeatedly making indecent remarks or inciting hatred. The head of the Dasna Devi Temple was arrested and released on bail last year after organizing an event in Haridwar that included calls for the genocide of Muslims.
Also, Checkout: Farmers kept paying premiums, insurance companies prospered