"Kahte hain jeete hain ummiid pe log"
This Misra of 19th century great poet Mirza Ghalib describes the reason for the existence of humans. Human life is like a dream, but still, the desire to live life never ends. We always hope to have a better tomorrow than yesterday. People come into the world and depart.
But what they leave behind is their share in a legacy.
If a human can give any gift to its nine generations, it is this heritage. Harfkar Foundation has taken the responsibility of saving this shared heritage and handing it over to future generations. Harfkar founder Azhar Iqbal along with his associates organized 'Aaraaish-e-Sukhan' at Shikwa Haveli on Saturday.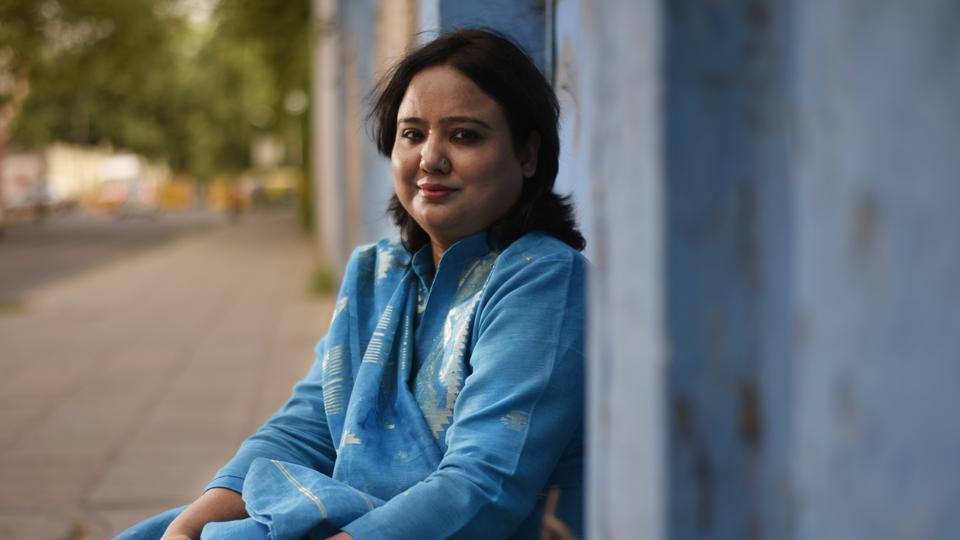 Shikwa Haveli is present in the Katha village of Baghpat, adjacent to Delhi, from the time of the Mughals. The mansion had reached a dilapidated condition due to its old age, but the owners of the mansion, Alka Raza and Shariq bin Raza, got it restored and gave it a resplendent look.
Azhar Iqbal, founder and well-known poet of Harfkar Foundation said, "There is a huge disdain for the artists(funkar) in India. My heart breaks when artists don't get their due. I have seen many Funkars rehearsing for days without rent, months without money."
He further said, "After COVID, the condition of the artists have been pathetic because these programs were their means of livelihood. The goal of this event is to organize more such programs, especially the Hindustani Common Heritage programs."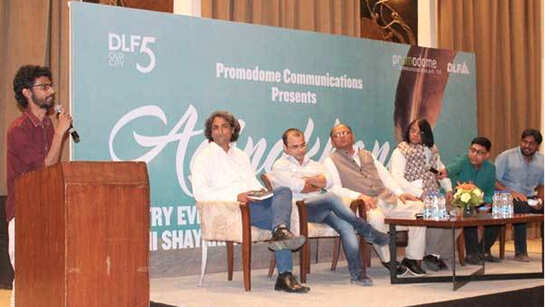 What did the event include?
'Aaraaish-e-Sukhan' started from Dastangoi around 10 am on Saturday.
In Dastangoi, Fauzia Dastango narrated the Dastan-e-Ram written by Professor Danish Iqbal, a part of which goes like this
"ram ne chaudah saal guzaare, lekin ghar ki aas lie
ham ko to ek umr hui hai, ghar chhode vanvaas lie 
patthar hii jab poojane thahre, mandir ki paabandi kya 
parbat parbat ghoom rahe hain, ab to ham sanyaas lie"
After this, one of the finest poets from the new cohort of Urdu poets, Pallav Mishra, read the book 'Marhoom Ki Yaad' by the Pakistani writer Patras Bukhari. Pallav delivered justice, narrating it in a very amusing way, just as Patras Bukhari's writing style was.
In Aaraaish-e-Sukhan, Tarkash Pradeep's Urdu poetry aggregation, "Udaas logon ka hona bohat zaroori hai" was released. The book was released by Farhat Ehsaas. Farhat Ehsaas told at the release of this book how important it is to have melancholic people in the world.
In the same program, the renowned shayar Farhat Ehsas presided(Sadarat) the Mushaira where Urdu poets(Sho'ara) from different parts of the country participated. Farhat Ehsaas, Vikas Sharma 'Raaz', Tarkash Pradeep, Vipul Kumar, Pallav Mishra, Imtiaz, Azhar Nawaz and Aaqib Sabir introduced the audience with their poetic discourse(Kalaam).
Also Read:  The Bygone Folk cultures Of The East; Traditions And Ruins

After this, the classical musicians of Delhi Gharana, Farid Hasan and Mehboob Hussain performed splendidly to bring Aaraaish-e-Sukhan to its glorious end. Fareed Hassan enthralled the audience by presenting Raag Malhar and the famous Thumri 'Yaad Piya Ki'.
Fareed Hassan gave a scintillating performance to the scintillating event with Amir Khusrau's renowned Sufi Kalaam 'Chhap Tilak'.
The event was sponsored by Muthoot Microfin and Shobhit University. This spectacular event was organized jointly by the Harfkar Foundation and Shikwa Haveli, which witnessed a fusion of various forms of art. In the times to come, the Harfkar Foundation will continue to organize such sublime events.