Alia Bhatt is making headlines for her to AUDACITY star in an advertisement released by an ethnic apparel brand by the name of 'Mohey Manyavar'; the advertisement slams the traditional practice of 'kanyadaan'- which literally translates to the gifting of the daughter to her husband and in-laws on her wedding day.
The Hindu right-wing very wrongly argues that Bollywood and media have misinterpreted the meaning of Kanyadaan and it's a very noble ritual of the Sanatan Dharma and that it isn't 'Kanya-Daan the original inscribed term is- 'Kanya-Dhan which principally means that the daughter isn't objectified and tossed from one family to the other; she is instead being commodified and tossed from one family to the other… apparently something we should be glorifying instead of inquiring.
Growing up as women we have all heard our fair shares of shamelessly sexist remarks intended to alienate us from our home and family such as "betiyan parayi hoti hain" (daughters are not one's own), and we've endured rigorous discrimination along those lines when, perhaps, we were barred from performing a family member's last rites.
There is not an ounce of nobility in being made to feel estranged in your own house by your own flesh and blood, irrespective of how strenuously we are conditioned to feel honoured about it.
 The lengths to which religious hard-liners and politicians would go exclusively to further their slimy propagandas (with unrestrained confidence) are infinitely ludicrous; yet not more ludicrous than the fact that their loyal followers would nod along with them like sheep every time, lacking any desire to refute their icons rationalized claims and ultimately falling into the bottomless pit of moral panic [defined as widespread fear or anxiety over a said 'threat' or 'danger' to a  community's values, morality, and faith, which is more often than not exaggerated by those in authority (rulers/government/politicians) and those who act as their messengers (the mass media] and mass hysteria. 
This is not the first instance of a harmless advertisement stirring up more controversy than it should: 
Back in 2018 Hindustan Unilever's Brooke Bond Red Label ad got plenty of flak by the Hindu right for showing Hindus in a bad light- the content of the ad had a Hindu man buying a Lord Ganesh idol from a local artisan, who later got obstinate when he realized that the artisan was Muslim- the ad aimed at promoting communal harmony ended with the sculptor pouring a cup of tea for the Hindu man, which ended up easing his reservations about the sculptor.

In another more recent event in 2020, Hindustan Unilever was once again criticized for an advertisement on the Kumbh Mela. 
Who can forget the iconic and adorable Surf Excel Holi advertisement of 2019? It highlighted the need for communal fraternity and tolerance among different faiths but ended up deeply offending both the Hindu and the Muslim right-wing. The advertisement had a young Hindu girl drop her Muslim friend at the mosque so that he could offer his daily prayers without getting stained with colours on Holi, the young boy later promised to play Holi with his friend right after he was done with his prayers. The Hindus said that the Ad disgraced Holi as a festival, and the Muslims said playing Holi went against Islam; thereby, crushing the innate innocence of the Ad mercilessly. 

In 2020, the famous Jewelry brand Tanishq released an ad to normalize a culture of inter-faith marriages with a Muslim household throwing a traditional Hindu baby shower for their Hindu daughter-in-law. As anticipated, the beauty of that ad was slapped on with the hateful tag of Love-jihad (or Romeo jihad) by the Hindu right.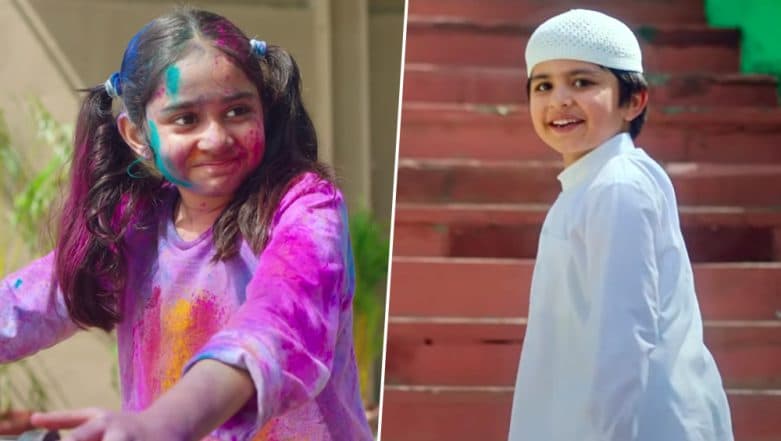 With no inconsistency in the widely accepted social media trend, the primary retort to these 'outrageous' advertisements persists to be a call for the absolute boycott of these companies altogether; which, frankly, achieves nothing at all except establishing a common human tendency to cling to age-long grudges and hatred.
Each of these advertisements has tried it its own way to encourage inclusivity and love with no intention of hurting anyone's religious sentiments; the only logical explanation for the backlash they get is the existence of cognitive biases different faiths have against each other and the political manipulation of those biases to pit communities against each other to grasp the attention of particular clout.
Religious leaders and Political hard-liners have found one way or another to stir up communal controversy and have always succeeded in their endeavours.
We live in an age where something as harmless as advertisements or social media statements could get you in serious trouble with a lot of backlashes if you do not censure yourselves as per the political climate; which I believe, has become the saddest aspect of Indian democracy.
Also Read : The Cameraman Kept Stomping And Punching Between The Raining Batons, The DGP Said — Action Will Be Taken