Asia's longest bi-direction tunnel, the Zojila tunnel is constructed at a high speed, with the intention of finishing the work before the 2024 Lok Sabha polls. The Union Road Transport and Highways Minister Nitin Gadkari do not even pretend to pull the wool over the eyes of the public with his party's intentions.
"They (contractors) are supposed to complete it by September 2026. I have asked them to finish it by December 2023 so that the Prime Minister can inaugurate it before Republic Day of 2024. It is a challenge I know, but I am confident they can do it on time," he said before adding, "obviously, we would want it to be finished before the elections."
The tunnel, which will run between Kashmir and Ladakh, will provide connectivity between the two in the winters as well when the former Zojila pass is otherwise laden with snow and avalanches.
One of the flagship programmes of the NDA government is connectivity, whether it is the Bharat Mala project connecting the national highways or other infrastructure upgrades in remote locations.
Gadkari said that more than one lakh crore rupees are in the pipeline for just the tunnels in Ladakh and Jammu and Kashmir, as the Centre is planning on changing the development scenario in the Union territories in the coming two years.
"Within two years, we will change the scenario of Jammu and Kashmir and Ladakh. We will provide more infrastructure facilities within two years. Availability of funds is not a problem, we need cooperation for land acquisition and other works," he said.
The Union Minister inspected the construction work of the two of the major tunnels being developed, Zojila and Z-Morh, both on the Srinagar-Leh highways.
The National Highways and Infrastructure Development Corporation Limited (NHIDCL) is constructing the 6.5 km long Z-Morh tunnel, which costs Rs 2,300 crore.
Gadkari claimed that although he has asked to speed up the process, the quality will not be compromised. "This does not mean that we will compromise with quality. True, building something like this in the Himalayas is not easy. But I'm sure they can do it," he said.
"This will be heaven. This highway is a lifeline for the people (here) and these tunnels will ease their sufferings. The aim is to increase the economic growth, employment potential and promote handloom and handicrafts.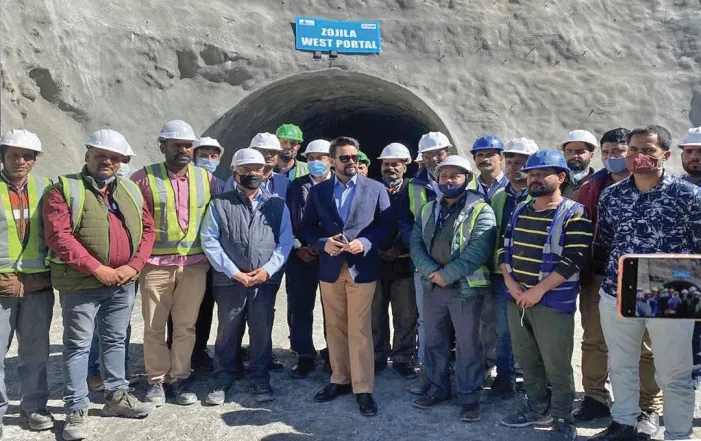 We are going to create more employment potential for the local youth of Ladakh and Kashmir. We will give the highest priority for employment to local people. It is going to eradicate poverty. It would be a great socio-economic transformation," he added.
Also Read : India Transformed From A Net Food Importer To A Major Exporter: Narendra Tomar To G20 Agri Meet