Amidst the pandemic that created a massive crisis in the country, India witnessed a constant transport fuel price hike in the months of June-July. Prices soared up to ₹ 80 per liter mark in the capital. Diesel priced at almost ₹ 80.03 per liter in the Capital, surpassing the pump price of petrol in Delhi for the first time ever.
While the opposition targeted the center over this concerning price hike in the time of coronavirus via various agitations, campaigning, and protests, people on social media expressed their concern over the constantly rising price of fuel through jokes and memes.
Meanwhile, old tweets of Bollywood actors Akshay Kumar, Amitabh Bachchan, and Anupam Kher about petrol and diesel price hike began resurfacing over various social media platforms as netizens questioned them for being cautiously silent and wanted them to speak up this time also.
Back in 2018, Akshay Kumar even deleted his old tweets made during fuel price hike during the UPA led government in 2012 after being trolled for being mum over the fuel price hike during the NDA government's rule, with whom he seems to be on good terms after endorsing the Swacch Bharat campaign. 
Here are the old tweets of few celebs over petrol price rise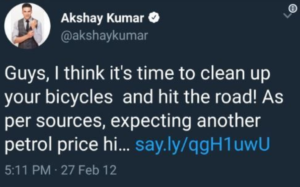 Also read :