The internet and it's favorite offspring, social media is a weird place altogether, quality art which people almost deliberately ignored in it's concurrent times is being looked back at in an endearing way with a buttery thick layer of nostalgia which mostly fools us to believe that it was born legendary and was loved all along.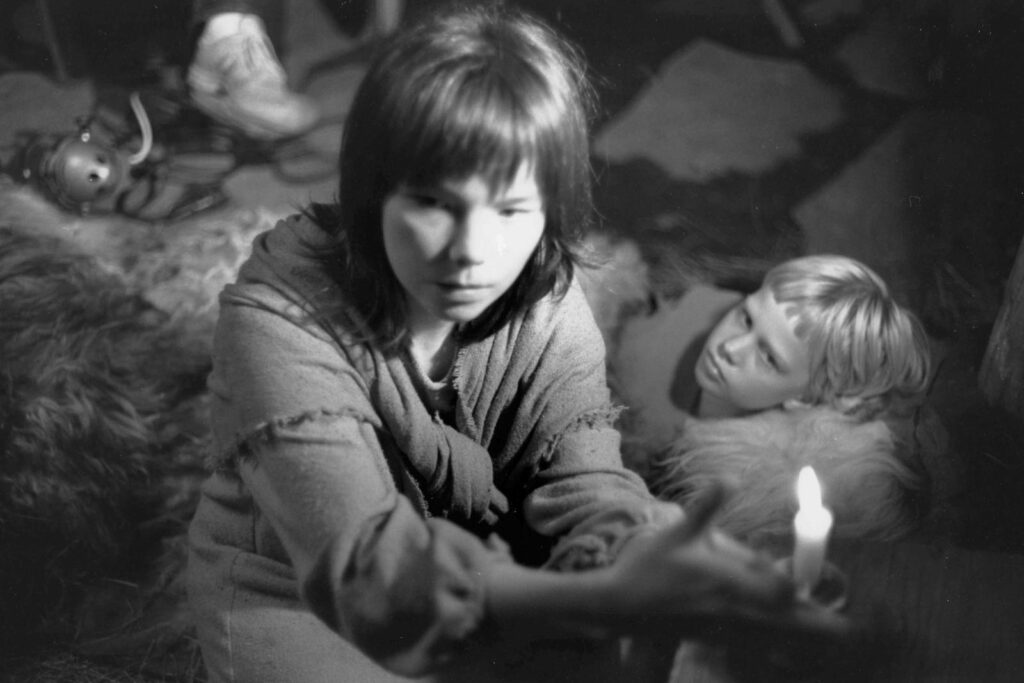 However, I have nothing much against it as I believe the finest of arts are timeless and can be appreciated for any number of years to come. The recent revival of Lucky Ali and his songs are a great example of what I'm talking about.
However, social media managed to pull back a forgotten classic and introduce it to the generation that has missed out on such masterpieces- The Juniper Tree. 
The Juniper Tree is a 1990 Icelandic black-and-white medieval fantasy drama film directed and written by Nietzchka Keene, based on the fairy tale "The Juniper Tree" collected by the Brothers Grimm. 
It has  avery small star cast of five actors: Björk Guðmundsdóttir, Bryndis Petra Bragadóttir, Guðrún Gísladóttir, Valdimar Örn Flygenring and Geirlaug Sunna Þormar.
Due to financial problems, the film did not see distribution until 1990, when it competed for the Grand Jury Prize at the Sundance Film Festival. Now, thanks to a stunning new 4K restoration made from the original 35mm camera negative, people will finally have a chance to appreciate this ethereal American gem. The movie is now available to be watched at Mubi. 
A film that's every bit as poetic and uptight as the T.S. Eliot poem it uses for a prologue. The movie has a slim yet layered and spine-chilling plot. It is Keene's debut movie and it feature invigorates a hyper-violent fairy tale by questioning the misogyny that defines its moral order. Björk theatres a medieval young mystic named Margit. Her mother has just been stoned to death and her body burnt down, prompting Margit and her older sister ( Katla) to ramble the disfigured Icelandic rural area in search of shelter. Katla, as she's older, quickly finds and marries a widower named Johann, who also has a withdrawn son named Jónas. 
Keene redirects the focus on the women, transforming them from Western European gentry to Northern European witches.  The naive and intuitive Margit quickly assists Jónas, sharing games and secrets while exploring the rocky crags of the nearby beaches.
But Jónas resents his new mother and defies her, inverting their rapacious relationship in the folk tale so the stepson becomes the aggressor. Jónas finally succeeds in turning Jóhann against her, forcing Katla to work her magic through charms and spells to keep him amorously interested. The boy's cruelty proves stubborn, however, forcing them towards a violent, tragic climax that shatters her new marriage and her relationship with sister Margit.  
In her first feature film role, the debut of a filmmaker whose career would prove to be short on both opportunities and time, Björk played a literal visionary. Björk in the film seems confused, not outrightly mislead or guided by intuition exactly, but studious as she absorbs "what the birds know"—a persistent line in the film. Bryndis as Katla puts in an earnest and riveting performance. 
The haunting but arousing background music by Larry Lipkis creates an atmosphere for the central ghoulish act and the magic-apparition filled plot.
The film reimagines the witch-sisters' influences as a two-edged sword, at once personally authorizing and self-condemning. We see this karmic twinning throughout the film: Katla uses magic to trap a husband, but her incantations turn Jónas against her; Margit's second sight enables her to communicate with their murdered mother, but she's grief-stricken by apocalyptic visions of fire and apparitions.
Ultimately, their gifts prove hopeless in the face of deep-rooted patriarchy that seeks to regulate women into forced home life. And unlike the ultimately redemptive ending of the Christianized fairy tale, The Juniper Tree deprives its audience an easy conclusion.
The film is surely a must watch and the easiest reason I can think of it would be Bjork and her screen presence. The hauntingly beautiful eyes are fresh in the eyes of the viewer even after days of watching the film. At the very least, watching Nietzchka Keene's haunting Icelandic fairy tale "The Juniper Tree" can cause your sense of time to fall away.
Also Read: 10 Best Pakistani Dramas to watch in 2022