The UN Security Council has directed the secretary-general to submit a report within 30 days outlining potential measures to address Haiti's armed gangs and reinstate security in the strife-ridden country.

The gangs' influence has escalated since the assassination of President Jovenel Moïse in July 2021, with estimates suggesting they now control up to 80% of the capital.

Prime Minister Ariel Henry had urgently requested the immediate deployment of a specialized armed force to tackle the gangs last October.
The UN Security Council ordered the secretary-general on Friday to consider options to help combat Haiti's armed gangs, including a possible U.N. peacekeeping force and a non-U.N. multinational force.
A resolution adopted unanimously by the council asks U.N. Secretary-General Antonio Guterres to report back on options within 30 days.
It also authorizes up to 70 U.N. police and corrections advisers to scale up support and training for Haiti's understaffed and underfunded national police force. And it "encourages" countries especially in the Caribbean region to respond to appeals from Haiti's prime minister and from Guterres for the deployment of an international specialized force.
Haiti's Prime Minister Ariel Henry sent an urgent appeal last October for "the immediate deployment of a specialized armed force, in sufficient quantity" to stop the gangs, but more than eight months later no country has stepped up to lead such a force.
NORTH KOREAN AMBASSADOR MAKES RARE APPEARANCE AT UN, BLAMES US FOR ESCALATION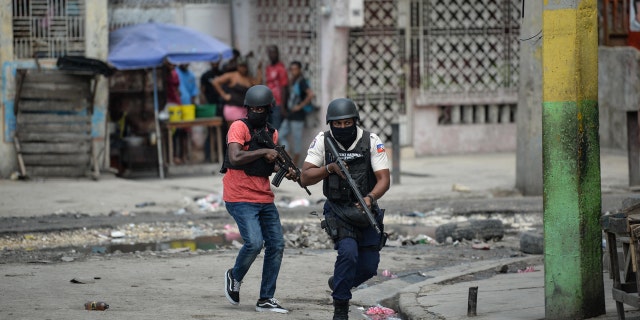 CLICK HERE TO GET THE FOX NEWS APP
Guterres, who visited Haiti earlier this month, called last week for a robust international force to help the Haitian National Police "defeat and dismantle the gangs." He said the estimate by the U.N. independent expert for Haiti, William O'Neill, that up to 2,000 additional anti-gang police officers are needed is no exaggeration. O'Neill, who concluded a 10-day trip to Haiti this month, is an American lawyer who has been working on Haiti for over 30 years and helped establish the Haitian National Police in 1995.
The gangs have grown in power since the July 7, 2021 assassination of President Jovenel Moïse and are now estimated to control up to 80% of the capital. The surge in killings, rapes and kidnappings has led to a violent uprising by civilian vigilante groups.
Compounding the gang warfare is the country's political crisis: Haiti was stripped of all democratically elected institutions when the terms of the country's remaining 10 senators expired in early January.
The resolution, co-sponsored by the United States and Ecuador, "strongly urges" all countries to prohibit the supply, sale or transfer of weapons to anyone supporting gang violence and criminal activities. It reiterates the need for all Haitians, with support from the U.N. political mission known as BIHUH, to establish "a Haitian-led, Haitian-owned political process to permit the organization of free, fair and credible legislative and presidential elections."
(this story has not been edited by TSA Mag staff and is published from a syndicated feed.)