Ganesh Chaturthi or Vinayaka Chavithi is a Hindu festival celebrated for 10-11 days. The festival is a celebration that takes place according to the Bhadrapada month every year.
In 2021, the festival shall begin on 10th September and end by 21st September.  Lord Ganesha is known as the God of wealth, knowledge,  science,  wisdom, and prosperity.  Lord Ganpati has 108 names.
He is Parampujya, which means he is worshipped first in a puja. Lord Ganesha is worshipped before any new beginnings for its success. He is also known as Vignaharta. This means he is worshipped to get rid of problems in life. All his names are tied to either his appearance or ability.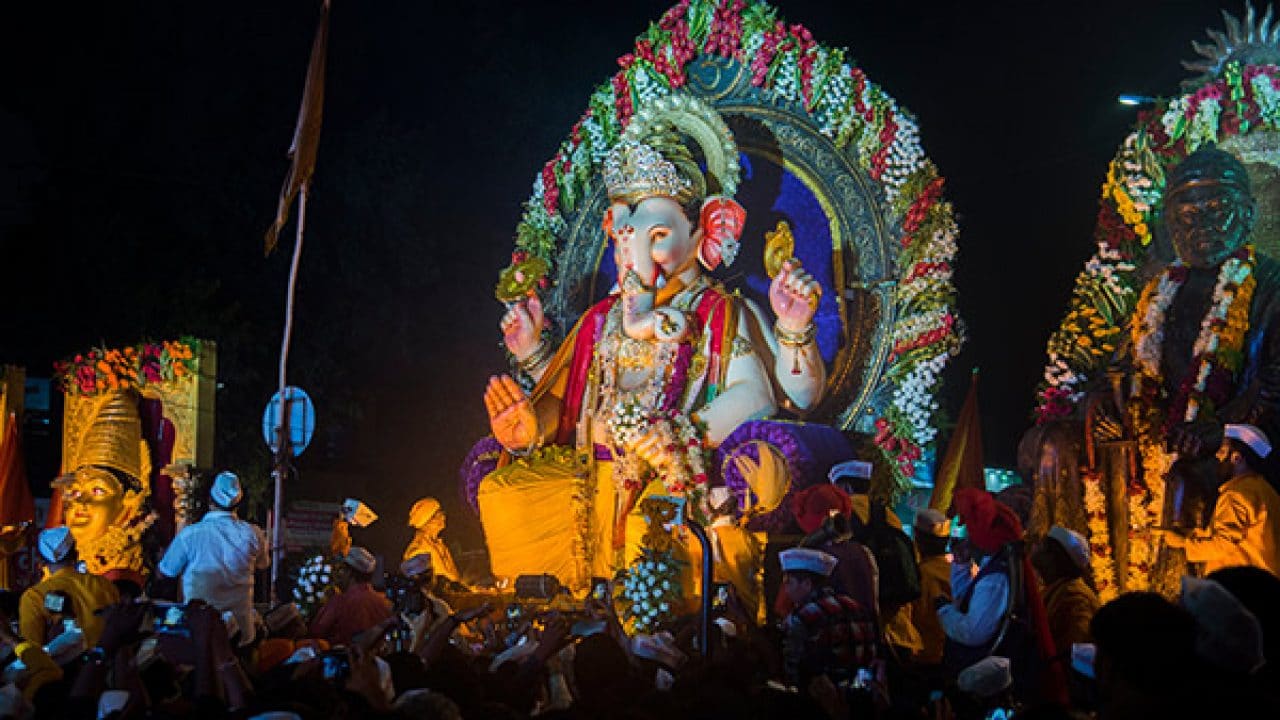 The festival is an occasion for a lot of joy and enthusiasm. Every Indian state has its unique way of celebrating the festival and especially in Maharashtra. Lord Ganesh is the son of Lord Shiva and Mata Parvati and many tales describe his birth. 
One of the most prominent ones indicates that Goddess Parvati made Lord Ganesha from dirt for her protection. This was done during the absence of Lord Shiva.
She told Lord Ganesha to guard outside while she was bathing in the lake. When Lord Shiva returned home, he couldn't recognize him and began to stop him in various ways.
In the end, Lord Shiva chopped off Lord Ganesh's head. Goddess Parvati was shocked and to calm her, lord Shiva asked the devas to find his head and fix it. The devas searched everywhere but couldn't find it anywhere. In the end, all they got was the head of an elephant and fixed it. This is the way Lord Ganesha was born.
In the second story, the lords asked Lord Shiva and Goddess Parvati to create Lord Ganesha who would help them in the fight and protect against the world of demons. Lord Ganesha is also known as the God of peace and prosperity. People worship him for forgiveness for their sins and to get enlightenment of knowledge and wisdom. 
The Festival of Ganesha Chaturthi has been a big celebration right from the time of King Shivaji Maharaj. Even during the freedom struggle of India, Lokmanya Tilak organized Ganesha Chaturthi festival celebrations to gather the people from all Cast and creeds to celebrate together. 
The idol of Lord Ganesha is welcomed on the first day of the festival. Then a special puja is performed. People either bring the idol to their homes and celebrate the festival or organize community programs in the Pandals.
Vedic hymns and chants are read from sacred Hindu texts. Many people observe fasting and Prasadas are distributed after daily prayers. Sweets are offered in Prasads to everyone in the pandals.
The most common sweet called Modak is prepared because it is considered the most favorite sweet of the lord. When the festival ends the idol is carried in a public procession. People dance and sing and the idol is immersed in water at rivers.
Nowadays,  an eco-friendly alternative is to immerse the idol in an artificial pool or a bucket at home. In Mumbai itself, every year 150,000 statues are immersed. It is an old belief that when the clay idol dissolves in water, Lord Ganesha returns to Mount Kailash. He goes back near his Mother and father.
Also Read : Dravidians and the Harappan Civilization, Do they have a connection?