The question that comes in most of the Non-Muslim Student before taking Admission to Aligarh Muslim University is that will they get an equal opportunity, status, recognition as any Muslim student gets in the AMU? Then the question of secularism raises its head, first of all, what does Secularism mean to us? As it is stated, secularism means 'equal treatment of all religions by the state.' When we talk about Secularism, we must learn to accept religious diversity rather than imposing dogmatic conformity.
It is evident that the varsity is purely secular as the students who get admission and are enrolled are based on their 'merit and not their religion', Moreover, the varsity has students from different religions and communities from all corners of India, in fact from the whole world. You can find students from Kashmir to Karnataka here and if we follow the global dots, there are students from Dubai, to Mauritius to Afghanistan. The University is a true example of secularism as it gives equal opportunity to every student who's willing to get an education without being partial towards any religion or class.
We need to show 'multi-regionalism that's the true secularism.' if we omit the word 'Muslim' from our Minds and see it as a great opportunity without worrying, then the Institution like Aligarh Muslim University, will surely out rich your career and will value it even more as it is one of the best platforms for any student S/He will ever get.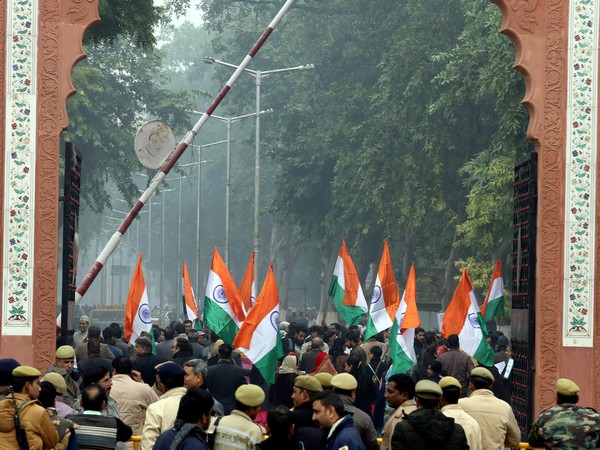 The Foundation of this prestigious university was made possible because of the contribution of people who made humongous donations for the upliftment of the University. They were from different religions yet linked by their generosity, from Viceroy And Governor-general of India Lord North Brook (A Christian) His Highness Sri Maharao Raja Mahamdar Singh Mahamder Bahadur-late Maharaja of Patiala (A Sikh), His Highness Maharaja of Vizianagaram K.C.S.I (A Hindu), Nawaab of Lucknow (A Muslim) to many more who give their part towards uplifting the future of the social condition of the Muslims.
Although the university was established for the betterment of the Muslims, AMU's first graduate Ishwari Prasad belonged to the Hindu religion, and the university boasts of representation of people from different communities in various faculties, departments, and offices. This itself shows that from the very beginning, the purity that it had was only aimed at education and knowledge
The Aligarh Muslim University has been famous for its 'culture' aka 'Tehzeeb' for years Passed till now, during the month of Ramadhan we offer food to our Hindu brother and sister before taking our Meals and similarly, our Hindu brother and sister celebrate their festivals with great zeal and enthusiasm and that's the beauty of having cultural diversity. – Faiza (Student of AMU)
It has been rightly said -"The Secular World looks to the Church and to its chagrin, finds no love, no life, no laughter, no hope, and happiness." Rather than getting into polity we must focus on humanity and most of the time we often get feared of the unknown which is in our minds but reality has its beauty which needs to be cherished not to be questioned." AMU has always been a secular university, not by just words but has proved it with actions.
"Islam teaches us tolerance, not hatred, universal brotherhood, not enmity, peace, and not violence. Before judging any institution by its name only, try to give it a chance and then make your decision. The extremism which it has been glorified is in the minds of a handful of people. We have only seen peace-minded secular students living and enjoying their lives here."

–Fouzan Shah (Law Student, AMU)
And in painting the picture that AMU is heaven for extremism is painted by the biased media channels, where good info & news gets sidelined and doesn't make it to the front pages of newspapers, rather all the illegal activities are covered with full reportage from various media channels. We should come out of our prejudices against a Muslim university & rather focus on what it has contributed to the development of our nation.
Also read:
For more, like us on Facebook or follow us on Twitter, Instagram  and Telegram